Pop Smoke – Shoot For the Stars Aim For the Moon review: Late rapper's album is brilliant and bittersweet
Record is not only a celebration, but an elegy for what else he could have achieved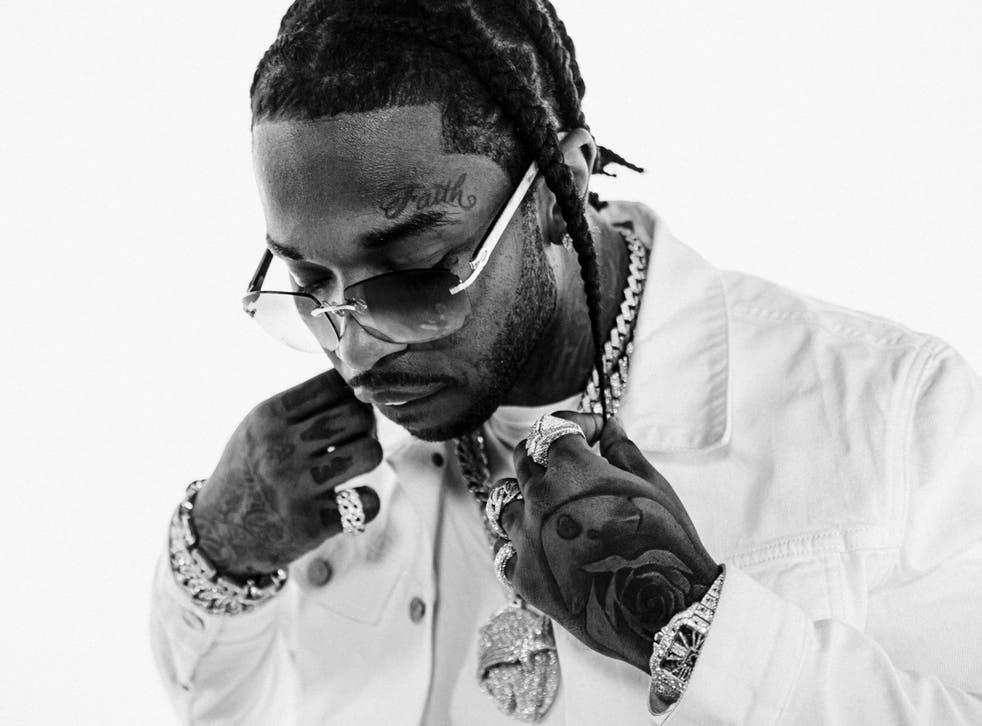 Pop Smoke was, as he put it, "different". Melding maximalist production and bare-bones lyrics, the Brooklyn native was at the vanguard of New York's burgeoning drill scene, a blast of charisma capable of swagger and suave. 50 Cent and Nicki Minaj were fans; Skepta was too. Then, in February this year, tragedy struck. Aged just 20 years old, he was shot dead in an apparent robbery at his rental property in Los Angeles. His posthumous album, Shoot For the Stars Aim For the Moon, is therefore not only a celebration, but an elegy for what else he could have achieved.
Pop Smoke was able to project emotion like few artists his age – he could be ruthless one moment, charming the next. He thrived most when working on instinct, and possessed a voice that ran deep and guttural, often evoking the menace of a classic cinema villain. In 2018, the success of early hits such as "Welcome to the Party" and "Gatti" had hip-hop royalty clamouring to work with him, and many of them – 50 Cent, Quavo – appear here. Yet Pop Smoke had no intention of abandoning his roots; the album maintains ties with early collaborators, such as British producer 808Melo.
His sense for the dramatic transpires in the crows that caw on intro "Bad Bitch From Tokyo", and on the hi-hat patter of the next track, "Aim For the Moon". With the minor piano keys looped on "Gangstas", he recalls the soft danger of "5% Tint" by Travis Scott (another one of Pop Smoke's many champions). While the first half of Shoot For the Stars carries Pop Smoke's indefatigable energy, he shifts gears for the second. On "What You Know Bout Love", he's infatuated, eager to please; then he's full of lust on "Diana" and the Nineties R&B bounce of "Something Special". On the hypnotic Latin trap of "Enjoy Yourself", he joins forces with Colombian rapper/singer Karol G. "Mood Swings" with Lil Tjay is surprisingly tender, especially compared to other tracks ("Lil Night", for example) that detail sexual encounters with a cold detachment.
There are some misfires among these 19 songs. "West Coast S***" feels paper-thin when following "The Woo" (ft 50 Cent and Roddy Ricch) and its sultry "Candy Shop" interpolation. The folk flutes of "For the Night" and its heavily autotuned vocals seem passé ahead of Pop Smoke's gruff, enigmatic barks on "44Bulldog". Brilliant and bittersweet, Shoot For the Stars Aim For the Moon is the work of someone whose success should have been stratospheric.
Register for free to continue reading
Registration is a free and easy way to support our truly independent journalism
By registering, you will also enjoy limited access to Premium articles, exclusive newsletters, commenting, and virtual events with our leading journalists
Already have an account? sign in
Register for free to continue reading
Registration is a free and easy way to support our truly independent journalism
By registering, you will also enjoy limited access to Premium articles, exclusive newsletters, commenting, and virtual events with our leading journalists
Already have an account? sign in
Join our new commenting forum
Join thought-provoking conversations, follow other Independent readers and see their replies