Prince & 3RDEYEGIRL, Birmingham LG Arena, review: 'Intoxicating'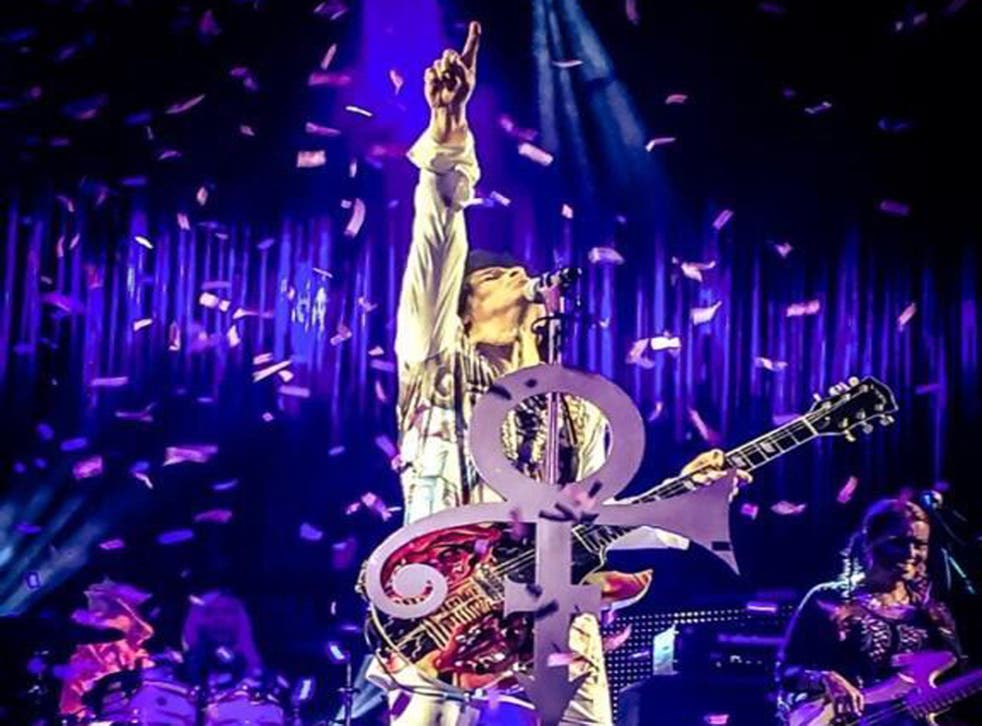 Gone are the intimate venues and frugal ticket prices from Prince's February UK tour, this is Hit + Run Tour (Part II) and the LG is a cavernous, sonorous echo-hole in which intimacy and tangibility have a security-staffed barrier in front of them.
Prince is late and the crowd is restless, chants, claps and whistles turn into foot stomps and intensified banging. The lights die, the place erupts. The lights then come back on, met by a chorus of agitated "boos".
This happens again, to more exaggerated irritation. After the lights go off for the third time (40 minutes after the proposed start) it begins. 'Welcome to Funk' reads the screen, the curtain drops leaving Prince centre-stage holding a string of balloons. He lets them go into the air and they disperse as he and his band 3RDEYEGIRL launch into new track 'FunknRoll' with gusto under rich, purple lights.
The first few songs seem intent on making up for lost time and become almost medley-like, with the third song a grenade-flash burst of 'Raspberry Beret'. Once Prince and 3RDEYEGIRL settle into a more cogitated tempo and lock into a solidified groove things truly awaken. Prince switches between strut-funk guitar twangs and flicks ("ya'll like funky music?" he hollers frequently) and sprawling, monstrous guitar assaults that allow screeched, elongated notes to float through the venue and creep into the most far-flung seats.
His ability to let a single note hold out, hanging and squealing, squeezing all the life out of it, is as riveting as it is intoxicating. When finished he simply holds his guitar out, waiting for a tech to collect it, oozing attitude.
'Kiss' starts off almost unrecognisable, slightly flabby, bogged down in groggy grooves, shifted tempo and stifled dynamism. It lacks the punch, precision and zing of the recorded version. Brilliantly, come the stretched-out ending, it is completely transformed and becomes a highlight. 'Let's Go Crazy' erupts like a rocket and confetti bursts from the stage as strobes flash. "Sound-check is over" declares Prince.
'Something in the Water (Does not Compute)' is a super-charged highlight and is one of many songs that showcase the force of 3RDEYEGIRL – a solid, versatile, intensely loud outfit. On occasion, the noises guitarist Donna Grantis spews forth are so thick, nasty and heavy that the sputtering sounds appear to have got stuck in the speaker system, such is the crackle, rattle and grizzly hum.
'1999' explodes like a firework and the transition directly into 'Little Red Corvette' is seamless and emblematic of Prince's ability to deliver what feels like a slap round the face and a cheeky peck on the cheek at the same time. 'When Doves Cry' is the gargantuan finale.
"Y'all like funky music?" Yes Prince, we do.
Register for free to continue reading
Registration is a free and easy way to support our truly independent journalism
By registering, you will also enjoy limited access to Premium articles, exclusive newsletters, commenting, and virtual events with our leading journalists
Already have an account? sign in
Register for free to continue reading
Registration is a free and easy way to support our truly independent journalism
By registering, you will also enjoy limited access to Premium articles, exclusive newsletters, commenting, and virtual events with our leading journalists
Already have an account? sign in
Join our new commenting forum
Join thought-provoking conversations, follow other Independent readers and see their replies