Proms review: Prommers were enchanted by Lauras Mvula and Marling - greeting a mixture of Grime, hip-hop and r'n'b with enthusiasm
Prom 37: Urban Classic Prom, FT Laura Mvula, Fazer and others (***)
Prom 40: 6 Music Prom, FT Laura Marling, Cerys Matthews and others (****)
Chris Mugan
Tuesday 13 August 2013 10:41 Comments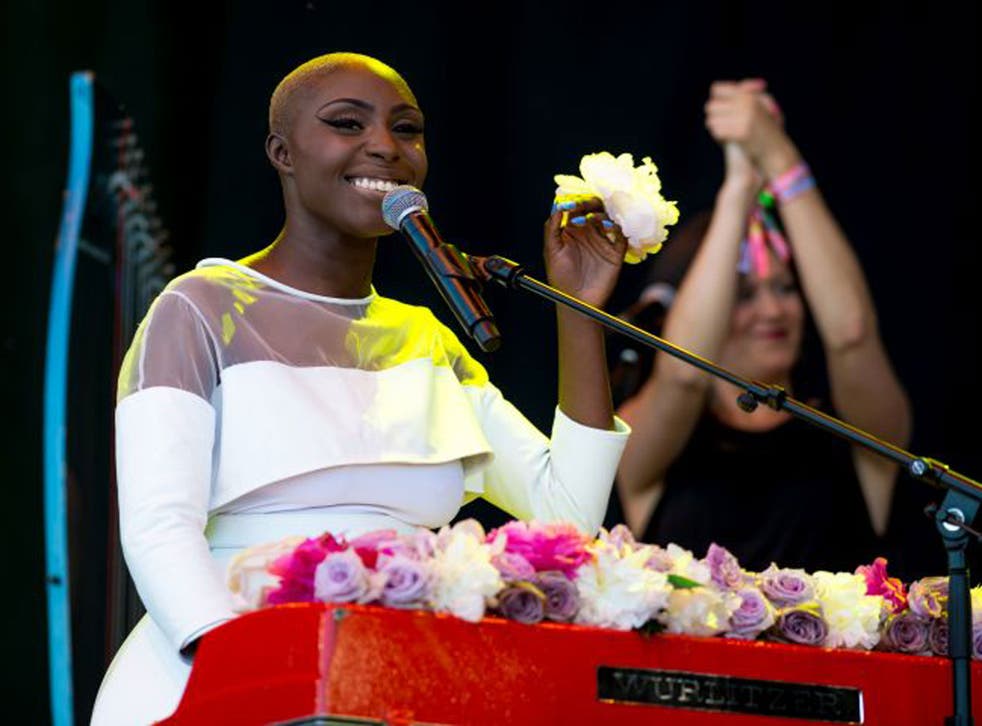 They made a smattering of noise, politely waved their arms on cue and, at the end, raised their mobile phones in a final outbreak of positivity. Naysayers be damned, prommers adopted urban music's unfamiliar customs for one Saturday night, welcoming the barbarians at the gates with open arms and finding them to be convivial, if sometimes noisy neighbours.
While Urban Classic events have been meshing classical musicians with MCs and soul singers since the late noughties, traditionalists still spilt their pink gins when the Proms announced the first event dedicated to grime, hip hop and r'n'b, so the genre had much to prove by occupying the Albert Hall stage. Tonight's trump card was Laura Mvula, the classically-trained performer that once had a choral piece performed at Birmingham Town Hall.
Here, her quicksilver arrangements proved ready-made even for an extra 80-odd musicians as her sumptuous vocals floated over the the BBC Symphony Orchestra. Grime MC Wretch 32 displayed new-found maturity as he successfully adapted his flow to the slower pace of 'I'm Doing OK', while Brummie rising star Lady Leshurr rose to the Wagnerian flourishes of a sympathetic outfit well marshalled by Jules Buckley.
As for classical repertoire, the orchestra's take on the repetitive clang of Mosolov's Iron Foundry could have backed Dizzee Rascal's more dystopian rhymes. Elsewhere, ex N-Dubz rapper Fazer showed an ear for Jay-Z-style hip hop, while lacking vocal authority, just as Maverick Sabre's more retro style was outclassed by newcomer Jacob Banks.
6 Music's late night Monday event was more low-key, though still exuded class, especially in the form of Laura Marling, who brought weightless delivery and fluid melodies, commanding both solo and with the London Sinfonietta, a smaller outfit more agile in its response to a wide range of talents. Before adding a seething, dark undertone to Marling's 'Breathe', they provided a punchy call and response to The Stranglers' 'No More Heroes'.
Always more than three-chord wonders, the once-belligerent punk veterans returned for the gorgeous harpsichord-inflected 'Golden Brown', the black-dressed four-piece and the classical ensemble weaving a bewitching tapestry of obscure time signatures. In contrast, the classical inclusions were downright uncompromising, two highlights being Berio's haunting, fragile tribute to Martin Luther King, O King, with mezzo soprano Anna Stephany and the dramatic percussion masterclass of Varese's Ionisation, two pieces that showed avant garde can have an impact in five, if not three and a half minutes.
Register for free to continue reading
Registration is a free and easy way to support our truly independent journalism
By registering, you will also enjoy limited access to Premium articles, exclusive newsletters, commenting, and virtual events with our leading journalists
Already have an account? sign in
Register for free to continue reading
Registration is a free and easy way to support our truly independent journalism
By registering, you will also enjoy limited access to Premium articles, exclusive newsletters, commenting, and virtual events with our leading journalists
Already have an account? sign in
Join our new commenting forum
Join thought-provoking conversations, follow other Independent readers and see their replies