Radiohead at Glastonbury 2017, review: Fans are rewarded for their patience with historic set
Only before 'Everything In Its Right Place' does Yorke finally address the horde before him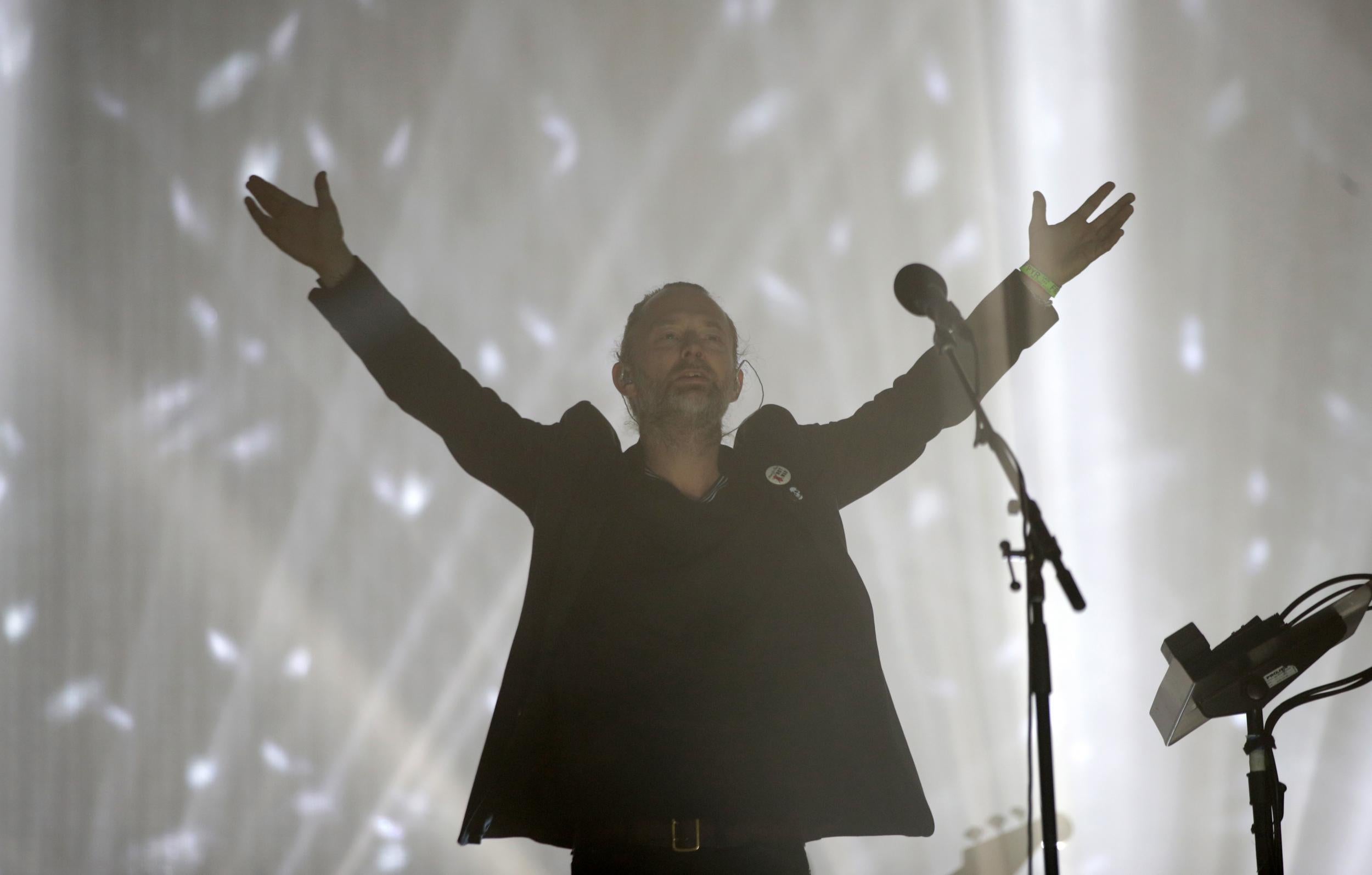 Over the years, few bands have managed to leave Glastonbury's muddy punters awestruck like Radiohead, their 1997 set being legendary among those who were in attendance. Expectations are, therefore, unsurprisingly high for their 2017 turn, the headline slot marking the 20th anniversary of the excellent OK Computer.
Despite rumours the band would blast through their seminal album, the group begins with A Moon Shaped Pool track 'Daydreaming', the screens turned off, intimate lights beaming.
While an arguably tame start, a large crowd singalong to 'Lucky' later - plus some more upbeat numbers and Thom Yorke's signature rabid dancing - Radiohead are in full swing, Johnny Greenwood managing to create those infamous, bizarre sounds with his guitar.
Following '15 Steps', Yorke begins manically laughing, introducing the fiery 'Bodysnatchers', a light show kicking off while the drums pulsate through the crowd who were, by now, properly warmed up.
Capitalising on the moment, the band leave the stage, giving way to Yorke on an acoustic guitar playing an emotional rendition of 'Exit Music (For A Film)'.
Only before 'Everything In Its Right Place' does Yorke finally address the horde before him, making a light remark on the Pyramid Stage's location in a lay-line. Still, it's the biggest moment of the set so far, marking the first flares being lit and the sunlight disappearing.
Glastonbury's 'Toilet of Dreams' - the best loo in Somerset
Come 'Ideoteque' and Greenwood has taken to a drum kit, thrashing around, the group's pure musicianship unchallenged by anyone else playing today.
For those who have not consciously listened to numerous Radiohead albums - there's no zooming through the hits here - their faster, heavier, and electronic influenced deeper cuts keep almost everyone on board.
Glastonbury 2017
Show all 48
Following some intense lighting, 'Street Spirit' begins, blue lights dominating the stage as the crowds singalong - a calmer moment for the band as Yorke's remarkably impressive voice conducts everyone. And although an hour left, Radiohead leave the stage for the first time, almost an arrogance about demanding an encore.

Enjoy unlimited access to 70 million ad-free songs and podcasts with Amazon Music
Sign up now for a 30-day free trial
Sign up

Enjoy unlimited access to 70 million ad-free songs and podcasts with Amazon Music
Sign up now for a 30-day free trial
Sign up
However, patience is rewarded with their biggest crowd pleaser yet, the impeccable 'No Surprises'. Plus, much to the delight of everyone, Yorke calls for Prime Minister Theresa May to "shut the door on the way out" - chants of 'Oh, Jeremy Corbyn' erupt.
'2+2=5' back to back with 'Paranoid Android' comes soon after, everything - the band, the crowd, the lights - picking up as a result.
Come the second encore, an outrageously loud bass guitar comes thundering through, Yorke thoroughly enjoying playing the maracas. With a rare rendition of 'Creep' into 'Karma Police', they solidify themselves as legends once again - at least for those who stood through their deeper cuts.
Join our commenting forum
Join thought-provoking conversations, follow other Independent readers and see their replies