Review: David Bowie is - We all know he's Major Tom. But did you know David is also Ground Control?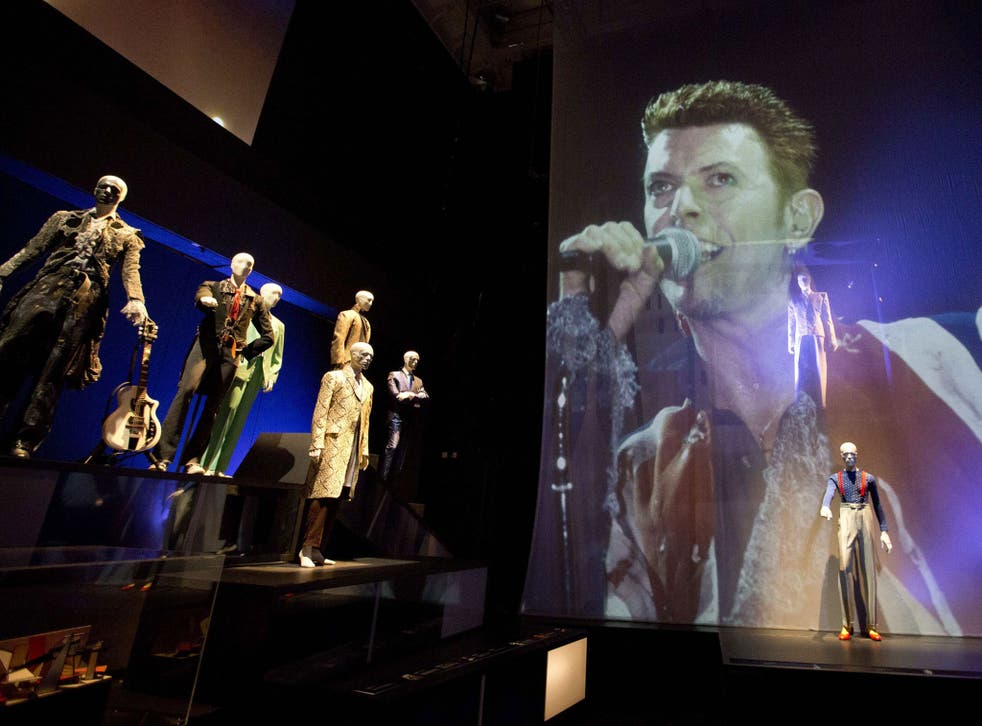 Britain's roads weren't up to much in 1972. There were motorways, but long journeys still needed careful planning – all the more so if you were David Bowie and had Ziggy Stardust to transport to all corners of the UK.
The Ziggy tour blew minds. Nothing like it had ever happened before. It established the cult of Bowie, launched him into the pop stratosphere, and changed the world for ever for countless young people. Yet until the V&A's "David Bowie is" show, who knew of the element that perhaps made all the difference to the smooth running of operations – the mileage chart that Bowie himself drew up and which, presumably, helped ensure that the whole Ziggy phenomenon successfully made it from town to town.
That scrap of A4 is as revealing as any of the spectacular costumes, dazzling videos and fascinating artefacts that offer such a feast for the eye at this extravagantly mounted if sprawling exhibition. It shows that behind the artist is someone whose flair is not just creative but organisational. Greatness often lies in having an eye for detail, and from the application of his mascara to knowing the distance between Cardiff and Nottingham, Bowie is as much Ground Control as he is Major Tom.
A triumph for the V&A seems guaranteed. The exhibition runs till mid-August and is already the fastest-selling in the museum's history. Having put on shows that celebrated Kylie Minogue (2007), The Supremes (2008), Top of the Pops (2009) and Annie Lennox (2011), the museum is to be congratulated for altering perceptions of what is worthy of its consideration.
In Bowie's case, curators Geoffrey Marsh and Victoria Broackes were blessed in the access they were given to the musician's own archive, and also blessed in the astonishing range of material that the archive contained. Where the British Museum gave us A History of the World in 100 Objects, the V&A gives us a History of David Bowie in 300 Objects, and I suspect for most visitors there simply won't be time to take everything in properly. Multiple visits may be required.
Part of the problem is that the show starts off chronological but then darts about. It's not quite clear how one thing led to another. Did Bowie even know himself? Perhaps the whole point about endless self-reinvention is that each chapter is discrete. Bowie is pop's ultimate time traveller, and that's the spirit in which the visitor has to approach things. Questions over the when and how are swept away by the sheer quantity, variety and brilliance of what there is to see and hear - from hand-written lyrics to set models to musical instruments to the TV clip in which a rather earnest teenage Bowie protests about the treatment of boys – like him - with long hair.
The section of the exhibition that covers those early years show how single-mindedly Bowie went about making his mark on the world. There's a superb publicity shot of him, aged 16, when he was in his first band The Kon-rads. Bowie is already very tailored. In suit and tie, he sits on a bass drum, one arm resting on his saxophone. His hair and limbs are arranged just so. He's very nearly smiling - an enigmatic angel who seems to know a lot more about everything than anyone who's looking at the picture.
On the excellent audio-guide Bowie can be heard saying that he started out like a Cockney Dylan, and in the zeal of his autodidacticism and in the dedication with which he weaved myths around himself, there's more truth in that than either man's set of adherents might wish to acknowledge. Bowie just did it in jazzier clothes.
Bowie's influences – from Stanley Kubrick and JG Ballard to Bertolt Brecht and Little Richard – are represented in posters and books and other paraphernalia, and we get a rather touching glimpse of what life was like for a kid with talent and imagination who had early-1960s south-east London to not just escape from but also to process artistically. It explains how, in so many of his songs, the reality of his suburban upbringing co-exists with themes of outer space. Bowie was in some ways the HG Wells of the jukebox.
Enjoy unlimited access to 70 million ad-free songs and podcasts with Amazon Music Sign up now for a 30-day free trial
Sign up
So visual has been Bowie's impact on the world that it's possible to forget that he would have been nothing without the music, and the V&A certainly does justice to it. We've all seen Bowie's era-defining performance of "Starman" on Top of the Pops - but never before projected from floor to ceiling on multiple screens. Even greater wall space is given over to concert footage. New to me was a quite heart-stopping Mick Rock-directed video for "Life On Mars" in which Bowie, a vision in an ice-blue suit, casts a spell so powerful that I stood there and watched it over and over again. What's great is that the suit itself – designed by Freddie Burretti – is on display next to the giant screen on which the video plays. Check out the size of the turn-ups.
Interviews with key figures around Bowie provide perspective on him. "You don't feel pressured when you work with him," Bowie's long-time producer Tony Visconti says, which is interesting given the meticulousness with which Bowie has constructed his career. There's an option to bring in Howard Goodall on your headset and listen to his thoughts on "Let's Spend The Night Together", which I would thoroughly recommend.
With the exception of a lipstick-stained scrap of tissue, this show doesn't fetishise Bowie. Its range is vast but its touch is light. It gives us not Bowie the alien but Bowie the human. I looked at that mileage chart from 1972, and you know what – for someone so aesthetically driven, his handwriting's really not very good.
To 11 August (020 7907 7073)
Register for free to continue reading
Registration is a free and easy way to support our truly independent journalism
By registering, you will also enjoy limited access to Premium articles, exclusive newsletters, commenting, and virtual events with our leading journalists
Already have an account? sign in
Register for free to continue reading
Registration is a free and easy way to support our truly independent journalism
By registering, you will also enjoy limited access to Premium articles, exclusive newsletters, commenting, and virtual events with our leading journalists
Already have an account? sign in
Join our new commenting forum
Join thought-provoking conversations, follow other Independent readers and see their replies