Roskilde Festival: Solange, Nas, Lorde and Young M.A sets pulses racing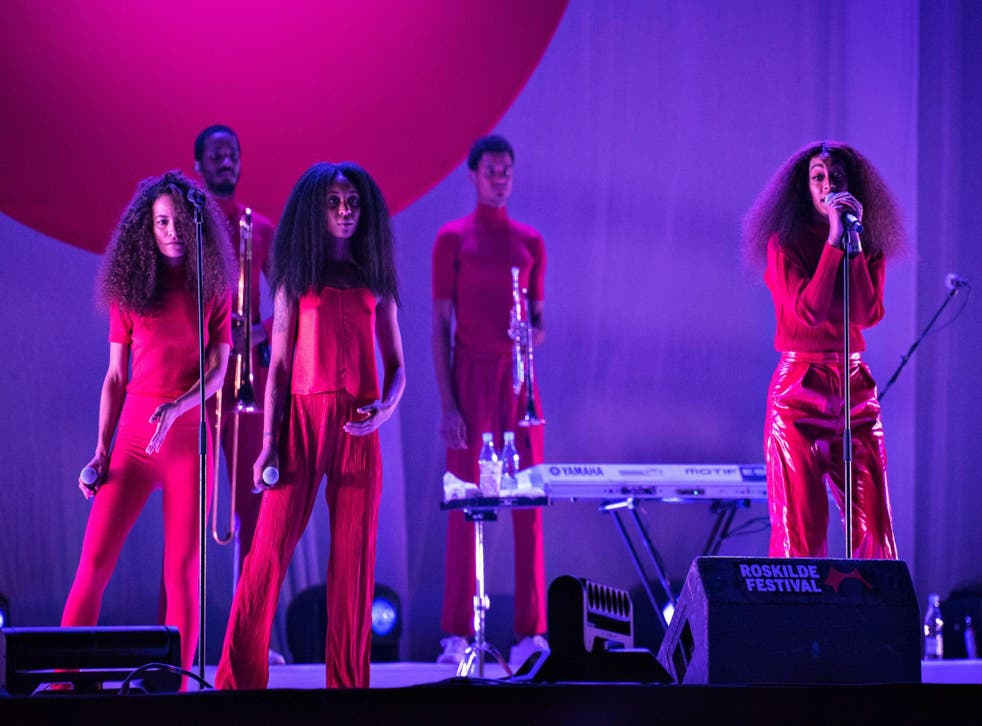 The last leg of Solange's European tour took her to Demark's mammoth eight-day Roskilde festival.
The highlight of the singer's set was when, at the height of the song "F.U.B.U", she descended from the stage and softly sang the refrain, "This s*** is for us" to a black female member of the audience for the encore of a set that was more a work of art than a gig.
The emotionally charged performance on Arena stage – one of eight – was resplendent with big, curly hair and a bright red stage, and set the tone for the festival. Giving the audience a flavour of her funk, Solange took us to a "family cookout" with "Junie"'s soulful rhythms, and took it way back to 2008 with "T.O.N.Y." in what was the highlight performance.
Brooklyn-based Young M.A. inspired mosh pits and demonstrated just why her track "OOOUUU!" amassed over 100 million Spotify streams. The 24-year-old effortlessly packed the Apollo stage, and her set was fire from beginning to end.
Rain, miserable as it was, refused too dampen the spirits of more than 130,000 festival goers, and thousands piled into the Orange stage to break bread with old timers Nas and Ice Cube (the latter of whom performed instead of A Tribe Called Quest). He drew the biggest crowd, and after playing a few of his old tunes, revealed how much he misses his friend DJ Crazy Toones, who died in January.
The Weeknd's syrupy, bass lined-voice showered the audience with songs from his second studio album Beauty Behind The Madness. An eclectic crowd sang along to "The Hills" and "Often".
Feminist powerhouse Lorde took the second largest stage at Roskilde by storm, steamrollering her way through tracks from her new album Melodrama as well as the crowd favourite "Royals" from her 2013 album Pure Heroine. Her songs "Sober" and "Liability" brought tears to people's eyes and she writhed and shook her way through her finale, "Green Light".
Likewise Tinashe treated the stage as though it were her very own dance studio, jumping and grinding her way through "Ride of Your Life". The performance, which put her in front of one of her largest crowds yet, showcased not only her athleticism, but her raw singing talent. She didn't miss a beat in the high tempo "All Hands on Deck", and seamlessly mellowed the tone for ballad "Bated Breath".
German electronic duo Moderat entranced fans with their visual audio and South Korean band Black String performed a set which combined traditional music, jazz and rock.
Glastonbury 2017

Show all 48
Music was only one part of the not-for-profit festival, which brought some 30,000 volunteers. A particularly warm kind of camaraderie exists, due in part to the sheer size of the place, and people have referred to Roskilde, which takes its name from the city in which it is set as a sort of "community city".
Certainly, there is a real sense of self-containment and walking around in between music sets could take you through stunning graffiti art, installations, talks and activities. Dream City is the realisation of that spirit. Based just outside the festival grounds, it serves as a community-based, community-run project. You may stumble across a party in one cluster of camps, or drink beer in one of many tiny pop-up bars.
Roskilde's soul is the reason people attend every year: it's not just a festival, it's a little pocket of the world. Be prepared, though – it is a huge place to make your way around, and is, as of 2017, cash-less – so bring your money on a bank card.
Register for free to continue reading
Registration is a free and easy way to support our truly independent journalism
By registering, you will also enjoy limited access to Premium articles, exclusive newsletters, commenting, and virtual events with our leading journalists
Already have an account? sign in
Register for free to continue reading
Registration is a free and easy way to support our truly independent journalism
By registering, you will also enjoy limited access to Premium articles, exclusive newsletters, commenting, and virtual events with our leading journalists
Already have an account? sign in
Join our new commenting forum
Join thought-provoking conversations, follow other Independent readers and see their replies