The Independent's journalism is supported by our readers. When you purchase through links on our site, we may earn commission.
Royal Republic, Grosse Freiheit 36, gig review: The Swedish quartet let the good times roll in Hamburg
The band are back in the German party city to play their second sold out show in three months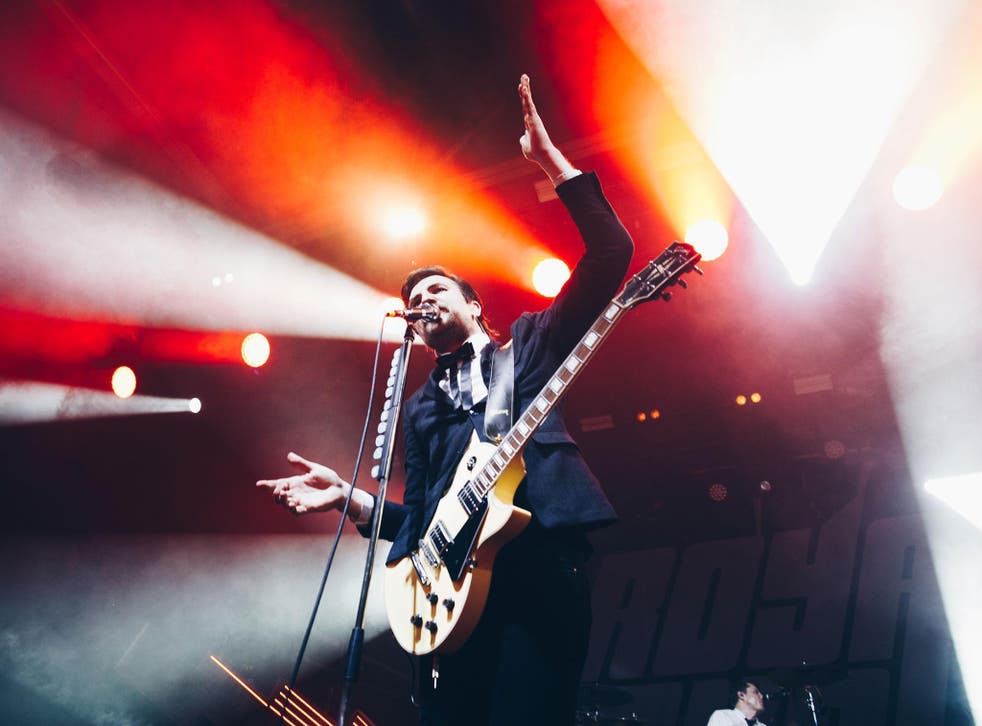 It's safe to say that Royal Republic are somewhat of a sensation in mainland Europe. The band played this exact venue just three months previous and tickets for that first show sold out so quickly, it was deemed necessary to put on tonight's second show, which has also sold out. Something is clearly going on with this band on the continent, but the UK has yet to dial in and taste the vibe of the four-man Swedish party machine. To this end, the powers that be have concocted a plan: to invite three journalists (two from Kerrang! and Classic Rock, plus yours truly) to the city nicknamed 'Tor zur Welt' or 'Gateway to the World' and open our eyes to the Republic.
If there is a palpable sense of déjà vu to this evening's proceedings, nobody seems to have told the 1,500 German fans packed into the wooden-panelled confines of Grosse Freiheit 36. The excitement is palpable, the humidity searing and the atmosphere thick with the thrill of the good times that are inevitably about to roll. It feels immediately as if the majority in attendance are savvy to something us three Brits are completely oblivious to.
Royal Republic specialises in a brand of rock written with the express intent of making hips wiggle and booties shake. The band's music is infectious and is designed to be picked up and sung back en masse within seconds of first hearing it. Songs such as 'When I See You Dance With Another', 'Kung-Fu Lovin'', 'Baby!' and 'Here I Come, There You Go' are hardly Shakespeare, but then Shakespeare couldn't lodge a tune inside your head for days.
With a sound reminiscent of Electric Six and The Hives scrapping in an alley, there is potential for Royal Republic to have a whole heap of mainstream appeal; judging by the crowd's enthusiasm and energy, which hardly dips through-out the band's 90-minute set, they have the songs to do so. Their third and current album Weekend Man is by far the most accomplished distillation of Royal Republic's sound to date.
It's hard not to be swept up by the sheer exuberance and showmanship on display, especially from the band's frontman, Adam Grahn. An exemplary master of ceremonies, Grahn stalks the stage and demands attention. His showmanship is astonishing, commanding the crowd like a gyrating porn-mustachioed sex demon. He manages to pull off moves that would make most look preposterous with style and aplomb – and hat's to say nothing of the remaining members of the band, who play with so much exuberance that they're literally dripping with sweat by the end of the opening number.
Bar a couple of songs in the encore, there's no deviation from the setlist the band played in this very venue three months previously – although, looking out at the audience, nobody seems too perturbed by that fact. In a small concession to variation, they do sing happy birthday to drummer Per Andreasson (in English and German), which has every voice in Grosse Freiheit 36 singing along in unison. One particularly sweet gesture sees Grahn bring a woman onstage to play guitar during 'Tommy Gun': tonight marks her 18th time seeing the band live. No doubt Royal Republic hopes to inspire such devotion in audiences around the world, and with the performance the band puts on this evening, there's no reason to think it won't be able to replicate the success it has had in Germany across the globe.
Royal Republic play 3 dates in the UK, Glasgow, Manchester and London, beginning at the end of March
Join our new commenting forum
Join thought-provoking conversations, follow other Independent readers and see their replies