Savages, 100 Club, London, review: Oddly early start has substantial impact
Inspired by before work morning 'raves' the band deliver a harsh but brilliantly melodic performance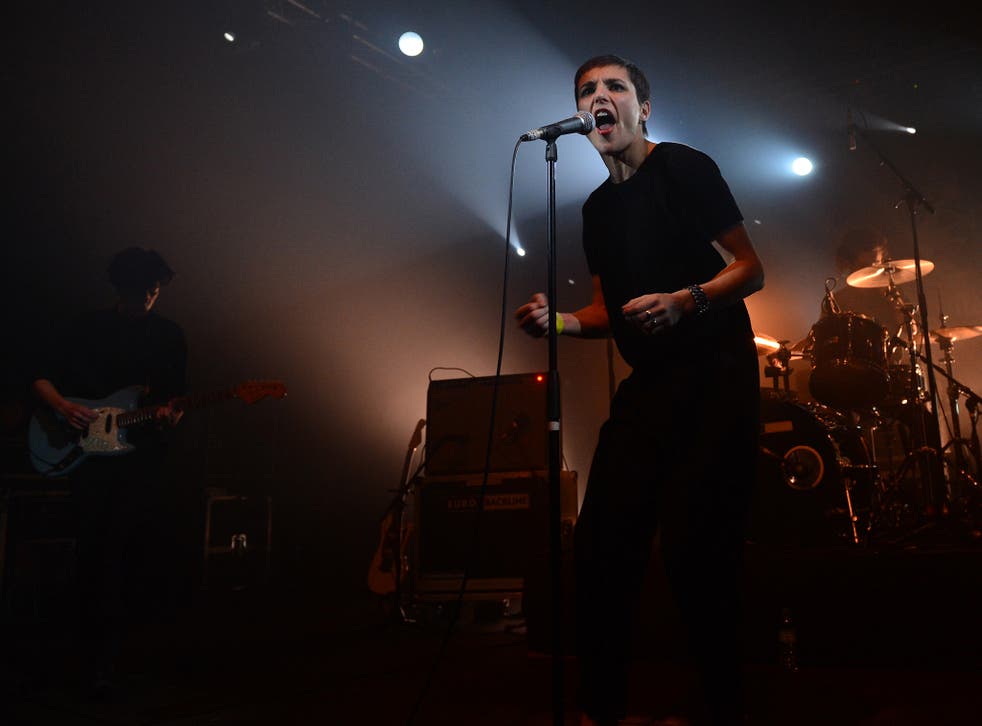 If you're a post-punk band with a new album to promote, opening the doors of the 100 Club at 8 o'clock on a Tuesday morning may seem like an odd choice. Depending on your lifestyle it's either very early or very late. But four days after releasing Adore Life, it's what Savages have decided to do.
Inspired by the before work morning "raves" that have cropped up in recent years, it's a first for the band, as it would be for most. But while a 7am rave has "gimmick" written all over it, this early start has a substantial impact.
"I think we all agree that this is the coolest reason to be late to work," says lead singer Jehnny Beth, who later offers to write letters to people's bosses. Judging by the room's reaction, it's clear that they're with her – why else would they be here? Unlike most gigs there is a distinct lack of talkers, phone starers and uninterested industry schmoozers.
The band thrashes through their short, 30 minute set with the frantic, bassy distortion of new songs like "Surrender" and "Sad Person" knocking away any lingering sleep from the crowd's eyes. It could be the coffee kicking in, but at the front they jump and dance with a surprising amount of energy.
The band finishes on "Adore", the first single from their new album, which stands out through virtue of its slower, languorous guitars, and sentimental lyrics. It's a respite from the intensity of their other songs, and calms everyone down before they head to the office.
The short, triple espresso-like quality of the gig and its novelty is enjoyable, although it never overshadows the band's harsh but brilliantly melodic performance. You can tell they have enjoyed the small differences created by the early start. "Have a great day," says Beth before the band takes a bow and leaves.
Register for free to continue reading
Registration is a free and easy way to support our truly independent journalism
By registering, you will also enjoy limited access to Premium articles, exclusive newsletters, commenting, and virtual events with our leading journalists
Already have an account? sign in
Register for free to continue reading
Registration is a free and easy way to support our truly independent journalism
By registering, you will also enjoy limited access to Premium articles, exclusive newsletters, commenting, and virtual events with our leading journalists
Already have an account? sign in
Join our new commenting forum
Join thought-provoking conversations, follow other Independent readers and see their replies