Simian Mobile Disco and Deep Throat Choir, Barbican, review: Bold musical innovation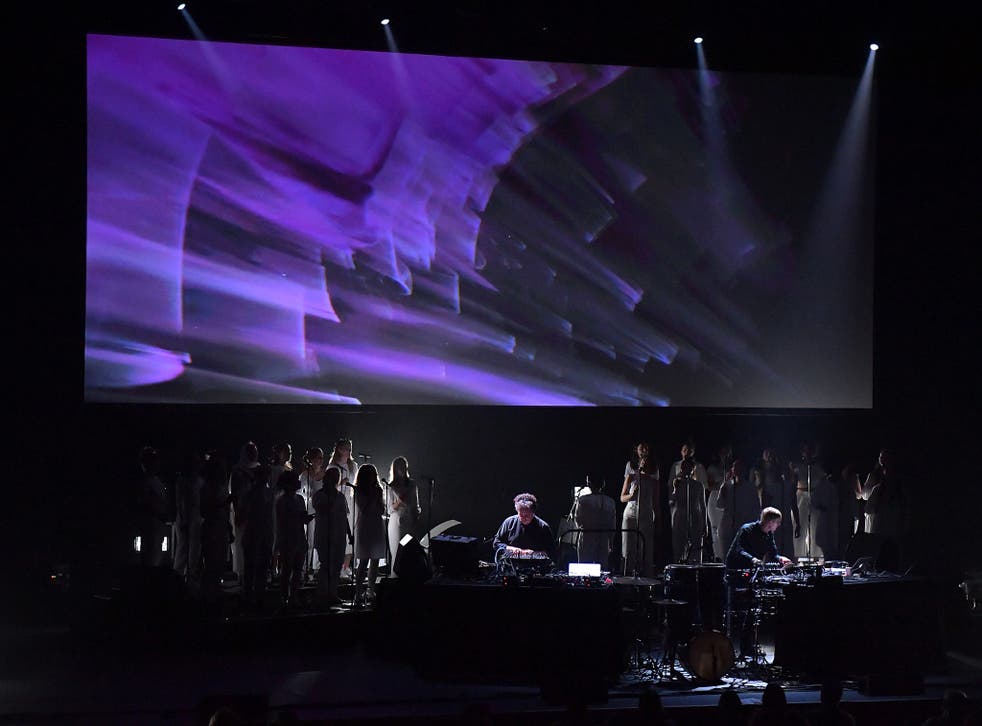 During the most enveloping moments of tonight's performance – a fascinating blend of undulating techno and live choral movements – it's hard to tell where the human sound starts and the machine noise ends.
There are two distinct components: the 27 women of Deep Throat Choir, whose ethereal tones and murmurs weave within one another; and then, standing in front them, there is James Ford and Jas Shaw of Simian Mobile Disco, spinning dark, hypnotic beats. But, at the times when it all comes together, they move as one musical creature.
The unlikely collaboration started after Ford and Shaw saw the Hackney-based choir live, and then began to share ideas with leader Luisa Gerstein, which eventually flourished into recording sessions and culminated in Murmurations, Simian Mobile Disco's sixth studio album, set to be released in May. Tonight is the first time the album is played live, in its entirety within London's cavernous Barbican Hall.
Ford and Shaw are no strangers to reinvention and reassessment. Their recording career is rooted in experimental rock, but has grown in multiple directions, branching out into minimal techno, electro, pop and, now, choral arrangements. The use of human voice is nothing new in electronic music, but to do it like this – in real time, focusing on organic texture – is fascinating and admirably ambitious.
After a rousing ambient intro, we're launched into the hook-heavy "Hey Sister". Driven by thudding beats and what sounds like digitally skewered church bells, the choir's refrain is infectious and hypnotic. On "Defender", the drum machines reverberate deeply as the choir reaches feverish heights with its dynamic, arresting vocals.
As enjoyable as these songs are, it can sometimes seem during these vocal-led tracks that the choir and the music are competing for space. The best moments are when the voices are used as something of a human synthesiser. Gerstein is a magnetic presence on stage, jumping from foot to foot as she animatedly leads the women who, despite dancing loosely to the music, are unswaying in their discipline and concentration. With all manner of arm movements and gestures, Gerstein moulds, manipulates, splits and melds the voices. She sweeps from one side of the choir to the other, bringing with her a swell of rising sound, before chopping it all up and sending it off in other directions, before once again coalescing.
As a choice of venue, the Barbican is as apt as it is peculiar. The music vibrates and explores the space within the grand auditorium, and the room on stage allows for a visual element to be incorporated. A massive screen behind the performers displays "Live Fluid Art" – the work of visual effects maker Chris Parks and director Saam Farahmand. Streamed live from an entirely different location across London, microscopic cameras are used to pick up the incredible shapes and patterns created by injecting fluid into tiny tanks. The scenes created are at times cosmically expansive, and at other times minutely detailed, but always beautiful.
However, performing supremely danceable music in an entirely seated venue is strange. There are plenty of nodding heads and tapping feet, but only once, right at the end, does an audience member decide to stand up for a solo boogie, during a rendition of "Sleep Deprivation", from SMD's 2007 debut, Attack Decay Sustain Release.
After all the noise of performance, there is a poignant moment as everyone leaves the stage. Shaw recently announced that he had been diagnosed with AL amyloidosis, and is undergoing treatment for it – meaning a string of future tour dates had to be cancelled. As he pointed out on his Twitter feed some weeks ago, tonight's performance is on a Wednesday, but because his treatment is on a Thursday, he's able to perform tonight. As the duo leave the stage, to rapturous applause, they hug, both visibly emotional. Here's hoping we see them back on stage together very soon indeed, continuing the bold musical innovation we're treated to tonight.
Register for free to continue reading
Registration is a free and easy way to support our truly independent journalism
By registering, you will also enjoy limited access to Premium articles, exclusive newsletters, commenting, and virtual events with our leading journalists
Already have an account? sign in
Register for free to continue reading
Registration is a free and easy way to support our truly independent journalism
By registering, you will also enjoy limited access to Premium articles, exclusive newsletters, commenting, and virtual events with our leading journalists
Already have an account? sign in
Join our new commenting forum
Join thought-provoking conversations, follow other Independent readers and see their replies