Singer-songwriter Perfume Genius on his new single and a fierce new reinvention
There is a purpose and it is music,' says Mike Hadreas, aka Perfume Genius, talking of his new drink- and drug-free lifestyle
Gillian Orr
Sunday 31 August 2014 00:55 Comments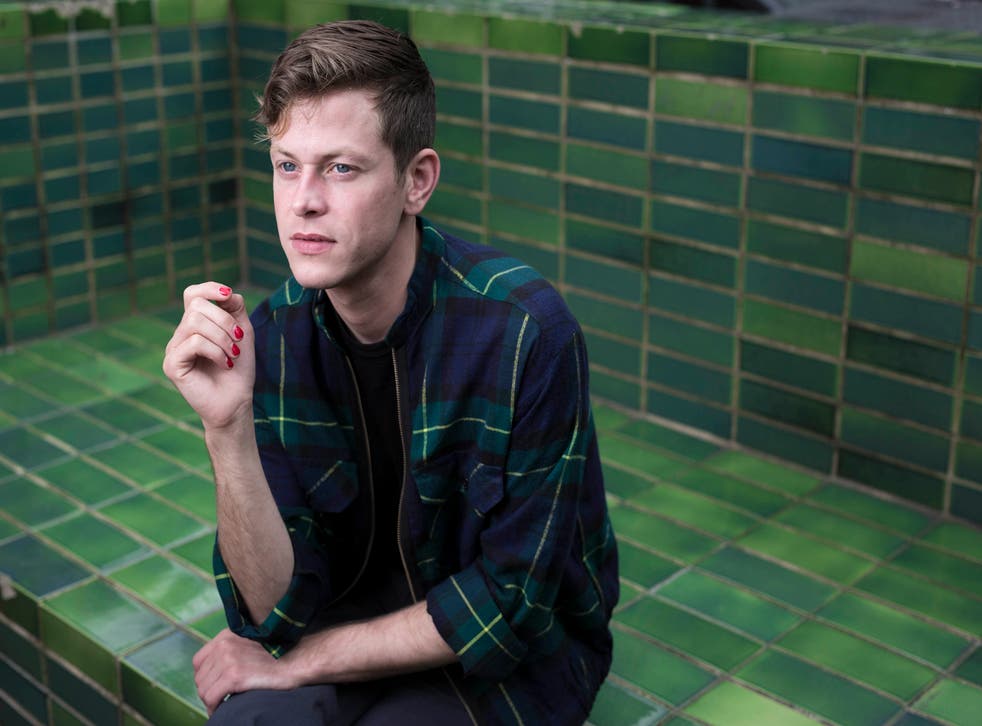 When Perfume Genius, aka Seattle singer-songwriter Mike Hadreas, first emerged on MySpace in 2008, the only photo available of him was one in which he sported a serious black eye.
It was a fitting image; the songs he was putting out were as bruised and beaten as he was. But now Hadreas is gearing up to release his third album, Too Bright, and the cover art presents an entirely different man. Styled, sparkly and dressed in an armour-like gold vest, he could be the Greek god of disco.
The music, too, has evolved. The delicate, lo-fi piano ballads about sexuality, suicide and self-loathing that filled his two previous acclaimed albums, Learning and 2012's Put Your Back N 2 It, and won him an army of ardent fans, have been largely replaced by shimmery electronics and a new-found confidence. It's a winning sonic shift.
Lead single "Queen" exemplifies this change: a dazzling song about "gay panic", in which he relishes intimidating people who are threatened by his homosexuality, it's among the finest he's ever put out. Its refrain, "No family is safe when I sashay", must surely be a frontrunner for lyric of the year.
When we meet for brunch at a restaurant in London's Shoreditch, the 32-year-old turns up in a black T-shirt, blue tailored trousers, smart brogues, and scarlet red nails. Far from being the damaged goods his songs suggest, he is a hoot to dine with. Between bites of his breakfast roll, he tells me the story behind "Queen".
"I'll be going about my business and letting my guard down and somebody will call me a 'faggot' on the street. All of a sudden your otherness is magnified," he says. "One time in the [American] South at a gas station I had this group back away from me as I walked through, and in a way it was kind of awesome. It was the first time that I thought maybe this could not be so shameful and bad if I were to be like, 'Yeah fucking move; I'm coming down the aisle'."
"So 'Queen' is kind of saying that all the things you're scared about are true and it's me, so watch out," he says, laughing. "And it's also kind of playful and hopefully magnifying how ridiculous that is."
There was certainly a "gay panic" when Hadreas released his video for "Hood" in 2012. In it he was being held tenderly in the arms of the porn star Arpad Miklos. Despite an absence of nudity, YouTube deemed the clip "not family-safe" and banned it; after widespread objection they eventually overturned their decision.
Perhaps as a result of this prejudice, when it came to writing his latest album some industry figures and friends advised him to "tone it down" to have a better chance of breaking into the mainstream. "They were basically telling me to be less gay," he states, matter of factly. Against his better judgement, he took on their advice. "I ended up writing more universally but the music was going to be less touching and less moving for everyone who was going to listen to it," he says. "Even though the songs were good they just didn't feel important to me and there wasn't the level of conviction that I like to have with everything I make. And so, I just decided to do whatever I wanted and stop worrying so specifically about how it was going to be received."
Enjoy unlimited access to 70 million ad-free songs and podcasts with Amazon Music Sign up now for a 30-day free trial
Sign up
Having scrapped the entire set of songs and started again, the first thing he wrote was "I'm a Mother", a pitch-black, eerie song about the prospect of having children with his boyfriend of four years, Alan Wyffels, a musician who plays keyboard on tour.
"If we wanted to have kids we could do it but we can't just have a baby, you know?" he says. "And there's something sad about that to me."
But it's not all doom and gloom. Too Bright, produced by Portishead's Adrian Utley, is among the most melodically upbeat material he's put out.
"Even though I made something more experimental and dark, it ended up being poppier than even some of the other songs I was trying to write before."
Hadreas grew up in the suburbs of Seattle with his parents who split up when he was 18. His mother would play what he calls "mom music", including Enya and James Taylor, while his father introduced him to more sophisticated artists such as Leonard Cohen. Although he was an obsessive music fan, it was art that Hadreas thought he might excel in.
He moved to downtown Seattle to attend art school when he was 20 before meeting a boy online and moving to Brooklyn to be with him. He was seduced by the big city, and the next few years were a blur of drink, drugs and, well, not much else.
"I didn't really work; I didn't really pay my rent. Things just got progressively worse and I became aggressive and destructive. It wasn't good," he recalls. "There were moments where I knew that if I kept going with the drugs, even for 10 minutes, then I was going to die. And then I did it anyway."
He ended up entering rehab and moving back in with his mother in Seattle. It was only then, in his bedroom at the age of 27, that he wrote his first complete song, "Learning". After that the music flowed out of him and became a form of therapy.
But despite some of his tortured output – Learning's "Mr Peterson", for instance, is about his abuse at the hands of a teacher who later killed himself – Hadreas takes issue with the common perception of him as in some way weak. He puts it down to a confusion of his femininity with fragility.
"I find it very strange and it pisses me off," he says. "I'm not certain why people think that if you're feminine then that somehow makes you less strong. To me, I consider the opposite to be true. A lot of my qualities that I think are the most badass and strong, such as bravery, I consider to be feminine qualities."
The night before we meet, Hadreas had played a small show in Clapton, east London. He prowled across the stage, staring down the crowd. It was an impassioned performance. On occasion, however, a look of unease crept on to his face. So, does he feel more confident these days?
"I do, yeah, but I'm not exactly where I want to be," he explains. "It's almost that I hope to be one day. I think that's why this music is as therapeutic as the other stuff I've made. I feel purposeful now. There's a purpose and it is music."
At the end of our time together, I ask Hadreas if there's anything else he'd like to add, a standard journalistic practice that rarely generates anything of interest. This time, my subject dives into a sincere monologue.
"I don't … I don't feel like I've made a big gay album," he blurts out. "I didn't grow up only listening to gay, man musicians and I don't need to relate to someone's experience 100 per cent to be moved by it or apply it to myself. Everybody has some sort of outsider qualities to them, you know?"
And with that he politely asks if he can dash out for a cigarette, his last remaining vice. He gets up and walks past a table of business executives sitting down to lunch, strutting all the way.
Perfume Genius's album 'Too Bright' is released on 22 Sept on Turnstile
Register for free to continue reading
Registration is a free and easy way to support our truly independent journalism
By registering, you will also enjoy limited access to Premium articles, exclusive newsletters, commenting, and virtual events with our leading journalists
Already have an account? sign in
Join our new commenting forum
Join thought-provoking conversations, follow other Independent readers and see their replies