Skepta, Dave and Yungen at Wireless, Finsbury Park - review: A feast of grime riches on a sweltering afternoon
Grime and hip-hop royalty from both sides of the Atlantic turned up for the north London gig
Thomas Goulding
Tuesday 11 July 2017 16:37 Comments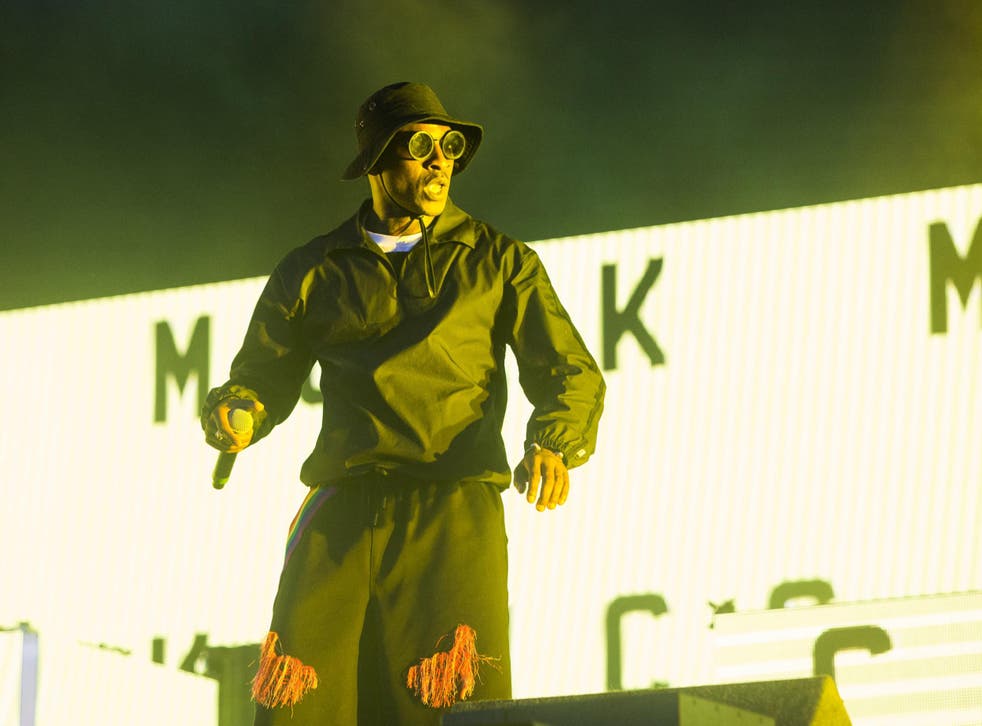 Saturday's Wireless Festival offered a tantalizing line-up along with an unforgiving North London sun for those who made the earlier arrival of midday, for what is the zenith of grime and hip-hop festivals in London.
Section Boyz, Lil Yachty and Young Thug all appeared by 4pm, nearly making you forget about the on-the-day cancellation of Wiley's main stage appearance.
Young Thug's trap ballads from his astonishing "Jeffrey" wafted across a crowd swaying in the heat, as many were huddled in the small patches of shade next to big screens, before somewhat out of nowhere bringing out Kojo Funds for a inevitably popular, closer taste of home for the crowd in 'Dun Talkin'.
Despite around 15,000 young people packed into Finsbury Park, the space is small enough to be able to bounce between the two stages within a few minutes, so as not to have to decide between the rival evening bills of the Brits (Dave, Yungen) on the smaller Pepsi Max stage versus the Americans on the main stage (Rae Sremmurd, Travis Scott). While both Santan Dave and Yungen could have justified being on the main stage, their presence on the more intimate arena delivered the two sets of the day, with Skepta still to bring the main stage climax.
Dave's substantive emotional vulnerability is reflected in an strong, special bond with his crowds rarely seen elsewhere, both at gigs and the wider world, and the wholehearted, unison bellowing of the "I Wanna Know" chorus made this shine through. He also brought a particularly committed Santan Dave head, no older than 19, to perform "Thiago Silva" with him, which he did with such aplomb that Dave got the crowd chanting the fan's name by the end.
Yungen followed with a breathless, rip-roaring 40-minutes with as much crowd hype for his soothing love songs that exhibited some of grime's afrobeat influence (Bestie, Take My Number), as his combative mosh-pit starters ("Ain't On Nuttin", freestyle over Rude Kid's "One Take"). None of this however could touch bringing out Not3s, to get hundreds of Londoners bellowing out "Peng ting called Madison/I tell her come jump in my Addison Lee", squeezing out every last drop of the young crowd's gleeful feels.
By the final set of Skepta's almost homecoming coronation, one year on from Konnichiwa's release, the day's debauchery had taken its toll on much of the crowd, a lull in the atmosphere rectified by bringing out the Boy Better Know crew for "Too Many Man". While "Man" and "Shutdown" obviously brought cheers, the dark hooks of Konnichiwa's other tracks complemented the mesmeric visuals of the main stage's big screens best, to end a satisfying day of riches.
Register for free to continue reading
Registration is a free and easy way to support our truly independent journalism
By registering, you will also enjoy limited access to Premium articles, exclusive newsletters, commenting, and virtual events with our leading journalists
Already have an account? sign in
Register for free to continue reading
Registration is a free and easy way to support our truly independent journalism
By registering, you will also enjoy limited access to Premium articles, exclusive newsletters, commenting, and virtual events with our leading journalists
Already have an account? sign in
Join our new commenting forum
Join thought-provoking conversations, follow other Independent readers and see their replies