Slowthai review, TYRON: Charismatic artist is a self-saboteur on his second album
The Northampton-born rapper keeps the energy high throughout the two sets of his second LP, but too often puts his authentic self in the hands of its guest stars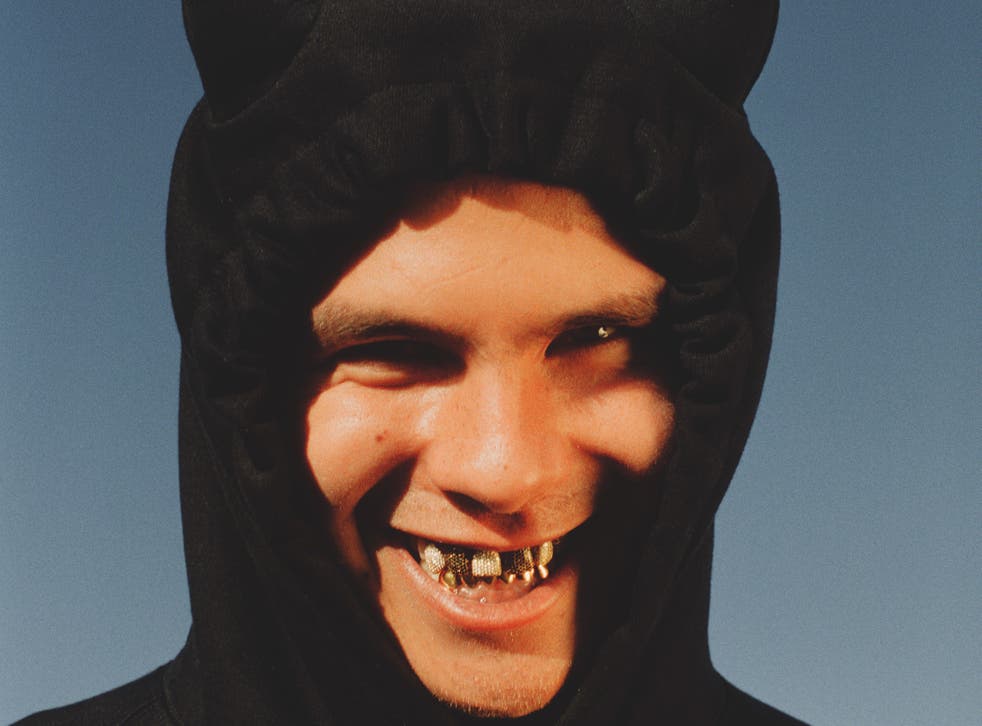 Slowthai has a tattoo of the Mad Hatter on his left shoulder. Like Lewis Carroll's stylish riddler, the 26-year-old grime-punk rapper exudes an anarchic, off-kilter charisma. Born to a teenage mother and raised on a Northampton council estate, he made his name ripping into the inequalities of Brexit Britain, often wearing little more than his boxer shorts and a gold-capped, Cheshire Cat grin.
He's also a self-saboteur. Just as he was riding high on the success of his Mercury nominated debut album (Nothing Great About Britain, 2019), he got drunk at last year's NME Awards, where he engaged in misjudged leery banter with host Katherine Ryan before leaping from the stage to fight with the audience. Charged with equal energy but less wit and confidence than his debut, Slowthai's second album, TYRON, finds him wrestling with the aftermath of his "shameful" behaviour and conceding: "I haven't got control yet."
The record is divided into two sets. The first half is a jagged-edged electro backed spleen-splurge with all seven tracks titled with the CAPS LOCK ON. The smoother, more soulful second half finds him in more reflective, lower-case mood. His syllable-splattering flow maintains urgency throughout. Long-time collaborators such as Kwes Darko and SAMO give him big, gritty beats for traction, over which he raps like a grown man riding a tiny BMX, his big, messy emotions spinning words like tiny peddles. "My bike ain't got no brakes," he explains. "That's why I never stop/ I say it to your face/ Cos I don't give a f***."
But too often it feels like the rapper whose USP was going eyeball to eyeball with the Big Issues is now skirting them. Second song, "CANCELLED" is his big opportunity to address the NME Awards debacle. Musically, it's muscular, built on serpentine, semitone coils of oriental flute. Lyrically, it's direct: "How you gonna cancel me?/ Twenty awards on the mantelpiece/ Pyramid Stage at Glastonbury/ Girls in the crowd got their hands on me…" But it fails because Slowthai doesn't own the lines himself, handing them to guest star Skepta who delivers them with the detached authority of a man whose own skin isn't in the game. Slowthai only pops up at the end to splutter out some self-hatred: "I'm so obnoxious, I need a doctor/ Said I won't comeback, I must be cancer, ain't got much longer."
Later, the rapper hands the tender emotion of the romantic "feel away", with its base of muted, late-night piano, to James Blake. Having done the rap-brag thing of boasting he took his girl "higher than Mariah", it's Blake who gets the blunt sincerity of the grazed chorus: "I leave the dent in my car/ To remind me what I could've lost/ And you revealed who you are/ So this doesn't feel like love / I feel safe."
Hearing how much of his truest self he hands off to guest stars (including his US label boss A$AP Rocky, as well as Denzel Curry and Dominic Fike) reminds me of the Twitter post he wrote last February: "I build myself up from pieces of other people and when I look in the mirror I shiver 'cause I feel like I'm wearing someone else's skin. I've always been socially awkward and found it hard to articulate to people how I truly feel, often lie. Sometimes it's harder to stay quiet than force conversation and it makes my skin crawl."
Often – to get Carrollian – Tyron is bloody brillig. I loved "push" on which he laments a tendency to "do stuff I regret/ feel embarrassed tomorrow" as Deb Never delivers a daydreamy, acoustic melody. And the disarmingly airy, optimistic "nhs". But he's equally often an exhaustingly slithy tove who rambles on without enough to say. I guess my jury's out until we get a third album. When I really hope he mome raths outgrabe.
Register for free to continue reading
Registration is a free and easy way to support our truly independent journalism
By registering, you will also enjoy limited access to Premium articles, exclusive newsletters, commenting, and virtual events with our leading journalists
Already have an account? sign in
Register for free to continue reading
Registration is a free and easy way to support our truly independent journalism
By registering, you will also enjoy limited access to Premium articles, exclusive newsletters, commenting, and virtual events with our leading journalists
Already have an account? sign in
Join our new commenting forum
Join thought-provoking conversations, follow other Independent readers and see their replies