Snowboxx festival 2018 review, Avoriaz, France: A cut above the rest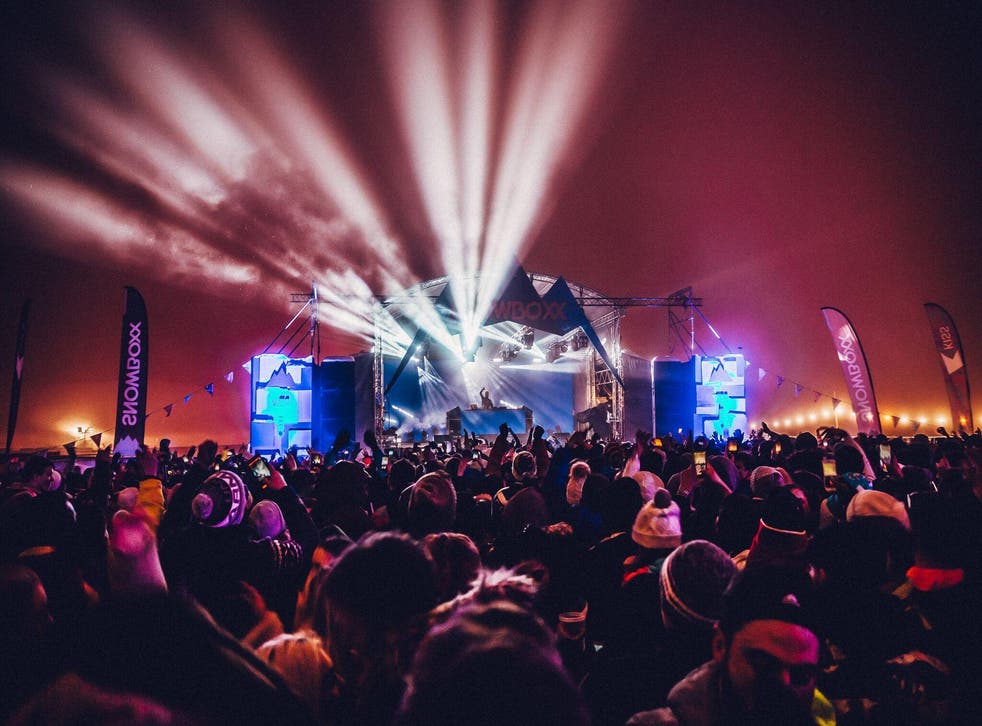 Wear snow boots. If I could offer you only one tip for enjoying your time at winter music festival Snowboxx, snow boots would be it.
As temperatures plummeted to a beer-freezing -20 while half of UK duo Snakehips blasted out their signature electro on the mountain-top Snowboxx mainstage, I have never felt more smug than when raving the night away in my brand new, waterproof, fur-lined pair purchased just that afternoon.
The days preceding had been a different story. Nestled in the picture-postcard French Alps resort of Avoriaz, Snowboxx is one of the few winter festivals that truly delivers on its snowy promises. This is not a town-based music festival that just so happens to have skiing nearby but literally has its diverse stages and venues dotted across the slopes. The only downside to having snow perpetually underfoot is that a pair of Nikes or patent Doc Martin's or your usual clubbing footwear are not going to cut it. Cue my emergency snow boot purchase. No one wants their partying interrupted by the onset of frostbite…
Cold toes aside, the Snowboxx set-up really is a paradise for those partial to a bass line and fresh powder in equal measure. Having myself sampled resorts across Europe and beyond, Portes du Soleil skiing is some of the best you can find, from its easy access green and blue runs catering for the tentative skier to kilometres of tree-lined back country for the more snow-adventurous to explore. Plus its ecologically-minded town has been lovingly constructed so as to provide an exquisite balance of tradition and contemporary architecture, with wooden-clad tower blocks mirroring the silhouette of the mountain and an entirely car-free centre offering horse and cart "Ubers" to get around. You can hop straight on the slopes and ski back to your door so even the most exhausted of party-animals has little excuse for sleeping-in, and from virtually any point in the town one is surrounded by picturesque alpine scenes, shimmering white by day, twinkling with fairy lights and stars by night.
That's not say the festival's emphasis on snow means its electronic music offering is lacking as result. Far from it. Storming onto the main stage on launch night after a warm up from well-quiffed multi-instrumentalist Youngr was none other than Fatboy Slim. A tense few minutes of weather-induced technical issues kept a primed audience on tenterhooks. But the blip was soon forgotten as the master of dance whipped the 1000-strong crowd into a frenzy with a blinding set of his best tracks from 2015's "Eat, Sleep, Rave, Repeat" to 1998's "Right Here, Right Now."
Tuesday rising star Loyle Carner's fresh take on the now-thriving UK hip hop scene, even treating the shivering audience to a Snowboxx-tailored freestyle alongside tracks "Tierney Terrace" and "Ain't Nothing Changed" from 2017 album Yesterday's Gone, displaying his loveable charm by stating: "It might be very, very cold but this is the most beautiful place I've ever played." Snakehips' Oliver Lee further sliced through the chill with tracks such as Tinashe and Chance the Rapper-collaboration, "All My Friends" accompanied by some transfixing visuals while Thursday was reserved for an explosive DJ set from Chase and Status after a performance from 'Gecko (Overdrive)' singer Becky Hill.
Downtime (a relative rather than absolute concept in this context) between mainstage nights were filled with DJ sets at the XX club (by day, the resort's tourist office) from the likes of Chase & Status-signed TCTS and British drum and bass' Fred V & Grafix. At the Après stage, punters could literally slide off the slopes to knock back Jägerbombs, flaunt epic 80s ski clobber and other inventive fancy dress (a bunch of priests and some penguins were amongst my favs) to the sounds of Radio 1's Danny Howard and 90s garage stars Artful Dodger.
A unique spot was the Igloo stage next to (you guessed it) an actual Igloo where Charlie Tee played her blend of drum and bass ahead of the genre's finest, Shy FX: "You're there raving and then you look right and see views of the whole of Avoriaz," the Kiss Fresh FM DJ said of her set. "Totally breathtaking, like something from a Christmas scene. It was really special."
The Morzine-based Rock the Pistes stage encouraged skiers to venture beyond the immediate ski area and featured artists such The Horrors, Oscar & The Wolf, Alice Merton along with tastes of the region-specific cuisine from local vendors.
If revellers weren't already exhausted from all day skiing, all night raving: new for this year was a comedy lineup in collaboration with Altitude Comedy Festival featuring Abandoman, Matt Reed and Irish comedian Andrew Maxwell, who left me in stitches on his Brexit chat: "You know Ireland is the fifth biggest customer for UK exports and the UK is the second biggest customer for Irish exports. Though I couldn't tell you what we trade, other than stag dos...'"
A less than sensible but certainly fun option was a boozy Bottomless Brunch led by some top notch mixing from Mikey Snooze followed by an afternoon checking out the experts and fumbling some baby kickers of my own in Avoriaz's snowpark La Chapelle and 100% natural snow playground The Stash. There was also Human Bowling (think zorbing on snow with giant bowling pins to knock over), the most organised of snowball fights ever fought (there was a pitch, teams and pre-made snowballs) and the mountain festival staple, the skim pool.
On the face of it, clubbing and snowsports are a bizarre combination. But surviving a snowboarding season in Canada a few moons ago long-taught me the power of the mountain air to wipe out a hangover and pump you with a impervious adrenalin, as Charlie Tee also remarked after her third Snowboxx: "You start the day feeling like shit then after a few runs you feel human again and it's like, how? The magic of the mountain!"
Things can get messy - unbeatably-priced skiing combined with a bass-heavy, male-dominated, Brit-focused line-up results in something of a stag-esque, Brits abroad vibe at times - but overall the stamina-testing pursuits and hardcore dance schedule creates a brilliant sense of camaraderie among the uniquely tenacious mountainside-ravers, as Charlie agreed: "It's always such a good crowd, they're always so up for it."
Having evolved over its six years since first launching in Andorra, Snowboxx has nailed what its founders set out to achieve: "We wanted to create the ultimate winter festival - everything you want from a ski holiday combined with music in the mountains at an affordable price," Aden Levin explained of the project created with co-founder and uni mate Rob Tominey. "And it's grown massively in scale. Now there is something for everyone."
The achievements of the entrepreneurial pair are not to be sniffed at, having garnered one of the biggest investments from Dragon's Den back in 2014 for their budget festival package holiday concept which now includes a whole range of festivals, including new for this year Kala in Albania.
They may face fierce competition from the likes of Snowbombing and other emerging snow festivals. But their consistent ability to sell-out tickets proves not only there is plenty of appetite to justify multiple mountain festivals offerings but perhaps also that such incredible value (starting at around £400, I challenge you to find a better ski deal even without the festival ticket…) combined with a healthy balance of music and mountain, their product is simply a cut above the rest.
Join our new commenting forum
Join thought-provoking conversations, follow other Independent readers and see their replies