Solange at the Guggenheim, New York, review: A historic paean to black womanhood
The one-off 'interdisciplinary' performance came courtesy of ​Red Bull Music Academy New York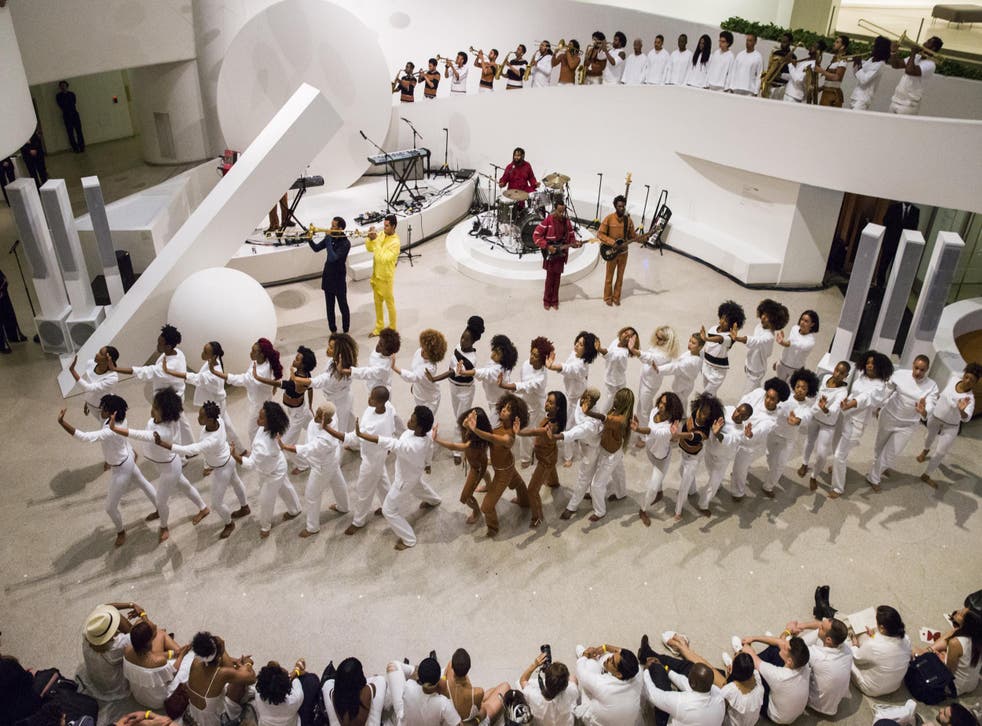 If there was any doubt that the individuals gathered in New York's Solomon R Guggenheim Museum on a sweltering afternoon in May weren't some of the most fortunate souls on earth, it was dispelled the moment Solange delivered An Ode To, her "interdisciplinary" reimagining of her 2016 record A Seat at the Table.
The performance was part of a festival held by Red Bull Music Academy, a global institution committed to fostering creativity in music. As it drew to its joyous close, Solange addressed the crowd, revealing to them it had been a shambolic mess just two days before; a statement completely belying what had been witnessed by dwellers, who in a spine-tingling touch had adhered to the dress code of all-white attire: a remarkable paean to – in the singer's own words – "being a black woman of colour."
To every gathered journalist's frustration, it was impossible to express with words.
Immediately setting this one-off installation apart were simple instructions: check your phones and cameras in at the door - a refreshing rarity in an age where most gigs are viewed through a sea of iPhone screens.
For 60 short minutes, Solange requested you live in the here and now, eliminating any stress over which moment you'll later show off to your Instagram followers. Stood barefoot in front of spectators was a musician who, surrounded by skilled dancers and instrumentalists, disguised herself as a message-conveying vessel through the medium of interpretive choreography – and it was mind-blowing.
Marching dancers snaked their way around Frank Lloyd Wright's iconic hub of artistry at their own pace, Solange among them. Trumpeters sporadically surfaced from sparse stretches of the building, slicing the intimacy and upping the tension.
The experimental, almost ritualistic performance commanded all eyes as Solange flitted around her temporary playground. The majority of the show may have been performed without a foot wrong, her backing dancers tautly enacting sequential limb movements and head-turns, but it was the unrefined edge which positioned this as a piece of art to be truly admired – a freestyle jump here, an impassioned writhe on the floor there; it was easy to believe these were moments that hadn't occurred in rehearsal.
This spontaneity was the tool that tightened the singer's grip on her audience, hammering home the performance's purpose – a celebration of black womanhood and a reaction to the adversity faced in everyday life.
While A Seat at the Table's radical track-listing represents these themes, it was the reconstructed musical arrangements which outlined them, perhaps best exemplified in a performance of "Mad", which culminated in her troupe – both male and female – screaming in unison, a non-verbal cacophonous expression symbolising everything the track is about.
If these moments breathed fresh life into tracks, including "Cranes in the Sky" and "F.U.B.U." – a rendition of which saw her wander into the audience to perform to select awe-inspired individuals – it was her vocals that stood hairs on end. Is it too bold to say you haven't lived until you've heard Solange Knowles send a high C reverberating around the Guggenheim's walls?
Enjoy unlimited access to 70 million ad-free songs and podcasts with Amazon Music Sign up now for a 30-day free trial
Sign up
After departing the platform akin to a celestial being, Solange returned bringing the rapturous crowd, comprised of Janelle Monáe, The xx and Björk, to total silence.
"Inclusion is not enough. Allowance is not enough. We belong here," she stated before proclaiming it time for black women to enter the institutions and "tear the f***king walls down".
If that was Solange's mission when embarking on this remarkable project, she can consider it accomplished.
The application to be on the next Red Bull Music Academy will open shortly. You can find more details about UK events occurring later this year here
Register for free to continue reading
Registration is a free and easy way to support our truly independent journalism
By registering, you will also enjoy limited access to Premium articles, exclusive newsletters, commenting, and virtual events with our leading journalists
Already have an account? sign in
Register for free to continue reading
Registration is a free and easy way to support our truly independent journalism
By registering, you will also enjoy limited access to Premium articles, exclusive newsletters, commenting, and virtual events with our leading journalists
Already have an account? sign in
Join our new commenting forum
Join thought-provoking conversations, follow other Independent readers and see their replies