Stevie Wonder review, BST Hyde Park: Jubilant set ends on an emotional note
Legendary artist's headline show was a masterclass in songwriting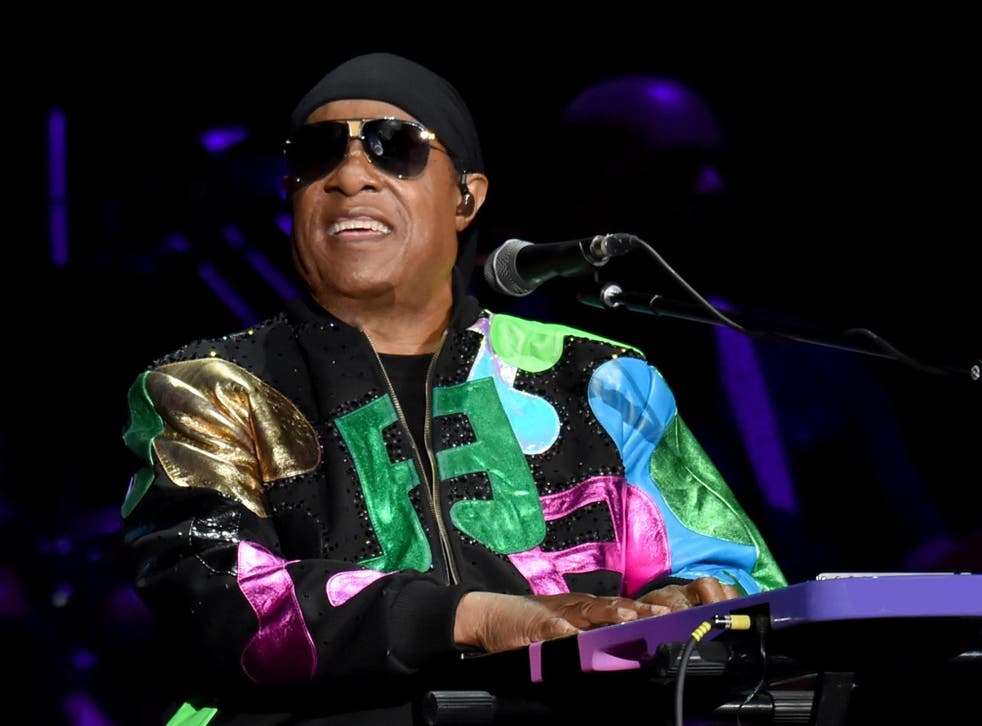 As Earth, Wind & Fire's inescapable "September" plays, Stevie Wonder, clad in what is likely the jazziest jacket ever seen in Hyde Park, is helped to the stage. He looks surprisingly frail – the reason for which will later become clear.
But the 69-year-old, who boasts 25 Grammys, 100 million record sales and an immeasurable influence on modern pop, deserves to take his time. Though he spends most of the show swivelling between a grand piano and keyboard stack, occasionally he just sits back and grins, clapping delightedly as the crowd belts songs back at him. This isn't so much a gig as a celebration, and the mood is that of a post-speech wedding reception. Gently pickled after a day of drinking rosé in the sun, the audience is spotted with intergenerational families on a day out; the youngest in the crowd are just days old, while the oldest, well... it would be rude to ask.
The noodling jam sessions that end some of Wonder's lesser hits seem to go over a few heads, but it doesn't seem to dampen the atmosphere. Watching a band as tight and accomplished as the one behind him is a joy, even if the sheer sonic might of a brass section, DJ and a dizzying array of percussion occasionally overpowers their leader's voice. When you can hear him – particularly during the piano ballad "You and I (We Can Conquer the World)" – his vocals are rich and heartfelt.
The 40 best albums to listen to before you die

Show all 40
If the first half of the set is about flexing his musical muscles, the second is about blasting Hyde Park with hit after hit. The crowd barely recovers from "Sir Duke" and "My Cherie Amour" before being hit with the triple whammy of "You Are The Sunshine of My Life", John Lennon's "Imagine" and "I Just Called to Say I Love You". When Wonder learns that Celine Dion sang "Imagine" on this very stage the night before, it simply solidifies his intention to sing it too: "We're going to keep singing this song until we all cut the bulls**t," he announces. His thoughts on the current political state of both the US and the UK are clear: "Those of you who know the right thing to do: do the right thing. Unity has never been this hard," he says.
Wonder seems contemplative, too, taking time out to rest mid-set while the DJ plays a medley of songs by performers we've lost in the last few years: Amy Winehouse, David Bowie, Prince, Aretha Franklin and (slightly problematically) Michael Jackson all get their dues. Clapping along, Wonder tells us: "We're having a celebration 'cos you never know what's gonna happen."
After an extended "Superstition" outro, which closes the set, the reason for his current mood becomes more obvious: he is soon to have a kidney transplant. "I'm all good – I have a donor and it's all good," he assures fans. It's an emotional end to a jubilant set that has been a masterclass in the art of songwriting and performance. The 65,000 party goers will agree: Stevie Wonder lived up to his name.
Join our new commenting forum
Join thought-provoking conversations, follow other Independent readers and see their replies