Stormzy review – Heavy Is the Head: Assertive second album heralds a man who knows exactly who he is
Not only is it a drastic step up from his impressive debut, but it shows an artist keen to test himself emotionally, as well as artistically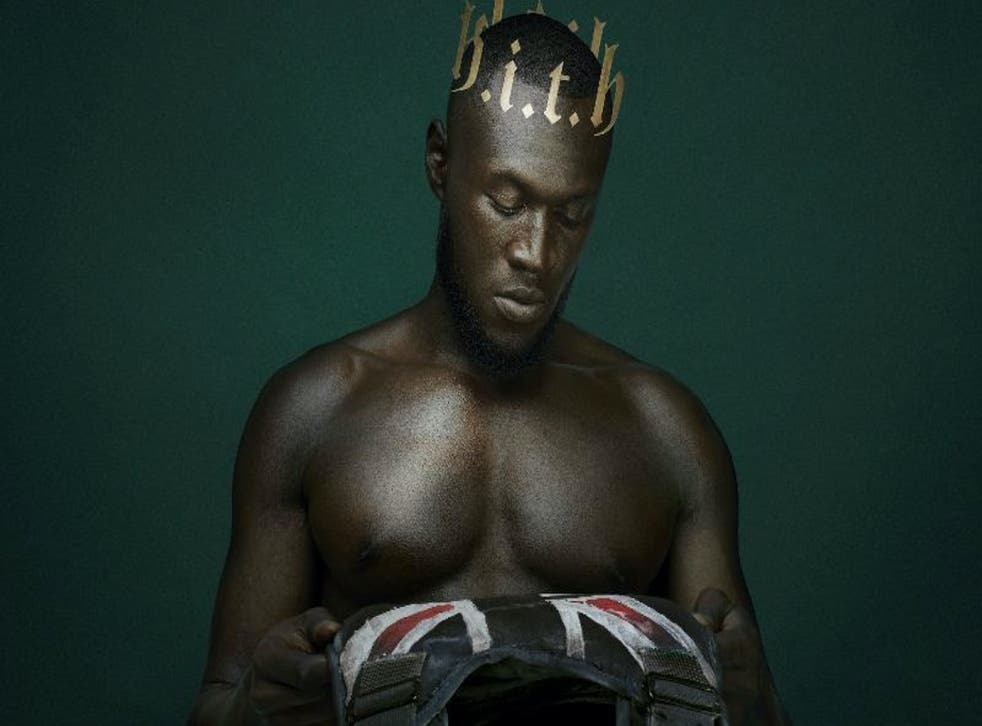 When Stormzy left the stage after his headline set at Glastonbury this year, it was as though a hurricane had ripped through Worthy Farm. The audience was dazed, elated. And yet the grime star born Michael Omari, wearing the now-famous Banksy stab-vest, was in tears. His in-ear monitors had broken within the first 20 minutes of his set, and the 26-year-old was convinced he'd messed up. He hadn't, of course – his Glastonbury show was by turns uncompromising and imperious, a maelstrom of fiery delivery and glowering charisma. But his reaction was indicative of just how much he cares about doing something properly, or else not at all.
Further evidence of this is on Heavy Is the Head, his fervently awaited new record. It's almost three years since the Croydon-born rapper became a household name, having released his blistering debut album Gang Signs & Prayer and then closed the Brit Awards with a ruthless evisceration of the government's handling of the Grenfell tragedy. Now, he's cast himself as some kind of Shakespearean anti-hero: brooding, misunderstood, conflicted. Not only is it a drastic step up from an impressive debut, but it shows an artist keen to test himself emotionally, as well as artistically. It opens on "Big Michael" – not with Stormzy's voice, but with an angry note left for him by Instagram user Josh Muni, who demands: "Just release some f***ing music, d***head." Over bold brass arrangements, Stormzy rattles out ripostes to critics who have pressured him or attempted to "wind me up", all the while he remains uncertain about where to go next. He may have started out that way, but the following 15 tracks herald a man who knows exactly who he is.
The 50 best albums of the decade – 2010 to 2019

Show all 50
He has a great nose for the dramatic: "Audacity" takes on a sombre tone with the toll of a church bell, as guest star Headie One slips easily into the beat. The samples used are a testament of his youth, from the Noughties R&B song "Shackles (Praise You)" by Mary Mary to the children's TV show The Story of Tracy Beaker​, which he sings at the end of the empowering anthem "Superheroes". He pays tribute to the gatekeepers of grime on one track ("Wiley Flow"); on "Bronze" he becomes exasperated with the old guard and new blood of grime using him as a middle man, and declares himself "king… by default". His relationship with the media remains tense – he calls out NME for using him on the cover of a mental health issue: "I am not the poster boy for mental health, I need peace of mind, I need to centre self, the cover of the NME that s**t made me resent myself, there's people tryna spread the word and people that pretend to help."
There are three themes that run through the record: his defiance in the face of doubt; the pressure of high expectations; and his efforts to lift others up as his success continues to grow. He reminds himself constantly of who he is beneath the gloss that fame has brought: he's "Rachael's Little Brother", "Big Michael", a guy who likes to watch Avengers and Game of Thrones. When he sings, occasionally off-pitch, it adds a vulnerability that reminds you just how young he still is. But then, towards the end of the album, you witness his maturity in "Lessons", which can only be about his ex-partner, the radio presenter Maya Jama. Stormzy is so honest, so filled with regret as he talks about throwing away "the greatest love I ever knew", that remaining unmoved is just about inconceivable.
He closes on his number one single, "Vossi Bop". All of Stormzy's best traits are present and correct: sincerity, a smooth flow and a forensic-like analysis of societal ills, laced with pathos and humour. The lasting impression is of an artist whose only way is up.
Register for free to continue reading
Registration is a free and easy way to support our truly independent journalism
By registering, you will also enjoy limited access to Premium articles, exclusive newsletters, commenting, and virtual events with our leading journalists
Already have an account? sign in
Register for free to continue reading
Registration is a free and easy way to support our truly independent journalism
By registering, you will also enjoy limited access to Premium articles, exclusive newsletters, commenting, and virtual events with our leading journalists
Already have an account? sign in
Join our new commenting forum
Join thought-provoking conversations, follow other Independent readers and see their replies