Suggs: My Life Story in Words and Music, Orchard Theatre, Dartford Olly Murs, Motorpoint Arena, Cardiff
The Madness singer has made his life story into a great night out; as for Olly, he's an embarrassment
Simon Price
Sunday 05 February 2012 01:00 Comments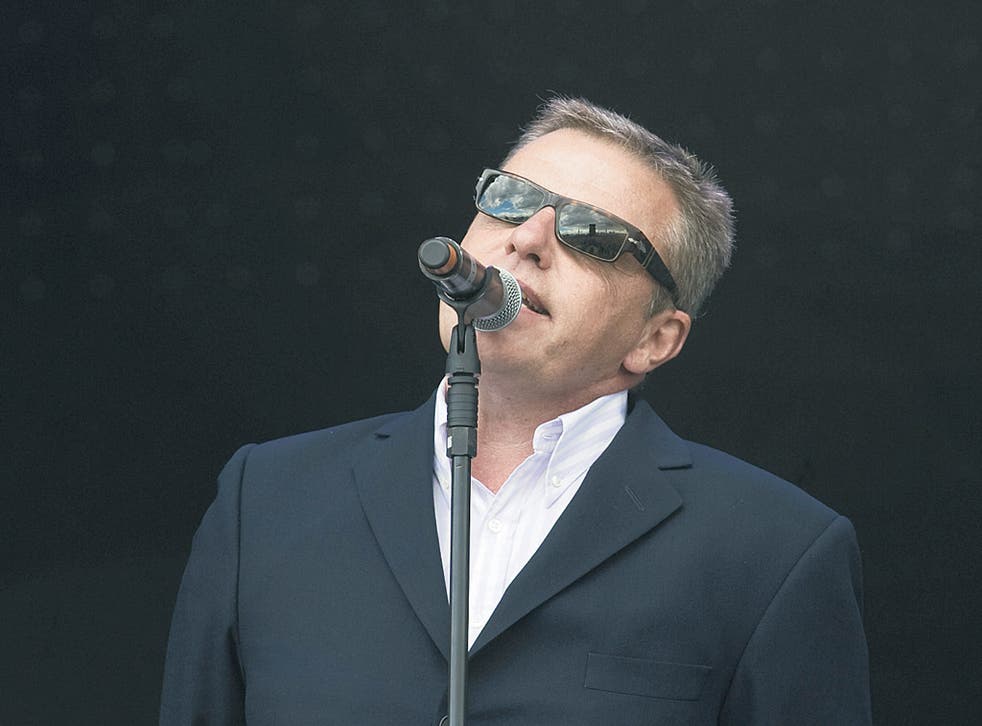 Two nights, and two generations of Estuarine geezers known for their pop-reggae hits and services to the trilby trade. If a comparison between Suggs and Olly Murs feels a little crowbarred, there's more to it than you might expect. But more of that later.
A dead cat and a dead dad are the twin catalysts driving Graham McPherson's autobiographical one- man show, which takes the Madness singer's 50th birthday as its starting point and zigzags back and forth through a life in which becoming a pop star at 18 and a retired one at 27 is only a small part.
Strolling the stage like a music-hall MC, Suggs is an effortlessly engaging raconteur, using self-consciously fogeyish humour (he speaks of "The YouTubes") and unafraid of kaboom-tish asides, his story is as funny and occasionally moving as Madness at their best.
We hear about his family background: a mum who was a jazz singer in Manchester, Liverpool and Soho working in clubs run my mobsters, a dad he never knew who was a heroin addict. We hear about his childhood, including a spell in Haverfordwest which, when he returned to London, earned him the epithet "flea-bitten Jock-Welsh bastard", and the schooldays (sample punchline, " ... me and the other four-thirds of the maths class") which inspired "Baggy Trousers". We hear about his misspent youth, running the gauntlet of London's teenage tribes and football hooligans, hanging out with the punks at the Roxy and covering Clerkenwell in self-aggrandising graffiti. And we hear about his first job as a butcher's boy, affording him the pretext to deliver an innuendo about "delivering meat to the nuns" and the line, "fat is impervious to cold water: that's why ducks wear it".
But it's the behind-the-scenes tales of the Madness years which are the most interesting, from sparking a Teddy Boy riot during an early gig in a florist's, through the fateful meeting with The Specials at the Hope & Anchor and the subsequent chaos of the 2 Tone tour, to a priceless anecdote about Madness hiring authentic police uniforms for a video shoot, hearing that The Clash were rehearsing nearby and deciding to make a pretend drugs raid on the studio. Cue much slamming of doors, flushing of toilets, and Strummer and Jones not speaking to Madness for years.
Then there are the songs. Accompanied by a young whippersnapper on piano, he gives us Madness classics like "Shut Up" and a semi-spoken "Baggy Trousers", plus a smattering of covers: The Kinks's "Lola", Ian Dury's "What a Waste", Elvis's "Jailhouse Rock" and a certain Simon and Garfunkel song which, he tells us, caused guest ToTP presenter Chris Eubank consternation when the autocue obliged him to announce: "The sensational Suggs at Six with 'Cecilia'!"
His later years – managing The Farm, hosting a BSB chat show with four viewers, becoming a DJ for Virgin Radio – are intertwined with his attempts at amateur genealogy, in which he finds that his father died in Birmingham in 1975. And, of course, the Madness reunion, including the famous Madstock earthquake of 1992, when dancers in Finsbury Park caused tremors of five on the Richter scale and the evacuation of nearby tower blocks. The moral – or, let's be honest, the excuse for a singalong finale – is that only one thing matters, and it must be love, love, love.
Funnily enough, the first video I see on the big screen, walking into the Motorpoint Arena for Olly Murs, is "A Message To You Rudy" by The Specials. Like Suggs, Murs has got where he is by trading on his likeability, from his very first X-Factor audition, singing Stevie Wonder's "Signed, Sealed, Delivered" and shuffling around with a length of hosepipe apparently sewn into his chinos.
Rising through a trapdoor which had to be widened to accommodate his jaw, wearing a shiny brown suit and shoes as white as his teeth, he tells Cardiff "It's the first night of the tour, and I can't think of a better place to be than right here in Waows." The people of Waows laps up the flattery.
Enjoy unlimited access to 70 million ad-free songs and podcasts with Amazon Music Sign up now for a 30-day free trial
Sign up
Murs is essentially a variety act. A song-and-dance man and sometime TV presenter, he's a merely competent singer and does the kind of dancing you do in the pub to make your mates laugh, that rubber-legged sideways moonwalk, throwing in a silly walk for the kiddies and a pelvic thrust for the mums, mugging like Lee Evans all the way.
His own songs, including the one with that dreadful line "remember when that crab came up and pinched your feet" and the half-decent Rizzle Kicks collaboration "Heart Skips a Beat", are padded out with covers. "Change Is Gonna Come" segues into "We Will Rock You", "On My Cloud" into "I Need a Dollar", and there's a James Brown medley including a faked collapse. He fluffs his cue at one point, and jokes, "You can't get the staff these days".
Wholesome, clean and a bit cheeky in a U-certificate sort of way, Murs directs the entire show at "the ladies", showing a teasing film of himself having a bath and brushing those dazzling teeth in a Superman dressing gown, and ascending an overhead walkway to announce "I haven't found the right girl – Mrs Murs could be right here tonight". He's cheesier than a pizza, and the archetypal representative of his birthplace: The Olly Way Is Essex.
Suddenly, the review starts to write itself, as he too covers "It Must Be Love", making exactly the same "Bless the bees and the birds ... especially the birds!" gag his more illustrious elder had made the previous night, then breaking into "One Step Beyond" complete with the "nutty dance", underneath a 2 Tone-style chequered tour poster. He's equal parts pseudo-Suggs and tribute David Essex, and the Waowsh have a wow of a time. But what stories will Olly Murs have to tell when he's 50?
Next week
Simon Price sees rising soul star Azealia Banks and Akron blues-rockers The Black Keys
Music Choice
It's Metal vs Indie as Kerrang! takes New Found Glory, While She Sleeps, The Blackout and Letlive to Southampton Guildhall (Tue); UEA, Norwich (Wed); Bristol Great Hall (Sat). The NME takes Two Door Cinema Club, Metronomy, Tribes and Azealia Banks to Academy venues in Glasgow (Wed), Newcastle (Thu), and Manchester (Fri/Sat).
Register for free to continue reading
Registration is a free and easy way to support our truly independent journalism
By registering, you will also enjoy limited access to Premium articles, exclusive newsletters, commenting, and virtual events with our leading journalists
Already have an account? sign in
Register for free to continue reading
Registration is a free and easy way to support our truly independent journalism
By registering, you will also enjoy limited access to Premium articles, exclusive newsletters, commenting, and virtual events with our leading journalists
Already have an account? sign in
Join our new commenting forum
Join thought-provoking conversations, follow other Independent readers and see their replies