Album reviews: Sum 41 – Order in Decline, Mike Love – 12 Sides of Summer and The Flaming Lips – King's Mouth
On their new albums, Sum 41 explore political rage and The Flaming Lips dig further into the conceptual psychedelia of their most famous past hits, but Beach Boy Mike Love remains embedded in very familiar territory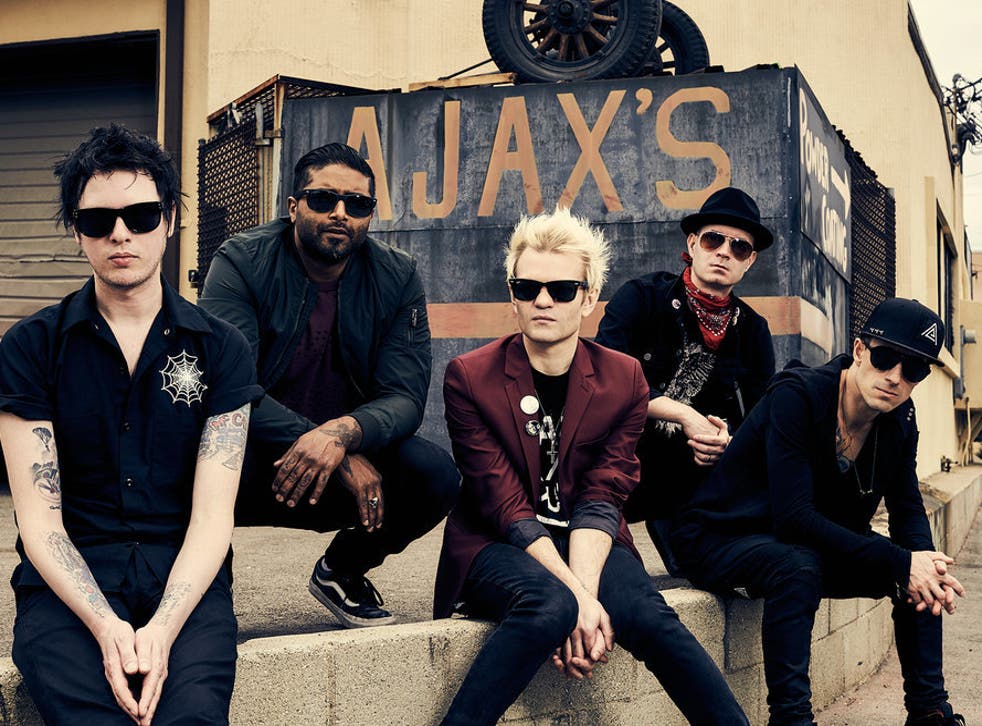 Sum 41, Order in Decline
★★★☆☆
The second Sum 41 album since frontman Deryck Whibley neared death in 2014 after years of chronic alcohol addiction, Order in Decline marks a further departure from the hip hop-inflected pop-punk of the band's early years. But whereas 2016's winning 13 Voices explored themes of survival, recovery and atonement, Order in Decline is all-together angrier.
A thrashing, crashing metal record with brief dalliances in solemn balladry (as on the stark, compelling "Never There") and even Imagine Dragons-style stadium pop (jarring album closer "Catching Fire"), it is a noisier, more impersonal record, and one that aspires to a thematic breakthrough that it never quite reaches.
The best albums of 2019 (so far)

Show all 67
Whibley has declared in interviews that Order in Decline isn't a political record, and that's generally a correct assessment — the album is critical of Donald Trump as a man but largely hesitant to speak on anything more wide-reaching about the current political climate. And while it is certainly striking to find within a pop-punk landscape that has generally tended to emphasise more apolitical themes, it is vaguely dull in execution, reflected in rote lyrics about rebellion ("We will fight and resist in every way," Whibley sings on "The New Sensation") and Trump's character – "Not worthy of name, a number you'll get / A symbol of meaninglessness, void of respect", he declares on "45 (A Matter of Time)".
That Whibley is still alive and still waving the flag for pop-punk and violent guitar shredding in an era where neither are chart fixtures anymore is worthy of celebration. But anything truly radical remains frustratingly out of Sum 41's reach. AW
The Flaming Lips, King's Mouth
★★★★☆
King's Mouth began its otherworldly life in 2015 as an art installation – a giant metallic head inside which spectators were immersed in psychedelic visuals. The Oklahoma band's 15th album follows, with its story – of a giant, mythic king baby growing up into a galaxy-absorbing hero, who dies while rescuing his people from an avalanche – narrated by The Clash's Mick Jones.
If it sounds weird, well, it is – until these 12 meticulously crafted songs weave their melodic magic and you find yourself engrossed in their cinematic vision. The Flaming Lips are no strangers to fantasy, and King's Mouth shares the ambitious conceptualism and layered, symphonic sound of their 2002 masterpiece Yoshimi Battles the Pink Robots.
The opening track's cosmic sound effects and Jones's story-telling, followed by the fragile vocals of Wayne Coyne and synthesised chorals on the tender "Sparrow", set the tone of this space-pop odyssey. An inventive spin on indie-rock runs throughout: "Giant Baby" combines guitar, falsetto vocals, baby gurgling, robotic synths and a dub beat, while "How Many Times" is the dreamiest counting song you'll ever hear. "Feedaloodum Beedle Dot" is a satisfying concoction of slinky bass, breakbeat grooves and arcade sounds.
For all the album's eccentricities, the vibe is earnest fairytale rather than tongue-in-cheek – save for the sound of a strangled feline mirroring the lyrics "when you stepped on your cat" on "How Many Times". Epic highlight "Electric Fire" and celestial album-closer "How Can a Head" capture Coyne at his most wistful. The latter is a wide-eyed, strings-laden gem, its childlike, questing lyrics poignant whatever your age.
Just as the preceding art installation invited viewers to enter its vast head of LED lights and wonder, this album does the same. EB
Enjoy unlimited access to 70 million ad-free songs and podcasts with Amazon Music Sign up now for a 30-day free trial
Sign up
Mike Love, 12 Sides of Summer
★★★☆☆
Mike Love isn't one to stray too far from his comfort zone. On 12 Sides of Summer, his third solo album in three years, the former Beach Boy takes a breezy, happy-go-lucky cruise through California – "that mythical place out west" – telling stories of surfing, girls and sunny weather along the way. Sound familiar?
Love's merry music has not always reflected his complicated relationship with his band. He formed the Beach Boys in 1961 with his three cousins – Brian, Carl and Dennis Wilson – and Al Jardine. With chart-topping singles such as "I Get Around", they quickly became successful, but fame took its toll, and in 1964, Brian Wilson quit touring to focus on songwriting. The Beach Boys split in two: Love's touring band and Wilson's studio band. Their relationship never recovered. At one point, Love sued Wilson, and in 2012, Wilson claimed Love "fired" him from the group.
Not that 12 Sides of Summer contains a whiff of any of this upset. Its first track, "California Beach", is gleefully catchy. Like much of the album, it's bursting with the layered vocal harmonies that characterise the unmistakable sound of the Beach Boys. Elsewhere, Love offers inoffensive covers of the Beatles' "Here Comes the Sun" and ABBA's "On and On and On".
It's certainly not a groundbreaking record – with songs hard to distinguish from one another, let alone from previous albums – but perhaps Love is onto something here. This kind of music could be the perfect antidote to tension in these strange, strained times. EH
Join our new commenting forum
Join thought-provoking conversations, follow other Independent readers and see their replies