Survivor, Barbican Theatre, London Milagres, Old Blue Last, London
Choreographer Shechter and 'space doctor' Gormley insist that only music critics review their show. That left our man scratching his horns ...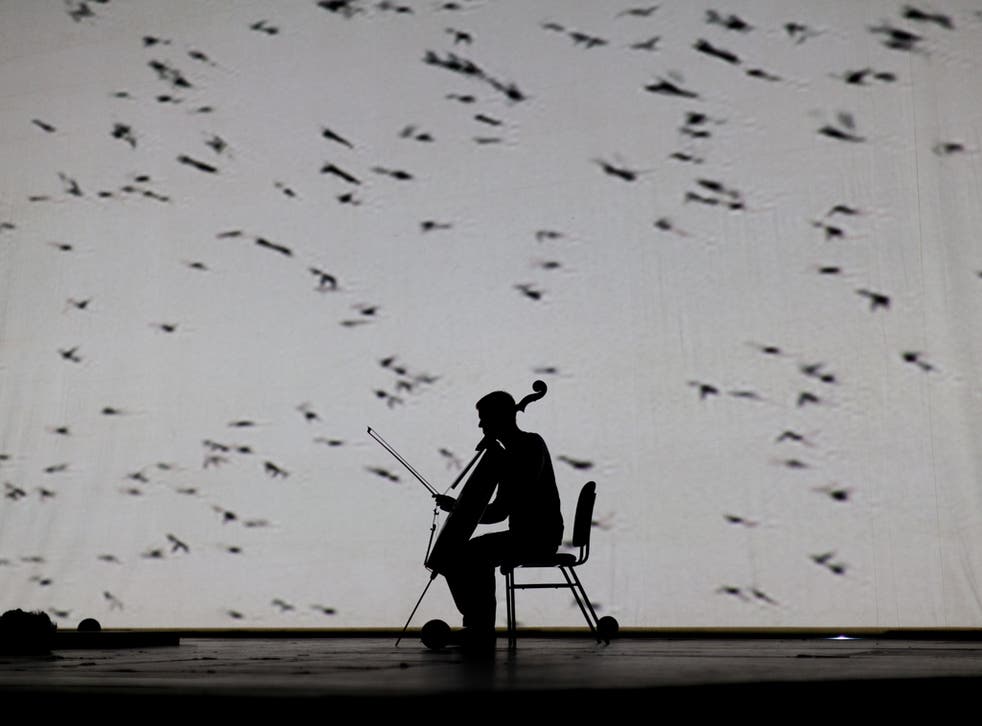 It was Frank Zappa who argued that "writing about music is like dancing about architecture".
Heaven knows what the beardy old bugger would have made of a music journalist writing about dance, but the producers of Survivor, a new dance piece premiering at the Barbican, have requested that music critics, not dance critics, review their show.
Watch out what you wish for. My knowledge of contemporary dance is restricted to seething at the potential noise menace when the dustbin-clanging company Stomp! took over the hall behind my house to rehearse in. I'm the sort of person who, sent to see something called Survivor, will leave disappointed if they don't hear "Eye of the Tiger".
Survivor is a collaboration between Israeli-born Hofesh Shechter, choreographer-in-residence at the Brighton Dome, but also a composer, and Antony Gormley, the Turner Prize-winning British sculptor best known for the Angel of the North. It is Gormley who has created the "visual landscape" and who, in an interview clip linked to the Barbican's website, calls himself "a space doctor" without any visible smirk of self-awareness.
Call me an ignoramus, but, for me, the idea that dance can be "about" something is jarring, and my main fear is this: if Survivor is about something, will I be able to tell what it is? Deprived of a lyric sheet and a working mental map of the medium, I'm all at sea.
The blurb tells me Survivor is "about seeds of feeling, the search for continuity and the deconstruction of spectacle", but in practice I get nothing more coherent than a vague "Totalitarianism is bad, OK?".
Gormley's "visual landscape" consists of a giant reflective edifice which serves as the safety curtain, some window cleaner's ladders leading to suspended platforms, and a number of trap doors through which people occasionally spring up in a manner reminiscent of, but not as cool as, Queen's "Crazy Little Thing Called Love". Oh, and a bathtub.
The show begins with a man in white, standing permanently with his back to us in the style of Magritte's La Reproduction Interdite, a recurring motif.
There's plenty of getting-into-the-groove kind of dancing, film loops of starlings, waterfalls, demolitions and tracer fire, and tired old breaking-the-fourth-wall gimmicks such as harassing the audience with night-vision cameras, and singers popping up in the middle of the stalls. At one point, for pity's sake, someone wheels on a shopping trolley. Come back, Stomp!, all is forgiven.
And the music? Broadly pseudo-classical meets non-specific Middle Eastern, with lots of martial drumming, repetitive chanting, incidental cellos and the odd bit of beatboxing and a giant gong. At one point the orchestra break into the national anthem, but Hendrix/Pistols/Gainsbourg it ain't.
Enjoy unlimited access to 70 million ad-free songs and podcasts with Amazon Music Sign up now for a 30-day free trial
Sign up
The best moment comes when some bowling balls are dropped from a great height. The worst is when a godawful singer-songwriter type turns up with an acoustic guitar for some sub-Radiohead whining: "We live in the wind/Our eyes made of stones/ Paper transactions/We are what we are/My mind is my mind ..."
I start to realise that my dance-ignorance doesn't matter. I consider myself a fairly intelligent guy, and if I'm not getting the point of Survivor, the failure isn't mine. It was nice of Hofesh and Antony to invite us dirty rock'n'rollers into their world, but I won't be rushing back. In the low arts, where pseudery is toughly policed, you have to justify your every move. In the high arts, where intellectual insecurity dissuades the timid from speaking out, anything goes.
I'm a sucker for the twinkle. Anything involving xylophones, glockenspiels and the high notes on a piano gets fast-tracked through my defences, to the extent that I even have a soft spot for "Dancing in the Moonlight" by Toploader (I'd describe it as a guilty pleasure if I didn't loathe the very idea of guilty pleasures). And there are few bands who twinkle more than Milagres.
The Brooklyn quintet, named after a town in Brazil and previously known as The Secret Life of Sofia, are nothing much to look at: five standard-issue guys from indie-band central casting, in checked shirts and facial hair. But the sound of their debut album Glowing Mouth is turning heads with its shimmer and sparkle.
The shuddering pianos of "Here to Stay" are reminiscent of Arcade Fire at their best, and lead singer Kyle Wilson, owner of a falsetto which has been compared to Wild Beasts, is no mean wordsmith, adept at finding romance in unlikely places. Glowing Mouth's title track seems to reference the Andean plane crash: "You and me under sheets of white/The blue light glow of a star on ice/ Freezing to death among isolated peaks/Cutting pieces of flesh because we all need to eat ..."
It's delivered tonight with a suitably blue-lit intensity. When Wilson isn't playing his guitar, he hugs it like a lover. It shouldn't be long before the world is doing that to Milagres.
Next Week:
Simon Price goes Skying with The Horrors
Pop Choice
With the wild praise for the recent double album Hurry Up, We're Dreaming ringing in their ears, French electro-shoe-gazers M83 play Trinity, Bristol (Tue); The Ritz, Manchester (Wed); The Arches, Glasgow (Thu); Stylus, Leeds (Fri); HMV Institute, Birmingham (Sat). Everything Everything warm up for the Snow Patrol tour with shows at The Globe, Cardiff (Tue) and The Sugarmill, Stoke (Wed).
Join our new commenting forum
Join thought-provoking conversations, follow other Independent readers and see their replies