Take That at the SSE Hydro Arena, Glasgow: Flamboyant spectacle and superficial new music
Band's latest transition to a gang of ragged, middle-aged hipster harlequins is less convincing than previous incarnations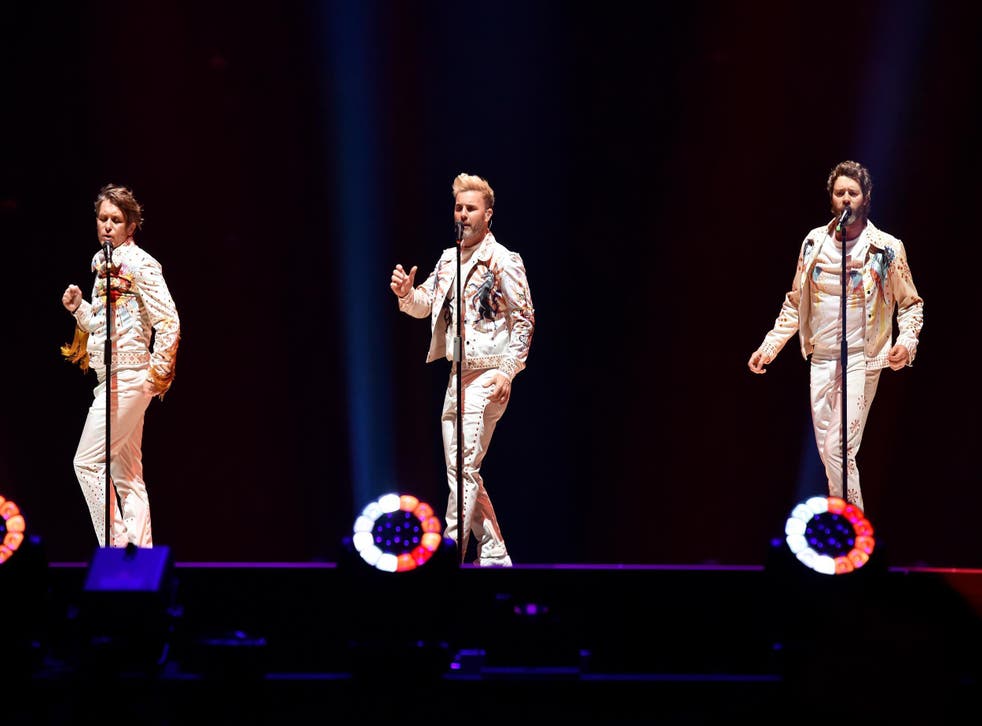 For all the crowd-pleasing pyrotechnics and the decades-long procession of hits played, Take That's soldiering on in the absence of Robbie Williams and Jason Orange feels somehow make-do, like a grand-scale version of those still-touring classic bands of the 1960s whose original members have largely drifted away.
From their origins as a supposedly disposable manufactured pop act, of course, Take That have demonstrated an uncanny ability for change and renewal over the years: rallying after Williams' first departure with "Never Forget" in 1995; returning with a creditably mature and acclaimed version of their original sound with Beautiful World in 2006 and then welcoming Williams back into the fold for 2010's Progress.
Yet their latest transition is less convincing – a gang of ragged, middle-aged hipster harlequins, in keeping with the vague and superficial Lewis Carroll stylings of this year's Wonderland, their eighth album.
The stage set was in the round. "It's something a little different," shrugged Howard Donald, "we wanted everyone to have the best seats in the house." It's complete with an impressive array of retractable screens lowered from the ceiling; an upended 3D "+" which offered many-sided, close-up video footage of the action, and a 360-degree cylinder screen.
The view would have been better from the top tier for the more elaborate sequences – like the troupe of dancers writhing on inflatable water lilies during the chirpy "New Day" and "Shine".
But standing in the right place at the right time might have seen fans in the pit rewarded as one of the white-suited band members brushed past them on their way through the crowd to their individual stages during "Cry".
Throughout, all the expected beats were hit. Flames burst from the stage during a carnivalesque "Relight My Fire", and Donald and Mark Owen – the kind of entertainer whose professionalism is still infused with the sense that he's really over the moon to be doing what he's doing – clustered around Gary Barlow's piano for "Back for Good".
The trio were backed by their band in low-key acoustic versions of "How Deep is Your Love?" and "Patience", tried some synchronised dancing to "Pray", and were assisted by a stunning lightshow projected upon an artificial rain shower during "The Flood".
For all that a song like "Never Forget" retains great nostalgic power 20 years on, the Wonderland sound – best exemplified by the vapid "It's All For You" – is unlikely to be well-remembered.
Any objective observer is going to say that Take That have exceeded all expectations, with Barlow's business and songwriting nous in particular leading them to one golden age as eager young men and another as the definitive "man band", a credible regeneration for middle-age and beyond.
Few would bet against their redefining themselves again into their fifties when 2020 comes around, but for now it feels as though their second phase is still being spun out and milked for all it's worth.
Join our new commenting forum
Join thought-provoking conversations, follow other Independent readers and see their replies