Taylor Swift 'reputation' stadium tour review: Dazzling pop spectacle from the star who doesn't stand still
Set transitions seamlessly from one song to another, crafted out of some of the best from her canon and leaning heavily on the tracks from her sixth – and arguably best – album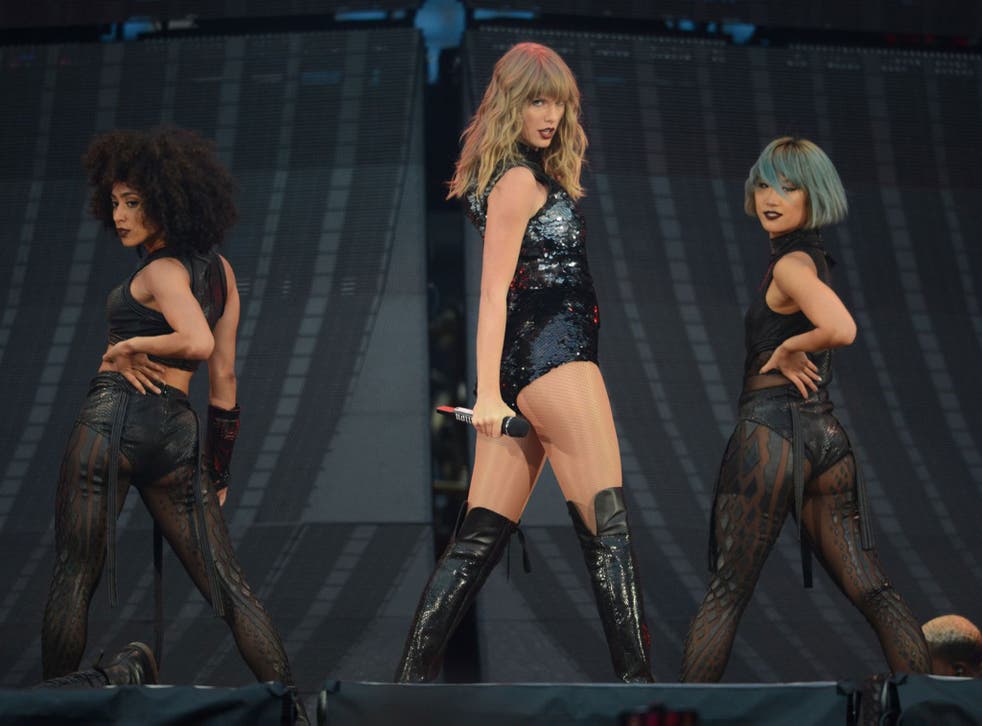 ★★★★★
Taylor Swift's reputation stadium tour is the biggest event on the 2018 pop calendar. It feels as though fans have been waiting for an age for the fact, and on the night of her Manchester stadium debut, the excitement is tangible.
A notorious fan stalker, she features videos of fans reacting to her new material before the show starts, which is simultaneously hilarious and moving; and also shows behind the scenes footage of how her own videos were made – with long-time collaborator Joseph Kahn.
Finally she emerges on her own, resplendent in a shimmering, sequined cloak, and launches into a thrilling, near-faultess set that is pure pop spectacle from a star who has never tried to make the same album twice.
The set transitions seamlessly from one song to another, crafted out of some of the best from Swift's canon and leaning heavily on the tracks from her sixth – and arguably best – album.
"You're so beautiful, she tells the crowd. "Actually you're beyond that... what's the word...?" And the audience shrieks as the opening notes to "Gorgeous" bounce out on the synths.
She adds something new to every song: "Look What You Made Me Do" features an 80s power riff on the intro and becomes a whole other beast as a live song; "I Did Something Bad" – with fireworks and flames galore - nods brilliantly to Nina Simone's "Feeling Good".
Her voice, which sounded slightly brittle on the 1989 tour, never falters – she sings with absolute confidence and doesn't try to push herself too hard, saving it for a few big notes which only makes for a better impact.
"I'd been putting albums out since I was 16 and it had a pretty predictable schedule," she confides, "then before I made this album I decided to take some time to just figure out what my life would be like if I didn't have a spotlight for me... And being gone, the most amazing thing happened.
"You understood why. And more importantly you were here when I came back. And the feeling of standing here and seeing you all. I missed being able to connect with you guys and singing all the same words.
Enjoy unlimited access to 70 million ad-free songs and podcasts with Amazon Music Sign up now for a 30-day free trial
Sign up
"Because we all like the feeling of connecting with someone else. You guys give me that feeling every single time you show up or when I write about my feelings. And that's important because that stuff is very very delicate..."
BBC's Biggest Weekend

Show all 13
There's also a sincere and much-needed tribute paid to a city still hurting from the terror attack which took place just over a year ago.
"What happened a year ago was an attempt to steal that innocent and excitement of a pop concert," Swift says. "And since then you've shown such strength.
"You've shown you have such incredible resilience to keep dancing and to keep the joy and keep the excitement... Manchester it is an honour to play for you tonight."
Taylor Swift gives passionate speech to mark start of Pride Month
A breathtaking rendition of "Bad Blood" adds a countrified guitar hook so it switches easily over to "Should Have Said No". There was so much uproar over ticket prices when Swift announced the tour, yet from the offset it has been apparent – for any fans who doubted it – that it was worth every penny, as the stage is flooded with red lighting and dancers swing from trapeze with all the splendour of a Broadway show.
The dynamic of the gig is perfect – there are lulls, but only when they're intended, to create pauses between the big songs that feel profoundly intimate. She messes up on the piano intro to "New years Day" and pulls a goofy face: "Whoops!" And it's beautiful, really, how the world's biggest pop star can seem so normal.
Join our new commenting forum
Join thought-provoking conversations, follow other Independent readers and see their replies