Taylor Swift review – Evermore: Full of haunting tales that transform speakers into campfires
On her second surprise release of 2020, the world's biggest pop star coolly refuses to reconfigure herself on demand
Helen Brown
Friday 11 December 2020 13:21 Comments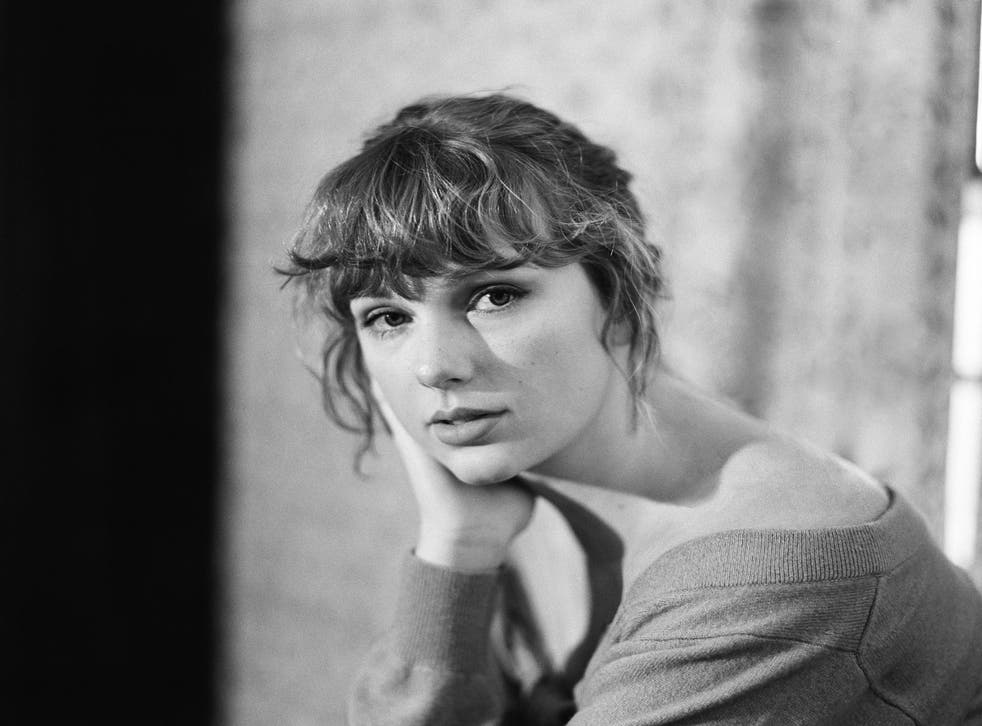 Leer en Español
Reinvention: a costume change of soul and sound that female pop stars are expected to perform with the release of each album if they want to keep our attention.
In Miss Americana, Taylor Swift's recent Netflix documentary, the musician noted: "The female artists I know of have to remake themselves, like, 20 times more than the male artists, or else you're out of a job." It's a concept she had internalised to the extent that she felt the need to "attack" a previous incarnation "in order to create the next thing".
But on her second surprise release of 2020, the world's biggest pop star coolly refuses to reconfigure herself on demand. "I can't face reinvention / I haven't met the new me yet," she sings on an album that finds her wandering deeper into the lovely lo-fi, indie dreamscape she began exploring on Folklore.
Like Folklore, Evermore was mostly co-written with and produced by The National's Aaron and Bryce Dessner — with a little help from Swift's regular pop producer Jack Antonoff and her boyfriend, English actor Joe Alwyn (using the pseudonym William Bowery). It features vocals from beardy indie-folk darlings Justin Vernon (Bon Iver), Marcus Mumford and Matt Berninger (The National) alongside pop-rock sister act Haim.  
Though it takes a while for the melodies to seep through the tasteful burbling of acoustic moods, Swift's country-honed storytelling gifts are guaranteed to draw listeners in, transforming our speakers into campfires. She says all the time spent reading and watching classic novels and movies over lockdown encouraged her to look beyond her personal, tabloid-shifting dramas, and she sings these "17 tales" from the perspectives of fresh, fictional characters. And she's great at it.
Having expressed a new admiration for Charlotte Bronte's "poor, obscure, plain" – but intensely passionate – Jane Eyre, the rich and glamorous Swift clearly enjoys imagining herself into quieter roles. She slips into the mind of a celebrity's hometown pal in "Dorothea", and into the mundane routines of the unappreciated wife of an "older, wiser" man on the excellent, slow-building "Tolerate It". She sings of polishing plates and laying the table "with the fancy s***" to the muffled notes of a pretty piano. You could imagine Swift – who sings of herself as a watcher and waiter – as a Vermeer still life. But a tense skittering synth beat is running below and building force as she realises her power: "You assume I'm fine, but what would you do if I / Break free and leave us in ruins / Gain the weight of you then lose it / Believe me, I could do it".
Having felt the pressure to be a "good girl" for so long, Swift enjoys playing meaner roles. She dropped the F-bomb for the first time on Folklore and does so again on Evermore. On the wickedly fizzy "Champagne Problems" (written with Antonoff), she takes delight in playing the part of a woman rejecting a marriage proposal from a guy so cocksure, he had the wedding planned. "You had a speech, you're speechless/ Love slipped beyond your reaches." "Tis the Damn Season" offers a sharp twist on traditional festive balladry – as old lovers break their hearts all over again with a one-night stand while "the holidays linger like a bad perfume".
She has fun on slick, plot-twisting double murder ballad "No Body, No Crime", with the Haim sisters, and breakup hisser "Closure", where she tells an ex: "Don't treat me like / Some situation that needs to be handled / I'm fine with my spite."
David Sedaris once said that a good short story should take you out of yourself, then stuff you back in "outsized and uneasy with the fit". You can feel Swift asking questions of herself and her listeners with these haunting tales that leave cool, misty spaces between the details. Although Swift's tales can feel timeless, and her videos find her wandering about in Victorian nightgowns, she never pretends not to be in 2020. There are references to tiny screens and, on "Willow", threats to "come back stronger than a Nineties trend".
Enjoy unlimited access to 70 million ad-free songs and podcasts with Amazon Music Sign up now for a 30-day free trial
Sign up
In a grim year, Swift also offers hope. On the gorgeous "Happiness", a divorcing woman spits fury at her ex – "When did your winning smile begin to look like a smirk?" – before apologising for losing track of the facts and accepting that she will find (and remember) happiness again. On the final track, "Evermore", she expresses what many of us have felt about 2020: "I've been down since July… Hey, December / Guess I'm feeling unmoored." As Vernon's high growl of a werewolf voice joins hers, though, they share a feeling that "this pain wouldn't be for evermore".
Swift has said she has no idea where she's going from here. She doesn't need to. But it's a Christmas treat to hear her enjoy creating a whole magical, mystical world away from the spotlight. No reinvention required.
Register for free to continue reading
Registration is a free and easy way to support our truly independent journalism
By registering, you will also enjoy limited access to Premium articles, exclusive newsletters, commenting, and virtual events with our leading journalists
Already have an account? sign in
Join our new commenting forum
Join thought-provoking conversations, follow other Independent readers and see their replies