The Cure, BST Hyde Park, London, live review: A perfect set for fans
The band cemented their immortality and saw those goths leave the gates of Hyde Park on the highest of highs
Roisin O'Connor
Music correspondent
Sunday 08 July 2018 13:27 Comments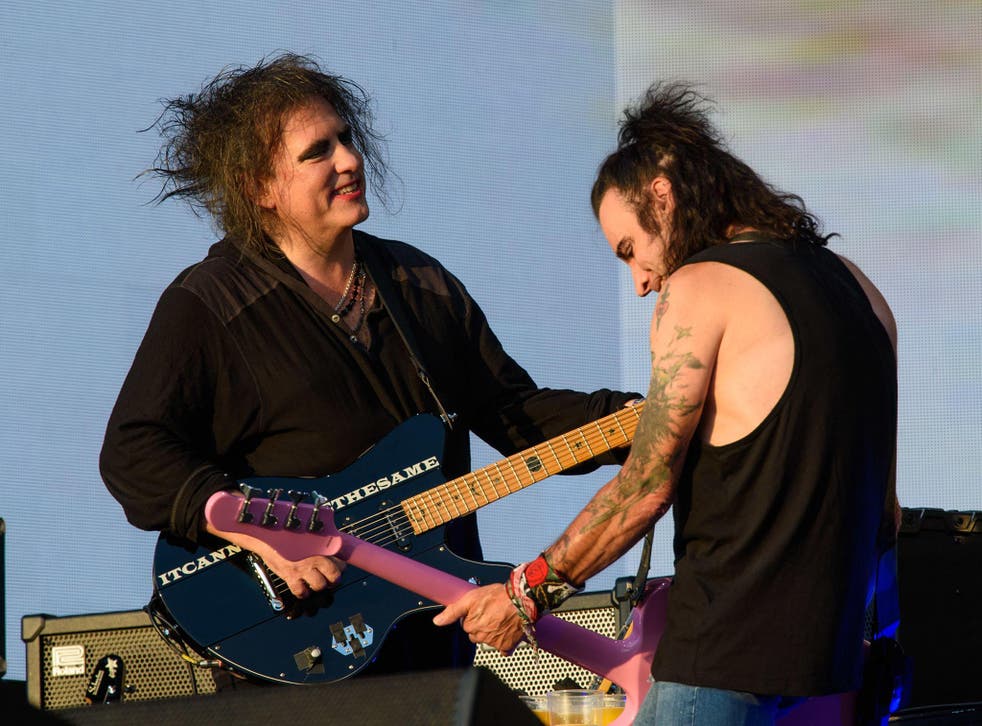 Almost 40 years to the day since The Cure's first ever show at The Rocket pub in Crawley, Sussex, and Robert Smith's voice is as good as ever.
It was astonishing to witness the band perform at Hyde Park on a swelteringly hot day to so many thousands of people. Earlier on in the second day of British Summer Time festival 2018, a wealth of bands hand-picked by Smith had played their own sets, from Goldfrapp to The Twilight Sad, Slowdive and Ride.
Editors frontman Tom Smith had prowled the stage during dynamic renditions of classics like "Racing Rats" and "Blood", along with the title track from their sixth album Violence. He made a wry quip about the tense England vs Sweden match taking place at the same time ("should we talk about it?") and seemed a little relieved to see that thousands of fans had still abandoned the game to watch the band instead.
Then, New York band Interpol strolled out dressed to the nines – guitarist Daniel Kessler in particular looking as though he just walked off a shoot for Georgio Armani – and played a gorgeous set that featured lead single "Rover", from their own upcoming sixth album Marauder.
Great music documentaries to watch now

Show all 6
Finally, it was time for The Cure themselves, who arrived onstage to deafening roars and embarked on a set that featured virtually every crowd favourite (and then some), opening on "Plainsong", the debut track from their 1989 record Disintegration. "I can't really talk until the sun goes down," Smith told the audience. "It's taking all my energy not to dissolve."
The first half of the set saw an emotional, note-perfect rendition of "In Between Days" lead, quite breathtakingly, straight into "Just Like Heaven".
As each famous intro played out – those glorious, bright synth notes on "Close To Me" – audience members clutched their hands to their hearts and rolled their eyes back in ecstasy, cheering each other along and looking around in wonder at just how diverse a crowd this was: grey-haired goths; teenagers with panda eyes from kohl makeup; twenty-something rockers who seemed unbothered by the heat in black jeans, grey denim jackets and metal chains.
"It's the wrong day, but there you go," Smith teased before the opening bars of "Friday I'm In Love" began, looking as delighted as his fans to be there and later telling them: "If you'd asked me then what I thought I'd be doing in 40 years time, I couldn't have told you it was this."
It was a perfect set, taking in some of the best songs of The Cure's career and showing a poignant understanding of what fans might be most desperate to hear live. Closing with blistering performances of "Killing An Arab" and "10.15 Saturday Night", the band cemented their immortality and saw those goths leave the gates of Hyde Park on the highest of highs: perhaps a little sunburned, but thrilled nonetheless.
Register for free to continue reading
Registration is a free and easy way to support our truly independent journalism
By registering, you will also enjoy limited access to Premium articles, exclusive newsletters, commenting, and virtual events with our leading journalists
Already have an account? sign in
Join our new commenting forum
Join thought-provoking conversations, follow other Independent readers and see their replies