The Killers at O2 Arena, London: Brandon Flowers is the man
Las Vegas rockers are back, bigger and better than ever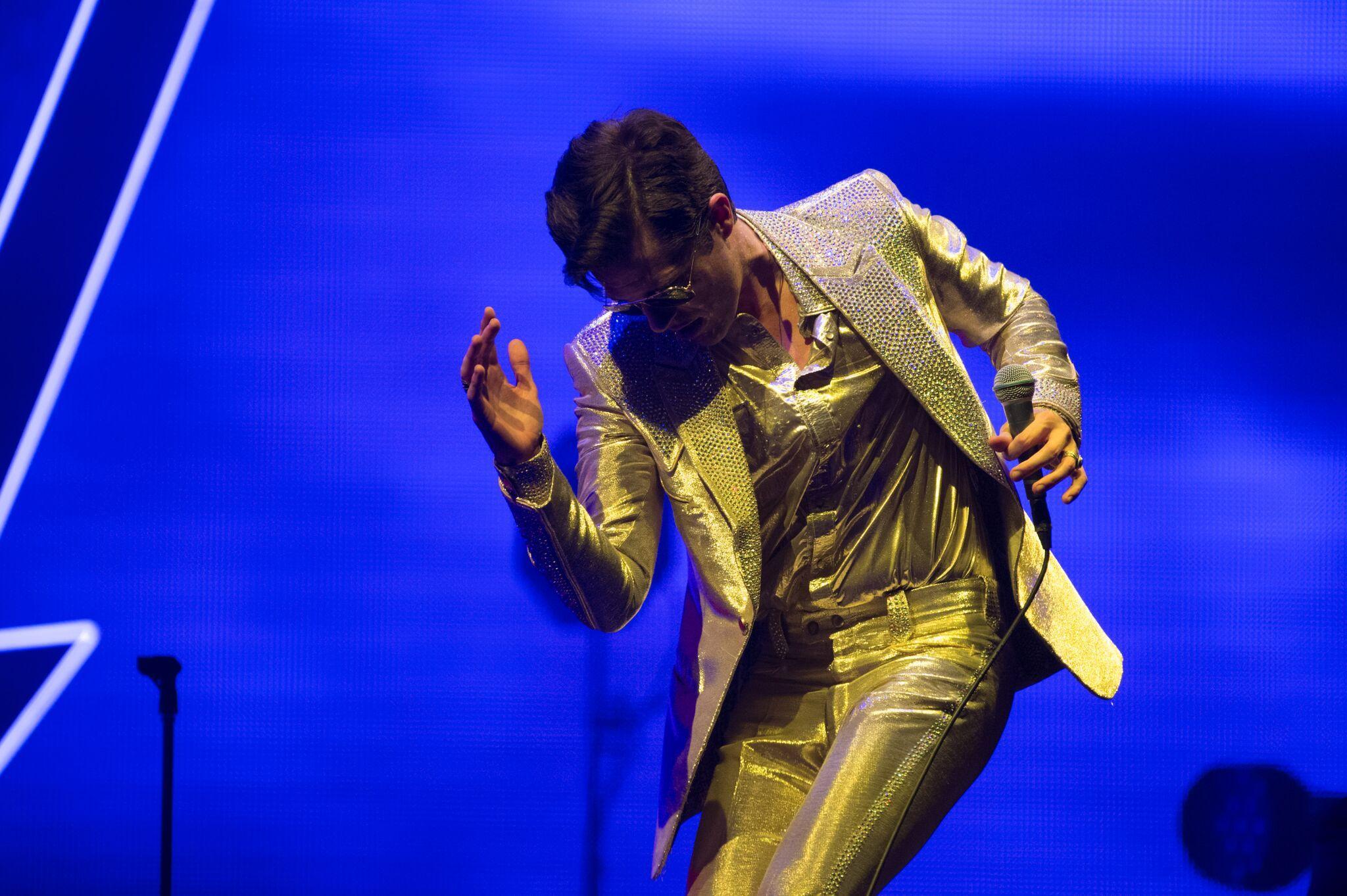 Who's the man? Brandon Flowers is the man, and the return of The Killers to London's cavernous O2 Arena offers a grand opportunity for him to cement himself as modern rock's finest.
The band builds anticipation with the expansive "Wonderful Wonderful" from the new album of the same name before cranking up the disco vibes with the fantastically ironic "The Man", complete with tongue-firmly-in-cheek hip thrusts.
"Somebody Told Me" and "Spaceman" swiftly follow, reminding us that this band is not so arrogant as to deny the fans the hits they came to hear. Unlike many of their more sombre contemporaries (Kings of Leon, I'm looking at you), they are evidently having a glittering ball of a time under the lights. Drummer Ronnie Vannucci Jr is giving his usual 110 per cent and touring members Ted Sablay and Jake Blanton fill the boots of lead and bass guitarists Dave Keuning and Mark Stoermer seamlessly.
"I Can't Stay" – a slightly "meh" mid-album track from 2008's Day & Age – proves the flattest point of the set list, but the energy rapidly reignites for "Smile Like You Mean It" – a firm favourite from the glamorous indie rock and roll of the Hot Fuss days.
Flowers is noticeably emotional during "Rut" and "Life to Come" – the new heartfelt duo of slower tracks about his wife's struggle with complex PTSD – as phones come out for a photo op when the jittery frontman is briefly staying relatively still. Strapping on a bass guitar for Sam's Town classic "For Reasons Unknown", he conducts one of many impassioned sing-alongs, with the lesser known "Shot at the Night" from compilation album Direct Hits a welcome surprise addition.
"Runaways" and "Read My Mind" follow a brief stripped-back cover of the beautiful "Romeo and Juliet" by Dire Straits before chants of the "I've got soul but I'm not a soldier" refrain from a triumphant "All These Things That I've Done" reverberate around the sold-out, 20,000-strong venue.
Confetti and silly string blasts out of cannons and The Killers pretend to bid us goodnight but their pumped-up guests are going nowhere.
Returning for the encore in a fabulously ridiculous, shimmery, gold suit and sunglasses (they are from Las Vegas after all), Flowers further revels in a confidence that it has been a joy to watch bloom from the early Noughties when an anxious twenty-something in guyliner shuffled around nervously – self-conscious eyes darting anywhere but to us – into safely one of the best frontmen on the live scene today.
New song "The Calling" (featuring a drawling intro by Hollywood actor Woody Harrelson) sees him jump on to monitors to show off dance moves he would have died before attempting in those early days, before unmistakable sirens lead into "Jenny Was A Friend Of Mine" (Flowers not quite cutting the figure of a psychopathic girlfriend murderer in those glad rags but no matter...) and a fevered "When You Were Young" that takes the already charged atmosphere soaring to a higher strata still.
"Life can be tough but you gotta remember – sometimes it goes the other way too," teases Flowers before "Mr Brightside" – now a bona fide anthem of a generation – sparks mass frenzied dancing as blissfully uninhibited as if it was our last night on earth.
The Killers are back, bigger and bolder than ever. This London comeback was pure euphoria – from sparkling start to fizzing, life-affirming finish.
Join our commenting forum
Join thought-provoking conversations, follow other Independent readers and see their replies