Album reviews: The Killers – Wonderful Wonderful, The Horrors – V, Enter Shikari – The Spark
Plus Death From Above – Outrage! Is Now, and Sløtface – Try Not To Freak Out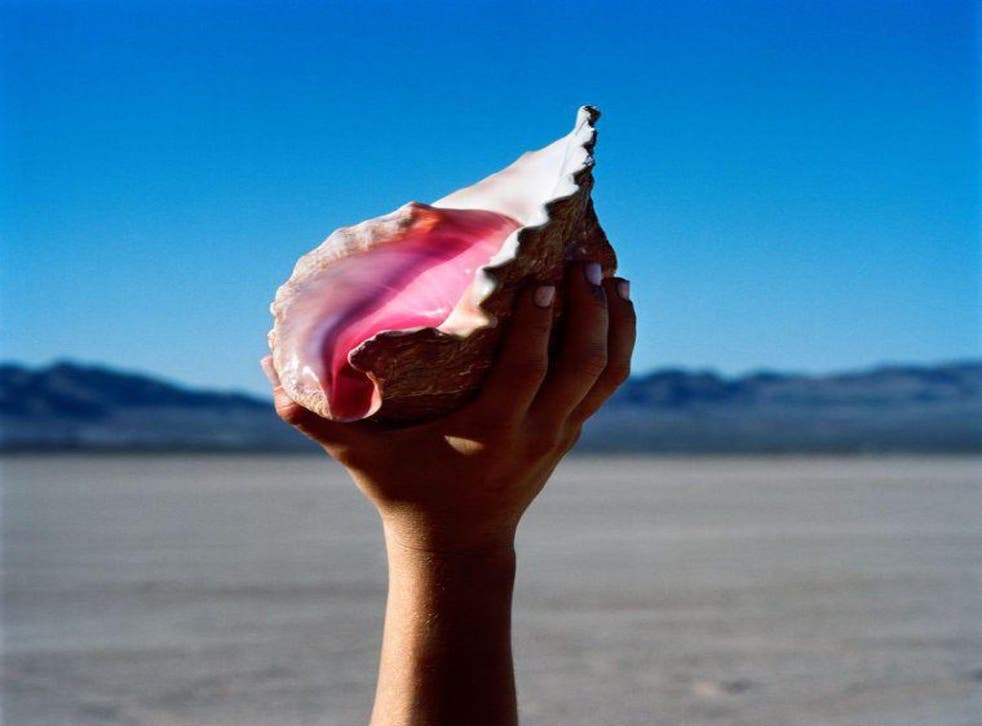 The Killers, Wonderful Wonderful
★★★☆☆
Download: The Man, Tyson vs Douglas, Run For Cover
The Killers' fifth studio album ushers the band into a new era like the call to the final gunfight in an old Western. Twangs of guitar precede Brandon Flowers's vocals on the opener, title track "Wonderful Wonderful", a compelling dirge that calls to a "motherless child" – apparently Flowers's wife Tana – with uncomfortable intimacy.
Disco influences on "The Man" feel outdated – although the flamboyance of that glorious Kool & the Gang sample suits Flowers perfectly – because so many bands have already explored this sound in 2017. Rather than sounding like the innovators they used to be, "The Man" is what several other bands have already done – Arcade Fire, Two Door Cinema Club – only slightly better.
Flowers's falsetto over the swaggering funk groove means the song sounds far too much like TDCC's "Bad Decisions" (both songs were produced by Jacknife Lee, both pay homage to David Bowie's "Fame"). There's a cynicism on this song, where a nod to Bowie seems to ask where the innovation is in modern rock music, along with Flowers's self-critical reflection on a cocky, Hot Fuss-era frontman.
Then on "Rut" there's a Daft Punk-esque outro, while "The Calling" has a hook Dave Gahan would swing his hips to. It's almost as though Flowers, a man who seems constantly in orbit around the peripheries of the music industry, is urging us to remember the artists who made pop rock great. In interviews preceding Wonderful Wonderful's release he has admitted that he thinks rock music in 2017 is "bleak", saying "someone's got to fan those embers" but not putting himself up for the job.
On "Tyson vs Douglas" (named after the Nineties boxing match between Mike Tyson and Buster Douglas) those beautiful lyrics that describe a moment Flowers found himself returning to again and again are obscured by the nods to Don Henley's "The Boys Of Summer" – from Flowers's "never grow up" line to that unmistakable guitar riff. Then on the forgettable "Out Of My Mind" he name-drops Bruce Springsteen and Paul McCartney.
"The best way to put it is that I wanted to inhabit my age, so it's a snapshot – a true representation of where we're at," Flowers told Rolling Stone in a recent interview, only he's not. Wonderful Wonderful is an album that doesn't let the listener look forward to the next track, because the album is restlessly glancing backwards over its shoulder, haunted by past successes of The Killers, and the great artists who came before them.
The Horrors, V
★★★★☆
Download: Ghost, Press Enter To Exit, Something To Remember Me By, Machine
2017 has been something of a second-coming for The Horrors, and an album the band have admitted was pretty much make-or-break in how they decided whether to continue or not. In their 11th year, they move out of whatever comfort zone they were in before and recapture some of their best traits.
Their 2014 record Luminous had similarly low expectations that were contradicted upon its release; V achieves something similar. It's playful and elaborate: a look at the album's running time might fool you into thinking that V will be fast-paced and slick, when in fact most tracks clock in over five minutes.
There are hints of The Verve's "Bittersweet Symphony" in the opening bars of "Weighed Down", and with its space-age psychedelia, "Press Enter To Exit" is a trippy critique of echo chambers and fake news. "Ghost", meanwhile, takes a more otherworldly wander into Mogwai/Les Revenants territory – it plays out like a post-rock film score.
Paul Epworth's hand is evident here, as the band are given freedom to explore and try new things. Closing track "Something To Remember Me By" is dance-friendly and positively glimmers, those bright synths sustain then build as Faris Badwan sings about leaving things behind. It's a poignant thing to leave the listener with, confident that the band have landed on something quite different, but perhaps even better than what they had before.
Sløtface, Try Not To Freak Out
★★★☆☆
Download: Magazine, Nancy Drew, Pools, Backyard
This Norwegian act have eschewed the chart-topping pop of their Scandinavian peers and opted for something with a little more bite. A much-hyped name change (they were Slutface before supposedly realising it would be censored by radio) that seemed more like a neat PR trick than anything else is less distracting once you get into the guts of the album.
Most of the tracks on here would be right at home on a deluxe edition of the 10 Things I Hate About You soundtrack; their update on pop punk is fuelled by nostalgia for that late Nineties/early Noughties sound and bolstered by criticism of injustice in 2017: "Nancy Drew" riffs off the feminist detective hero and sniffs at "boys with acoustic guitars" while "Magazine" spits at the media's narrow-minded presentation of the female body. "Patti Smith would never put up with this shit," frontwoman Haley Shea sings, with a restrained, simmering anger that prompts an urge to get the lyric printed onto a T-shirt.
Sløtface are a pleasing antidote to the cluster of guitar bands being peddled in the UK, drawing more on the grunge of Wolf Alice or the Riot Grrrl attitude of Sleater Kinney. In some cases they try too hard to sound cool: on "Empire Records" they nod to the Nineties coming-of-age film as Shea "dreams of working in a run-down record store". Whether they'll fit into the current music landscape in the UK is yet to be seen, but given this generation's new nostalgia they could go down a storm.
Enter Shikari, The Spark
★★★★☆
Download: Rabble Rouser, Take My Country Back, The Sights, An Ode To Lost Jigsaw Pieces (In Two Movements), Shinrin-yoku
In their previous albums, Enter Shikari have been politicised to the point of ridicule by some critics, who felt it wasn't the done thing to be so passionate about social injustice. Now, as Donald Trump sits in the White House and politicians squabble over Brexit, it's become a requirement, let alone a fashion, and rather than looking naive, Enter Shikari seem more relevant than ever.
The challenge with their new record The Spark, then, was offer fans something unexpected. So along with Rou Reynolds's blistering commentary on the state of the world he looks inward and offers up tracks that are more personal than anything the band have released before.
Reynolds pushes himself vocally on this record, too, from a deep baritone to an urgent, almost nasal cry: "The Sights" recalls Portuguese art pop band The Gift as he sings its call and response-style verse over gleaming synths before launching into the anthemic chorus.
"Take My Country Back" is a blistering riot against the xenophobia that was turned into mainstream discourse in both the UK and the US, with its narrator summarising the anxiety and paranoia that surrounded it.
The menacing "Rabble Rouser" appears to draw on the drama of a track such as grime artist Kano's "P's and Q's"; Reynolds spits out distorted bars over a heady beat with a cool yet quietly threatening delivery that goes even darker on "The Revolt of The Atoms".
Penultimate track "An Ode To Lost Jigsaw Pieces (In Two Movements) features a beautiful orchestral movement that soars as Reynolds's vocals teeter on the brink with superb, raw emotion. The Spark is Enter Shikari's most eclectic and accomplished album to date.
Death From Above, Outrage! Is Now
★★★★☆
Download: Never Swim Alone, Moonlight, All I C is U & Me, Holy Books
They weren't really gone for that long, but the delight that welcomed the return of Toronto outfit Death From Above was tangible.
They've always been good at surprises, apparently not particularly keen on the idea of a drawn-out, hyped-up album release, which would explain why Outrage! Is Now was announced three weeks before its due date.
The little growl from Jesse Keeler on bass as Sebastien Grainger warms up the drums on "Freeze" marks the anticipation that had little time to build and launches into a thrilling record that shows how the band have pushed themselves beyond the punk-metal sound they were previously associated with.
On stand-out track "Never Swim Alone" Grainger howls about "babies in biker jackets" and "cocaine brunch, no reservation", vocals rising with comedic hysteria over the Bowie-esque guitar hook. "There's gotta be another one coming," he pleads, "another generation – ready for the revolution."
Then on the title track he makes an exasperated case against reactionary culture and people who seem to spend their lives being offended. This is a band who have considered what their music can offer fans; drawing on the youthful energy on their first two records but offering up ideas that challenge the listener and show a consciousness of their own maturity.
Outrage! Is Now is a deeply satisfying record to listen to, and one that the band seem to have had fun making. It's sarcastic, witty, and the best thing they've produced so far.
Join our new commenting forum
Join thought-provoking conversations, follow other Independent readers and see their replies