The Menzingers, Scala, London, review: A night of high beers and high spirits with the world's best bar band
The Philadelphia punks might not be reinventing the wheel, but when they're this much fun, who cares?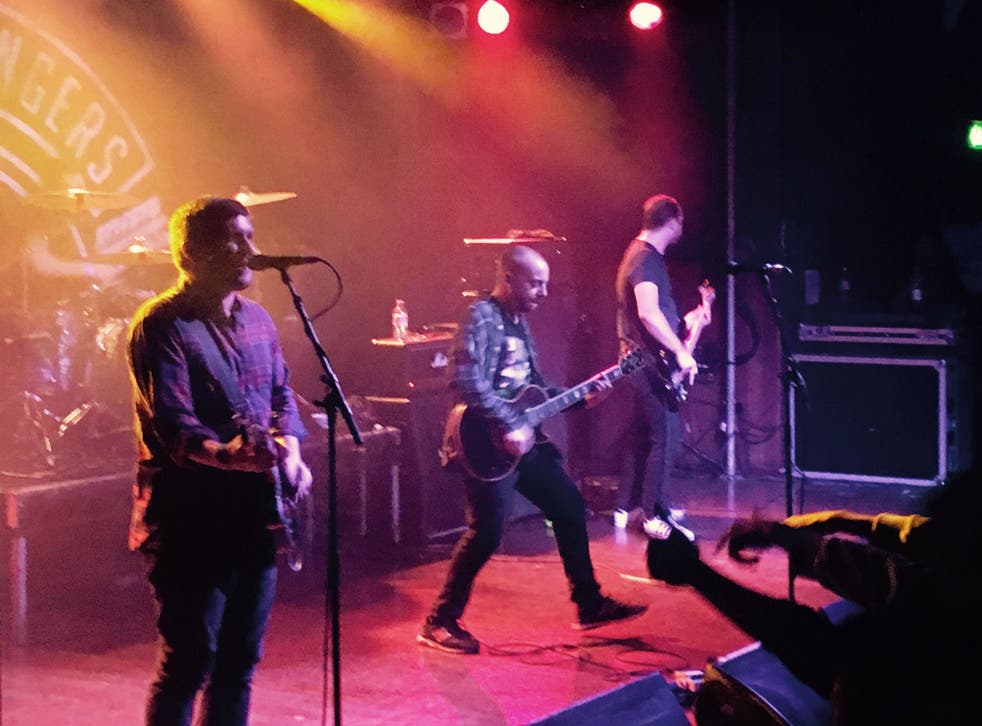 The Menzingers are a scruffy bunch. Decked out in thrift store plaid shirts and grubby jeans, their unkempt appearance is reflected in their rugged, scrappy punk rock. It's ironic then, that the first song they play at their show at Scala in King's Cross is called "Lookers", the infectious first single from their eagerly awaited sixth album, because lookers they ain't.
"Sha la la la Jersey girls are always total heartbreakers. Julie from the Wonder Bar I wonder where you are," shout lead vocalists Greg Barnett and Tom May, in lines that could be taken from Working Class Americana 101: Blue Collar Rock n Roll for Dummies. In the same way as Springsteen, Tom Petty and more recently, The Gaslight Anthem, this Philadelphia four-piece make you nostalgic for something you never knew, conjuring vivid images of smokey inner city US dive bars, beat up vintage cars and destructive love affairs with tattooed waitresses while working your fingers to the bone.
They deliver their earnest, full-of-heart punk rock with urgency, but also a real sense of fun. The goofy smile doesn't leave Barnett's face as he growls tales of love lost and self-depreciation, while the diminutive May bounds across the stage from foot to foot from start to finish. Bassist Eric Keen seems generally humbled at the near sold-out crowd shouting back every word in a city on the other side of the world. And shout back they do. If there's anyone who sings The Menzingers' lyrics with more gusto than The Menzingers, its their fans. The pit is a sea of pointing fingers and raised fists as the largely mid-20s male audience drown out the huge choruses on the likes of "Obituaries", "Good Times" and "Mexican Guitars" from 2014's On the Impossible Past.
Sitting somewhere between the aforementioned Gaslight Anthem and the rawer nineties punk of The Bouncing Souls and Bad Religion, The Menzingers counterpoint grit with melody, and angst with joy. Soaring lead guitar lines cut through buzzsaw power chords and May's smoother vocals play off Barnett's gruffer tones. And for a band with a sound so messy, they pull it off with an enviable precision live.
While some lyrics appear puerile on paper ("I will fuck this up, I fucking know it"/"I don't wanna be an asshole any more"), their self-flagellation obviously strikes a chord with a devoted crowd caught up in an atmosphere of high spirits and high-held beers. Meanwhile, "Casey" and "Gates" are love songs without glamorous pretence, telling tales of relationships that thrive despite – or perhaps because of – substance abuse and the struggles of working class America. While the specific references are foreign it's clear the heart is not lost in translation.
Barnett, May and co seem dumbstruck at the reception in London. For a band with little-to-no mainstream recognition, they've certainly accrued a die-hard following, and though they may essentially be a very catchy bar band, when they do it so well, there's no reason for them not to take their salt of the earth rock n roll to bigger stages.
Register for free to continue reading
Registration is a free and easy way to support our truly independent journalism
By registering, you will also enjoy limited access to Premium articles, exclusive newsletters, commenting, and virtual events with our leading journalists
Already have an account? sign in
Register for free to continue reading
Registration is a free and easy way to support our truly independent journalism
By registering, you will also enjoy limited access to Premium articles, exclusive newsletters, commenting, and virtual events with our leading journalists
Already have an account? sign in
Join our new commenting forum
Join thought-provoking conversations, follow other Independent readers and see their replies