The Psychedelic Furs at Robert Smith's Meltdown at the Royal Festival Hall, London review: A blistering set
I haven't witnessed such a sax-heavy show since Springsteen's and his E Street Band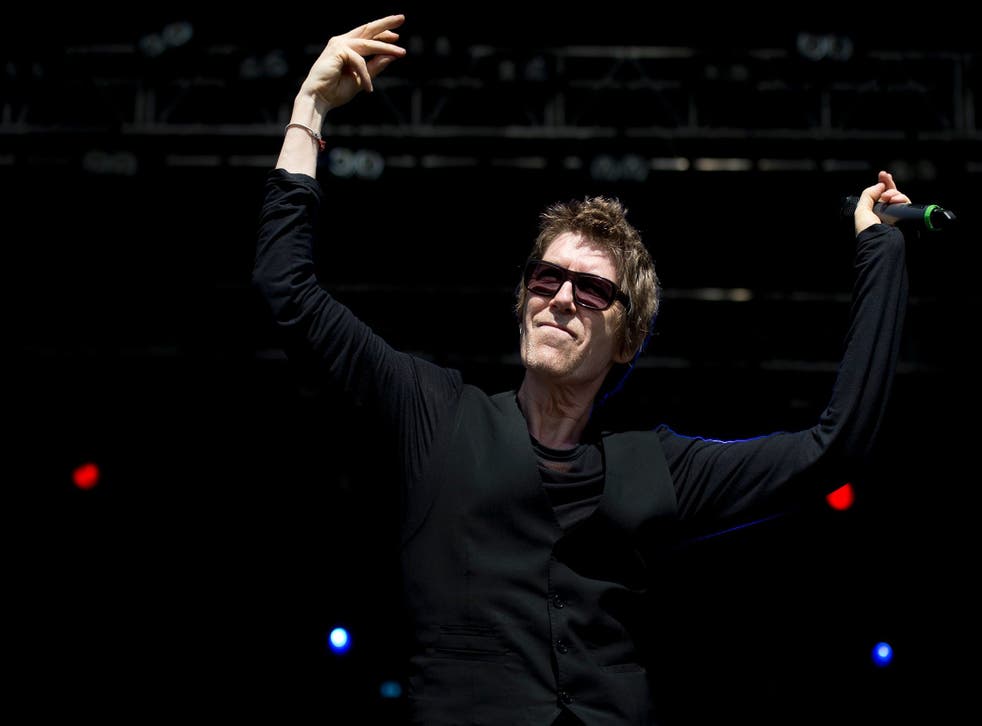 Four songs in and a previously seated Festival Hall audience rise as one – it feels like an organised, pre-arranged movement – and head for the stage to worship post-punk pioneers, the Psychedelic Furs. The staff stand helpless as the Eighties act thrash out anti-Ronald Reagan track "President Gas" from 1982's Forever Now.
The spirit of punk returns for two precious hours for The Cure's Robert Smith Meltdown festival, which is packed with seminal acts - Kristen Hersh, the Manics, Nine Inch Nails, Mogwai, My Bloody Valentine...
However, the honour of playing the first night of this 25th Meltdown goes to the arch Psychedelic Furs, fronted by the Butler brothers, bassist Tim, resplendent in a red jacket and stalking the stage like a louche sociology lecturer, and charismatic singer Richard, who sports black shades and resembles an older (by 40 odd years) Christian Slater from Heathers.
Born in south-west London, the brothers now reside in Kentucky and New York respectively.
The English sextet's swooning New Wave sound has influenced a legion of bands, from Echo & the Bunnymen to the Waterboys and the National, and the sixtysomethings deliver a blistering 17-song set, which starts with the snarling "Dumb Waiters" (from 1981 masterpiece Talk Talk Talk) and ends with their greatest anthem, "Pretty in Pink", with the splendid lyric "She turns herself round and she smiles and she says/ This is it, that's the end of the joke".
The experience is held together by Richard's distinctive, raspy vocals and his hyperactive (in between songs the 62-year-old engages in little jumps on the spot), high-kicking performance and by their extraordinary saxophonist Mars Williams who prowls the stage like a woodwind artist possessed; I haven't witnessed such a sax-heavy show since Springsteen's and his E Street Band.
Highlights include 1982's tender "Love My Way" ("There's an army on the dance floor/ It's a fashion with a gun, my love"), the synth majesty of 1983's "Heaven", hit "The Ghost in You" and the raucous "India". However, towering over them all is "Pretty in Pink", a song so evocative it inspired a terrific John Hughes film and is an enduring testament to youth. Pretty in pink, isn't she…
Join our new commenting forum
Join thought-provoking conversations, follow other Independent readers and see their replies