The Rolling Stones, Exhibitionism, review: Rockers flog £4,750 merchandise at huge memorabilia show
Future generations will seek it out to discover just what this 'rock n' roll' that entranced their grandparents was all about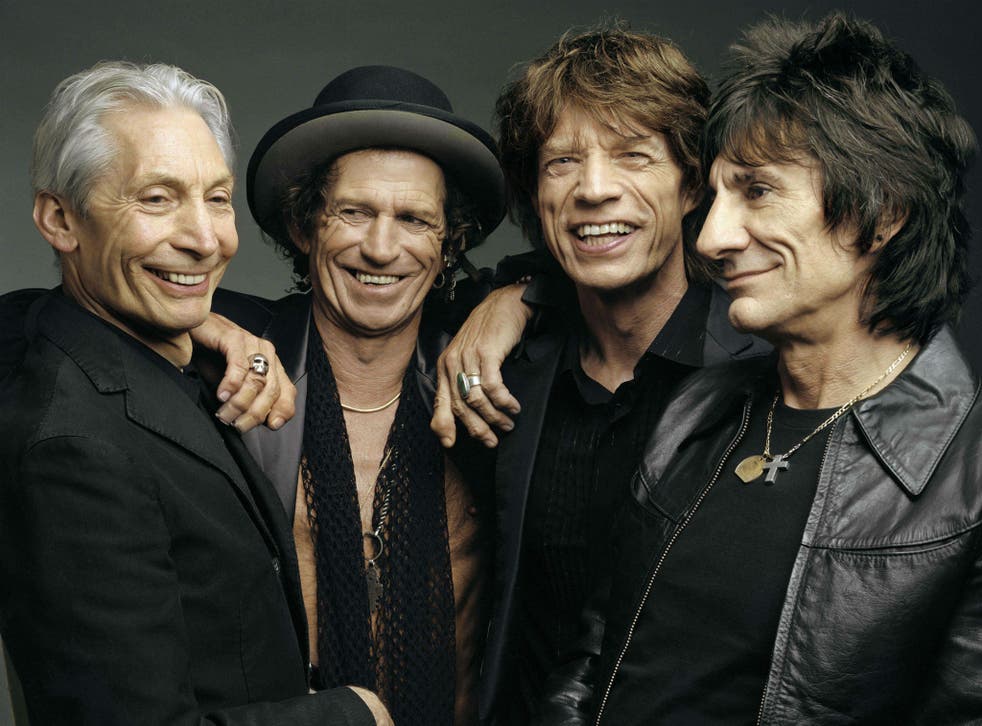 "First you shock them, then they put you in a museum," Sir Mick Jagger observes on one of the giant screens accompanying Exhibitionism, the first major show displaying The Rolling Stones' storied career. But this is a museum with a truly exorbitant gift shop as the band, famed for turning rebellion into profit, invite fans to pay up to £4,750 for momentos from their Saatchi Gallery visit.
The show, displaying 500 items from the Stones' personal archives, devotes an entire room to the creation of the iconic Lips logo, a design which the savvy band members identified as a lucrative merchandising tool. Those famous lips are plastered over each designer item displayed in Exhibitionism's most jaw-dropping room – the gift shop.
Every Stones completist will want to rattle goals in on a branded table football game, sold for £4,750 plus delivery.
An Exile On Main St. print tuxedo, which even Keith Richards might have struggled to pull off in his 70s pomp, produced by gentleman's clothier Turnbull & Asser is available for £1,500.
Wave your £1,250 Ligne 2 cigarette lighter next time the rockers play Wild Horses in Hyde Park and twirl a £225 umbrella if the rains descend.
Visitors on a budget (the Stones are offering discount tickets to school parties) can still leave with a £450 Pringle of Scotland cashmere sweater or £295 "lips" print pyjamas.
The Rolling Stones through the years

Show all 30
Some of the proceeds will cover the costs of staging the show, spread across nine galleries and two floors of the Chelsea institution. "It costs a lot of money to make something look this horrible," said the organisers of Exhibitionism's highlight – a pungent recreation of 102 Edith Grove, the filthy one-bedroom flat which Mick shared with Brian Jones and Keith Richards after the band's formation in 1962.
An acrid smell accosts the visitor as they walk through the kitchen, littered with overflowing ash trays. Dishes smeared with congealed food and more cigarette butts are piled up in a sink. Opened tins of "stewed steak with rich gravy" and mouldy milk bottles line the shelves, as a voiceover from the former residents recalls the foul atmosphere.
Adjacent, in a tribute to Tracey Emin perhaps, lies Mick's unmade bed, an orphaned sock strewn across the floor. It does not contain the names of everybody Jagger has ever slept with – space is at a premium within the Saatchi Gallery.
Enjoy unlimited access to 70 million ad-free songs and podcasts with Amazon Music Sign up now for a 30-day free trial
Sign up
Muddy Waters howls from a record player in the living room, next to the sofa where a blanket indicates Richards' sleeping space. Something is stirring in this fag-strewn, electric bar-heated hovel and the following rooms provide a whistlestop tour of the band's journey from Blues students to masters of stadium rock spectacle.
There are guitars from those early recording sessions, handwritten lyrics and original stage costumes, tracing the band members' rejection of Beatles suits in favour of the dandyish, flamboyant designs being dreamt up on Kings Road boutiques.
Rooms are devoted to concert films, videos and artwork - an original, frayed, Sticky Fingers sleeve featuring the "zip" design by Andy Warhol is present.
Low points - Brian Jones's death, the murderous Altamont concert, Richards' drug addictions – are dispensed within an opening video sequence. The Stones' transformation into the world's biggest-grossing rock band is well covered in a room outlining the genesis of their gargantuan stage productions.
Fascinating unseen rarities include sketches for a 1996 tour, titled Blasphemy, featuring a giant cross centre-stage, which was wisely junked.
The outrage the Stones once provoked is airbrushed – the display includes one letter of complaint over sexism and the "degradation of ethnic minority women" in the band's lyrics. The exhibition ends with a 3D live performance from Hyde Park in 2013 of "(I Can't Get No) Satisfaction" blasted at thunderous volume. The effect is overwhelming.
Exhibitionism will continue touring long after the Stones are finally forced off the road and future generations will seek it out to discover just what this "rock n' roll" that entranced their grandparents was all about.
Exhibitionism, 5 April to 4 Sept, tickets cost £19-21 for adults with VIP tickets available for £60.
Register for free to continue reading
Registration is a free and easy way to support our truly independent journalism
By registering, you will also enjoy limited access to Premium articles, exclusive newsletters, commenting, and virtual events with our leading journalists
Already have an account? sign in
Register for free to continue reading
Registration is a free and easy way to support our truly independent journalism
By registering, you will also enjoy limited access to Premium articles, exclusive newsletters, commenting, and virtual events with our leading journalists
Already have an account? sign in
Join our new commenting forum
Join thought-provoking conversations, follow other Independent readers and see their replies