The Wonder Years, Tufnell Park Dome, London, gig review: Pop punk belongs in sweaty dive bars
'Humid clubs like the Dome are where the real spectacle is in this much-maligned genre'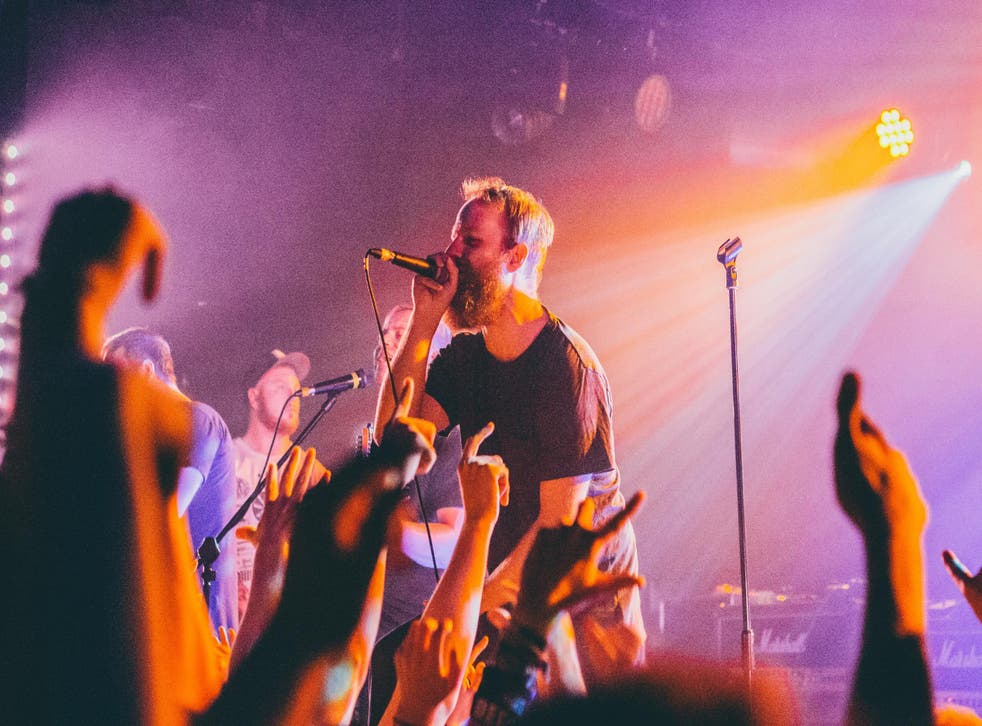 It seems like we're in the midst of the 456th pop punk revival at the moment. Blink-182's new album just went straight to number one on both sides of the Atlantic, Fall Out Boy are headlining Reading and Leeds, and Good Charlotte are about to embark on a world tour, so one could be forgiven for thinking we've woken up in 2004.
But while the aforementioned are relying heavily on nostalgia to sell their shiny, juvenile brand of American rock, there are a host of bands who've been representing the scene solidly through its peaks and troughs, and doing so with a sense of sincerity lacking from their forefathers.
One of these is Philadelphia's The Wonder Years, who stopped at north London's Tufnell Park Dome, in a small headline tour that frontman Dan 'Soupy' Campbell said has taken "too fucking long" to come around.
The scruffy six-piece dominated the small stage of the Phoenix Nights-esque venue, coming on with "Brothers &", the opener from last year's fifth album No Closer to Heaven, with its gang-chanted refrain naturally leading into "Cardinals", in which the chugging guitars and thudding drums created a sensation of being grabbed by the shoulders and shaken in a bid to draw attention to Campbell's desperate shouts. Every word yelled from Campbell's gravelly throat was packed with a pained honesty, whether that was in older raucous numbers like "Hostels and Brothels" (a Leeds name-checking ode to touring the UK) or the overtly honest mental illness-challenging "Devil in My Bloodstream".
Taken on paper, some of the band's lyrics aren't far removed from their predecessors ("I'm not a self-help book, I'm just a fucked up kid"/ "So fuck the world and what it wants me to be"), addressing the common themes of heartbreak and millennial angst, they included just enough literary clichés and were delivered with a distinctly grown-up emotional intensity, that they were elevated well above the disposable adolescence that has unfortunately come to define pop punk in its most accessible form. Indeed, where Blink-182 have penis jokes, The Wonder Years have Allen Ginsberg-inspired concept albums.
While their singalong hooks in the likes of "Dismantling Summer" and "Passing Through a Screen Door", ardently recited by a largely-male late twenties crowd, nailed the pop side of the equation, Campbell and Co didn't shy away from their punk counterpoint, despite their music not being overtly political. The Democrats may have been the party making headlines in The Wonder Years' hometown this week, but Hillary Clinton was not the nomination Campbell wanted to talk about in London. "The free thinking people of the US are not represented by that bright orange motherfucker," he angrily told the room to a resounding cheer.
A seven-minute song which pulls together elements of the band's back catalogue may seem rather over-ambitious for a pop punk band in such a tiny venue, but "I Just Want to Sell Out My Funeral" worked well, switching between full-and-double time, tying up the disparate parts of what constitutes The Wonder Years' sound. Ahead of the final track Campbell pleaded with the by-now hoarse audience: "I want you to walk out of here thinking this was the best show ever," and while Blink sell out stadiums, Green Day produce Broadway musicals and Fall Out Boy pen tracks for the latest Hollywood blockbuster, it's hard not to think that sweaty dive bars and humid clubs like the Dome are where the real spectacle is in this much-maligned genre.
Register for free to continue reading
Registration is a free and easy way to support our truly independent journalism
By registering, you will also enjoy limited access to Premium articles, exclusive newsletters, commenting, and virtual events with our leading journalists
Already have an account? sign in
Register for free to continue reading
Registration is a free and easy way to support our truly independent journalism
By registering, you will also enjoy limited access to Premium articles, exclusive newsletters, commenting, and virtual events with our leading journalists
Already have an account? sign in
Join our new commenting forum
Join thought-provoking conversations, follow other Independent readers and see their replies