There Will Be Blood, Jonny Greenwood and the London Contemporary Orchestra, Camden Roundhouse, gig review
Sparse and at times just plain peculiar but always brilliantly original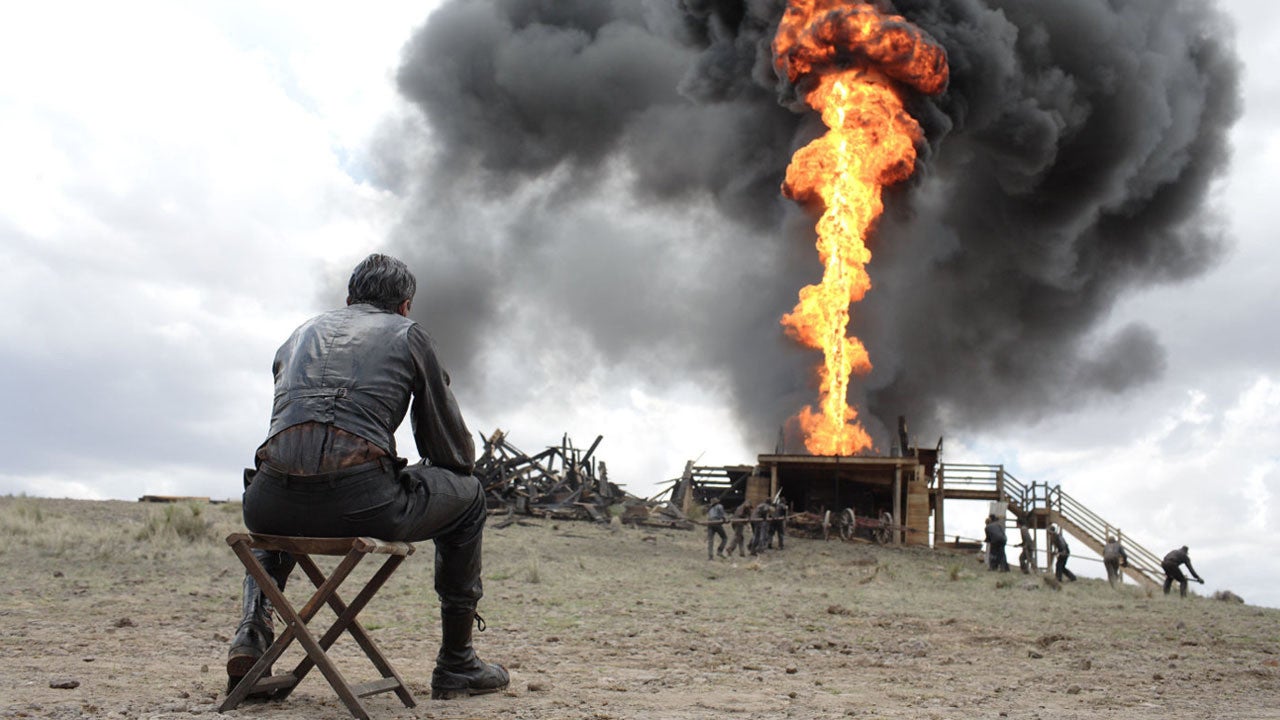 Rife with dirt and oil and dust, the first 15 minutes of There Will Be Blood famously contain no dialogue whatsoever.
But it's still a movie full of sound from the very beginning: the slamming of pickaxes, the bang of explosives, the wails of a baby. Watching this very noisy film being given the silent movie treatment thanks to a live orchestra accompaniment is therefore, if nothing else, a unique experience.
Yet while inspirations can be unique, so can gimmicks. Watching Paul Thomas Anderson's masterpiece soundtracked by 50 musicians sitting below a big screen erected in the middle of Camden's Roundhouse for its Summer Sessions, with the conductor watching the film on a small monitor while simultaneously directing his musicians, while the score's own composer is sitting in the middle of them all to play an ondes martenot, sounds fantastic.
But then I begin to wonder: what will a live orchestra add without becoming a distraction? Especially when Jonny Greenwood's composition - by turns stark and ominous, loud and intimidating, quiet and mysterious - sounds great anyway when played on a decent cinema soundsystem?
The answer isn't clear immediately as I struggle to focus or relax my attention, unsure whether to watch the talented violinists down below or the great movie up above. If you're a fan of movie - which, with full disclosure, I think is among the very best ever made - then at times it's easy to get so drawn into some scenes that the orchestra are forgotten.
But then the realisation hits back as the conductor's baton catches the eye: Jonny Greenwood is down there! There's no point sitting here if you're not going to watch Jonny and his orchestra! As an alienation effect capable of continually reminding the audience they're watching a piece of fictional drama and stop them getting too involved with the characters, perhaps Bertolt Brecht should have just sat orchestras in front of movie screens more often.
After the opening scenes, however, the mind settles into this unusual cultural experience. The movie and the orchestra are not competing. They are complementing. The mere presence of the musicians adds another level of thrill when the oil rig goes up in flames, as their drums tick and rattle in unsettling beats.
The subtle differences in acoustics lead individual instruments to stand out differently - especially the breaths of high-pitched ghostly murmurs and tinkles - making the whole film seem fresh again. And then there's the sheer quality of the sound.
How could I ever cynically have wondered whether a live orchestra would sound noticeably much different to the soundtrack being played on some speakers? It's magnificent.

Enjoy unlimited access to 70 million ad-free songs and podcasts with Amazon Music
Sign up now for a 30-day free trial
Sign up

Enjoy unlimited access to 70 million ad-free songs and podcasts with Amazon Music
Sign up now for a 30-day free trial
Sign up
Sparse and at times just plain peculiar - but in a brilliantly original way - Greenwood's soundtrack might not fill big commercial concert halls like the works of John Barry, Ennio Morricone or John Williams.
But when it breaks out into ironic grandiosity for the closing credits after Daniel Day Lewis's cry of "I'm finished", the Radiohead guitarist sits staring into space as the crowd applaud and the music goes on around him, his hand on his chin, well entitled to contemplate whether this score is his finest achievement.
Join our commenting forum
Join thought-provoking conversations, follow other Independent readers and see their replies