Way Out West, Gothenburg, festival review: 'A fascinating place to visit, but not necessarily one for everyone'
The line-up provides delights at nearly every turn, with Morrissey, Massive Attack, PJ Harvey, Julia Holter and Peaches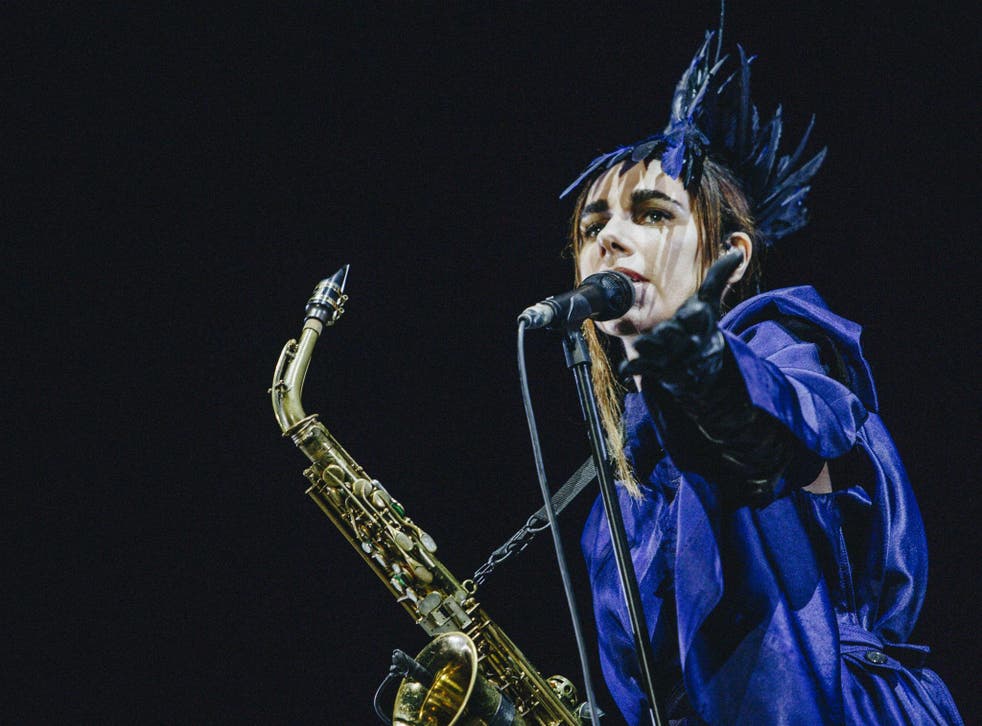 Set in the beautiful surroundings of Slottsskogen Park in Sweden's musical capital Gothenburg, Way Out West certainly sets out to differ from Europe's ever-increasing festival competition. The deluge of corporate branding might feel familiar (although the sight of people scrambling in the mud fighting for packets of Doritos fired from a canon is a new one for me), but the sense that your fun is precisely defined on our behalf is inescapable, with specified areas to eat and drink, heavy-handed security, and one-way systems that make it feel like you're in a particularly bucolic branch of Ikea. Add in an eco-friendly ethos that means the festival is, bar the odd exception, essentially vegan, and the contrast with, say, Glastonbury, couldn't be more pronounced.
This is all a mixed blessing. By and large behaviour is impeccable, the predominantly local crowds giving hushed reverence to Julia Holter's sumptuous operatic pop and Kamasi Washington's expansive jazz odyssey in a way that is becoming increasingly rare in the UK. But it also makes the atmosphere somewhat staid: while Sia's hit-laden set draws a frenzied response from the youngest demographic of the weekend, elsewhere the response is one of mild appreciation.
But even with some high profile pull outs (The Avalanches, The Kills and Anohni all cancelled, while The Libertines' scheduled Thursday appearance eventually happened, albeit drearily, on Friday) the line-up provides delights at nearly every turn, as heavy hitting as it is eclectic. Dr Dre collaborator Anderson Paak's energetic set of funk, soul and hip-hop is exhilarating; likewise Jessy Lanza's hyper electro-pop that momentarily helps us forget the pouring rain. Stay Out West's late night offerings of bands and DJs scattered around town – of which, Peaches' provocatively NSFW show of dancing vaginas, simulated sex and an inflatable penis is an electrifying sight to behold – adds decadent after hours fun.
The headliners set an uncompromising tone, none more so than a buoyant Morrissey, who stalks the stage, lashing his microphone lead, visibly thrilled there's no meat on the horizon. "No death for sale!" he exclaims, merrily.
Of course, there's nearly as much chance of him serving up a juicy T-bone as there is pandering to the masses with a full-on greatest hits show, but in among a quixotic set list (three B-sides, just two of The Smiths' songs) there are a smattering of dutifully delivered hits – a faithful "Suedehead", a viscous "Irish Blood, English Heart" – and a mariachi reworking of "First of the Gang to Die" that show the magic still sparkles. His croon has never sounded better, and his politically charged missives – he throws barbs towards Hilary Clinton, Donald Trump and television news – are very much on brand and on point.
Both PJ Harvey and Massive Attack take the civil baton, the former leaning heavily on her last two war-torn, state-of-the-world albums to deliver a spellbinding display of poise and power. Abetted by a stellar all-male nine-piece band dressed like a security firm playing by its own rules, Harvey, resplendent in corvine garb, mesmerises as she postures throughout an ominous set of singular brass and percussion blues.
Similarly, trip-hop legends Massive Attack's immersive and at times blistering set, invigorated by the presence of Mercury Prize-winners Young Fathers, is as much an irate visual assault: everything from the plight of refugees to the state of political parties is depicted in multi-colour fury, suiting an oeuvre that can be claustrophobic as well as, on "Safe From Harm's" climax especially, searing. Their world is a fascinating place to visit, but not necessarily one for everyone. The same could be said of Way Out West itself.
Register for free to continue reading
Registration is a free and easy way to support our truly independent journalism
By registering, you will also enjoy limited access to Premium articles, exclusive newsletters, commenting, and virtual events with our leading journalists
Already have an account? sign in
Register for free to continue reading
Registration is a free and easy way to support our truly independent journalism
By registering, you will also enjoy limited access to Premium articles, exclusive newsletters, commenting, and virtual events with our leading journalists
Already have an account? sign in
Join our new commenting forum
Join thought-provoking conversations, follow other Independent readers and see their replies