will.i.am: review - 'ridiculously hedonistic'
O2, London, Thursday December 5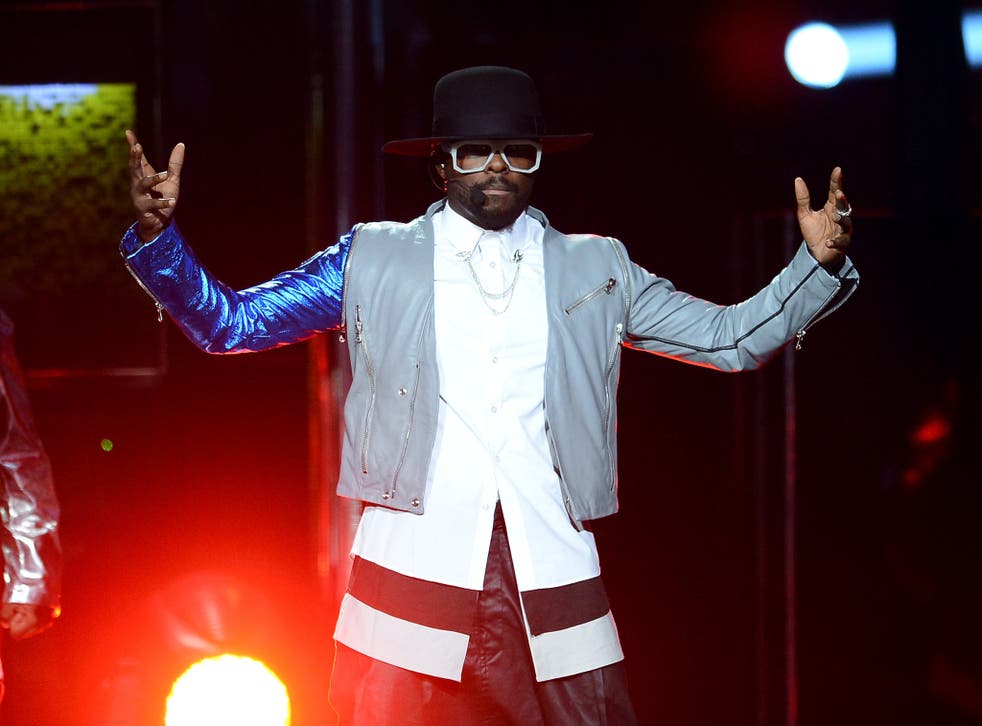 "Check me out," crows will.i.am on 'Geekin', dedicated to "all the intelligent rebels" in the room. "I'm an engineer!" It's an accurate, if oddly practical pop boast: he has, he tells us, has just been accepted onto a computer science course at MIT.
It's this prolific producer's scientific, somewhat calculated approach to pop music that I've always found off-putting. Particularly in the latter days of the Black Eyed Peas, the Frankenstein's monster cut-and-shut nature of crass horrors such as 'The Time' (retro Dirty Dancing Soundtrack sample plus massive romping synths plus irritating saucy hook equals HIT) seemed cynical.
The formulae behind more recent work, though, such as fourth solo album '#willpower' are more refined, relatively speaking (the album was originally due to be called 'Black Einstein'). More that can be said for his stage set, consisting of two Easter Island-size white heads, with Will's digitised, eerily lip-synching face intermittently projected onto them. Had the forecasted massive storm surge for this evening threatened to overwhelm London, Will's big heads could surely have shored up the nearby Thames Barrier.
They blink philosophically, as a huge video backdrop of an absent Justin Bieber wailing away over the euphoric boshing of 'thatPower'. A disembodied Ke$ha also appears for their characteristically raw and hi-NRG 'Crazy Kids', with its jet-engine synth rush. It's not subtle, but much like the work of Calvin Harris, it makes much more forgivable sense live; his constant exhortations to "go crazy" and "get your hands up" remind you of the limited point of this music.
It's a shame that momentum isn't maintained. Not that it seems to be a problem for a dangerously excited crowd, but once the lengthy DJ set in the middle veers into a Nirvana mashup and snatches of Eurythmics' 'Sweet Dreams' and The White Stripes' terrace-chant favourite 'Seven Nation Army' it's all gone a bit like the wedding disco of Captain Obvious and Madame Will-This-Do?
Back at floor level, Will dedicates a Black Eyed Peas medley to his former band, before a strange interlude where he proves his love for technology (he's a Director Of Creative Innovation at Intel) by er… playing some beats off an iPad while freestyling. Hilariously, he keeps hold of it when Cheryl Cole walks on, making it difficult not to read 'Heartbreaker' as an argument between a frustrated woman all dolled up to go out and her boyfriend who won't ever get off his flipping tablet.
Cheryl, though looking fierce, is sounding a little hoarse, and is shown up by Will's voice protegee Leah McFall, on a fine rendition of 'Just Can't Get Enough', before Cole, Shelby, McFall, Will and Peas associate Dante Santiago belt out the ever-excruciatingly saccharine 'Where Is The Love?'. Thank god, then for the encore of 'Scream & Shout', with its oh-wee-ohh-ee-ow-eeh-oww refrain and Britney's giant face declaiming in a cold European accent. It's so ridiculously hedonistic it couldn't be wholly cynical, could it? "WE AIN'T DONE!" screams Will, as the beats redouble. A scientist, perhaps, but at least an endearingly mad one.
Join our new commenting forum
Join thought-provoking conversations, follow other Independent readers and see their replies