Interview
'Nobody wants to strike, they don't do it for fun': Richard Hawley on his National Theatre debut, Thatcherism and the Tories
The Sheffield rock'n'roller tries to avoid sharing a pint at his local with Megan Graye
Sunday 05 February 2023 08:03 GMT
Comments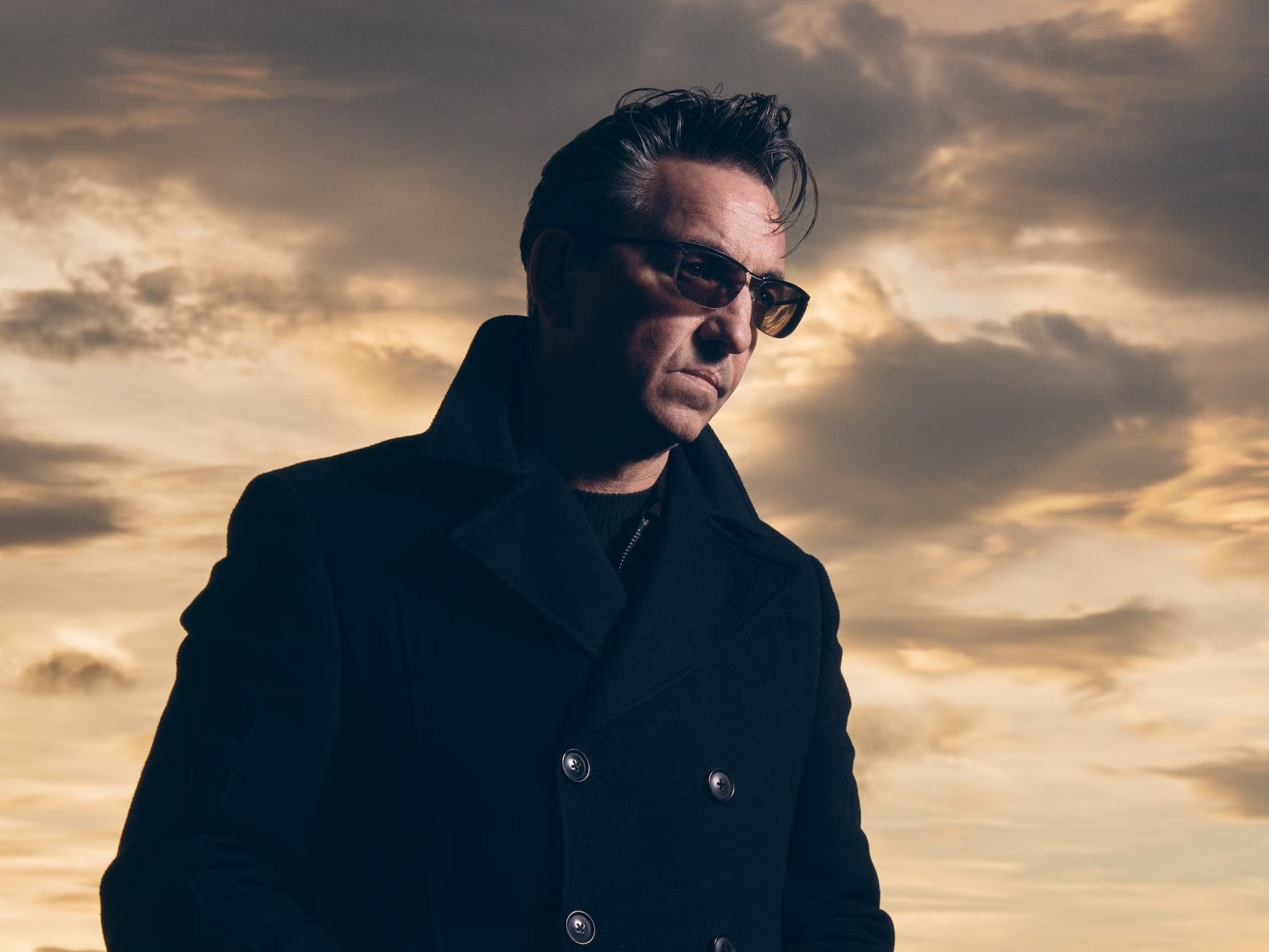 I was in 'ere last night!" says a hungover Richard Hawley as I greet him in his favourite Sheffield pub: Fagan's. It's a cold January afternoon and the musician is standing at the bar, chatting to the owners of 40 years, his friends Barbara and Tom. It's a classic old folk club, with wooden-panelled walls dotted with picture frames and Guinness memorabilia. Despite his claim of being worse for wear, the 56-year-old is looking dapper, the rock and roll bridge between Elvis and Alex Turner. He's wearing a tartan bomber jacket, handmade by a friend in the US. His dark hair is slicked back. He's grateful to still have this asset; "I'm quite relieved," he laughs, "most of the lads I went to school with look like footballs with eyes!" Hawley quit hard liquor a few years ago, but that doesn't mean he can't still enjoy a pint of smooth stout. Today, though, he's given his wife his word that he won't be having a Guinness. But in his favourite pub? Torture.
Hawley's heart belongs to Sheffield; he was born here and still lives in town with his three children and wife Helen. "I couldn't bear to leave," he says of the steel city. "It would have broken my heart." Sheffield loves him back; Hawley is somewhat of a legend here – his image is framed in many of the bars. Before embarking on a successful solo career (from which he earned two Mercury nominations and one Brit nomination), Hawley was the guitarist in two bands, Treebound Story and Britpop guitar group Longpigs; he also did a short stint in Pulp with his good friend, Jarvis Cocker. In between all of this, he's played on just about everything and worked with just about everyone: the late Lisa Marie Presley, Ziggy Marley, Paul Weller, Nancy Sinatra, Baz Luhrmann to name a few. He's the musician's musician, cited as a major influence by countless artists, one of whom is his pal Alex Turner of Arctic Monkeys. Hawley first met "Al" when he was a "shy kid" pulling pints. Years later, after the band brought Hawley on stage for their show at L'Olympia in Paris, Turner jumped behind the backstage bar to recreate the early days. Irish band Fontaines DC are fans too, and when they last played in the city, they joined Hawley for a folk session here at this same pub. "They didn't want to leave," he tells me as we get tucked into a tiny side room off the bar. He looks at my cold pint of Guinness. "I might have a drink to be fair," he says smiling.
Sheffield has formed the backdrop to Hawley's life and work. His latest project, the stage musical Standing at the Sky's Edge, is no different. The show, which makes its debut at the National Theatre this February, shares its name with his 2012 sixth studio album. It tells the moving story of Sheffield's infamous Park Hill flats through the lens of three fictional residents. Hawley's poignant songs are performed by the cast and a live band. The play is transferring to the National after a second run at Sheffield's Crucible Theatre, and a host of great reviews. "Did you cry?" Hawley asks me when I tell him I'd seen it the night before. I nod my head. "Everyone does," he says, "it's that bad!" Just like with Hawley himself, humour runs through the veins of the show, a subtle but integral part. "It's the old cliche of if you don't laugh, you're going to cry," he says of why it's so important in Sheffield's culture. Writer Chris Bush, whom Hawley calls a "genius", finished the initial script in "less than two weeks", with Hawley contributing to the gags – taken from things he overheard on the street. They decided to avoid making the play too overtly political, instead allowing the story to tell itself. "We wanted those voices of the people who got abandoned on Park Hill to be heard," he says.
Park Hill flats are the largest listed building in Europe. They were built in the late Fifties, full of promise for young families. But the mass employment of the Thatcher era in the Eighties had a knock-on effect, with the area becoming a hub of poverty and crime. "The hammer blow fell hardest here," says Hawley. They have since been in a process of redevelopment but public opinion within Sheffield is still divided about it, something which the show tenderly captures. "You've got the whole history of a post-war Britain in a f***ing musical," he says. "That arc of what happened when we went from the hopeful nature of the late Fifties and Sixties, coming out of the war and austerity, and then this dark rainbow just unfolded." With its historical narrative, the play has got right under the skin of Sheffield people. It's cut so deep in fact that a local couple even wed on the set last month. For Hawley, the story feels deeply personal too. His father, a steelworker and musician, his mother, a nurse and singer, and many of his family who were miners in the South Yorkshire coalfields were all affected by Thatcher's austerity. "I know it's my songs, but I really enjoy watching the story," he says. "It makes me cry because it's the story of my parents – [characters] Harry and Rose – that's me mom and dad." Although not autobiographical, Hawley sees reflections of his own family throughout. His grandparents, who married for life after growing up next door to each other, had queued for a flat when the block first opened, but missed out. "It was kind of an odd way for me to give them a key," he tells me. "But with the history that unfolded, I'm kind of glad they didn't get one."
Despite the musical's local subject, Hawley thinks the themes will translate to a London audience. "People aren't stupid – well apart from Tory politicians!" Although the play itself doesn't finger wag, Hawley is not shy about his feelings on our current government. "This particular shower of s*** that we've got, everything they touch turns to s***," he says, becoming animated – given the timeliness of the play's nod to industrial strike action. "Nobody wants to strike, they don't do it for fun". He recalls being a boy when his father was doing the same. "We lived off f*** all. I don't know how we got through.
"They're narcissists," he says of today's politicians. "That's a dangerous person when you're working int' Co-op, but it's a really dangerous person when you're running a country." He pauses for a moment and I take a sip of my pint. "That Guinness is looking good," he says. "I'm going to have to get one." He breathes a deep sigh thinking of his promise. "Ah, we'll see how we go," he says, heading outside for a ciggy.
In person, Hawley is passionate, kind, warm and, most of all, funny. He can be both poetic and direct, assertive and laidback. These contradictions run through everything he does. His rock'n'roll swagger, with his softie heart. His romantic lyrics, with his realist views. His velvet voice, with his twanging guitar. "That comes from my dad," he tells me. "Dad was always gentle, kind and funny – but he was also a first wave Teddy Boy biker, nutter, drinker and rock and roll guitarist," he adds. "The whole package just seemed to be right to me." Hawley's family were all musicians alongside their day jobs. His godfather was Sheffield rocker Joe Cocker. "As for me'sel," he says, "I've never described it as a talent, probably more of a mental illness." Music was always on in the house. "I don't recall ever watching TV," says Hawley as he tells me about his great loves: Cocker, Gene Vincent, Fats Domino – "Elvis obviously" – Jerry Lee Lewis and Charlie Rich, Roy Orbison and Little Richard – "I could go on and on and on!" Hawley did everything possible to be a full-time musician. "Nothing was below me," he says of busking on the street and playing in pubs. "I've always believed in music," Hawley says. "It's oxygen, I would literally feel like a dying man without it."
Hawley was in his thirties before he became a solo artist. "It took me a long time to stand in the middle," he says. It was his dad and the Pulp gang who eventually gave him the nudge. "To quote the Elvis single – I thought, it's 'Now or Never'," he says. But being centre stage didn't come naturally. "I used to have panic attacks and all sorts. It was really terrible, I'd vomit and be paralysed," he says of those early shows. Despite initial anxieties, Hawley has always retained integrity in a tough industry. "I've got little mantras: never chase the money," he says. "It makes you make bad decisions in whatever the f*** you do in life." He's never allowed anyone to "f*** with his music". "Not anyone. It would end in a fight. I've come very close," he says. Hawley attributes his wisdom to a "peak behind the Wizard of Oz's curtain" during his years working with other artists. "Compromise is one of the filthiest words for a musician – it can ruin everything in one bad move." This resistance to giving in to industry pressure has kept writing easy for Hawley. He's not sure where the ideas come from, but he's happy for that to remain a mystery. "Never look the songwriting genie in the eye," he says sincerely. "Don't question that s***, because I'm terrified that she will leave me one day." He thinks his creativity has improved since he quit narcotics 23 years ago. "If you wacked a line out now, there would be a Richard Hawley-sized hole in that wall," he laughs.
In July, Hawley will support Pulp at their homecoming shows in Sheffield. "In my mind, they're pivotal historic gigs," he says. Despite Hawley's Sheffield status, he is distinctly down to earth. He spends most of our conversation attempting to shift focus to those around him – his family, his Standing at the Sky's Edge team, his touring crew: "My name's over the door, but I couldn't do this s*** without them," he says. "I abhor the idea of the great 'I am', it doesn't sit comfortably with me as a Sheffielder. We don't really crow." Like Turner, he doesn't "believe the hype" and recites some advice his grandfather once gave him: "If you get a bad [review], you can't even get out of bed, you're that depressed. If you get a good one, your head's so big you can't get out the f***ing door." This city and his family here are what have kept Hawley so tied to himself, even with so much time touring. "I spent half my life trying to get away from Sheffield and the other half trying to get back!" he laughs. "When your boat goes too far out at sea, sometimes the harbour is the place you want to be." He thinks young artists should wait to have a family, due to the "torture" of spending so much time away from home. "If it wasn't for the strength of my wife, I would have gone mad," he says. "Everybody's gotta have somebody to hold the balloon string." Speaking of torture, Hawley has made it to the end of our interview without a stout in hand. He's a man of his word. He's resisted a pint, but he sure as hell deserves one now.
'Standing at the Sky's Edge' is at the National Theatre from 9 February to 25 March
Join our commenting forum
Join thought-provoking conversations, follow other Independent readers and see their replies