State of the Arts
Fake or not, the relationship between Shawn Mendes and Camila Cabello isn't an excuse to speculate over his sexuality
'Celebrity fauxmances' have been a running joke since the days of Rock Hudson, but Adam White asks whether it's time we do better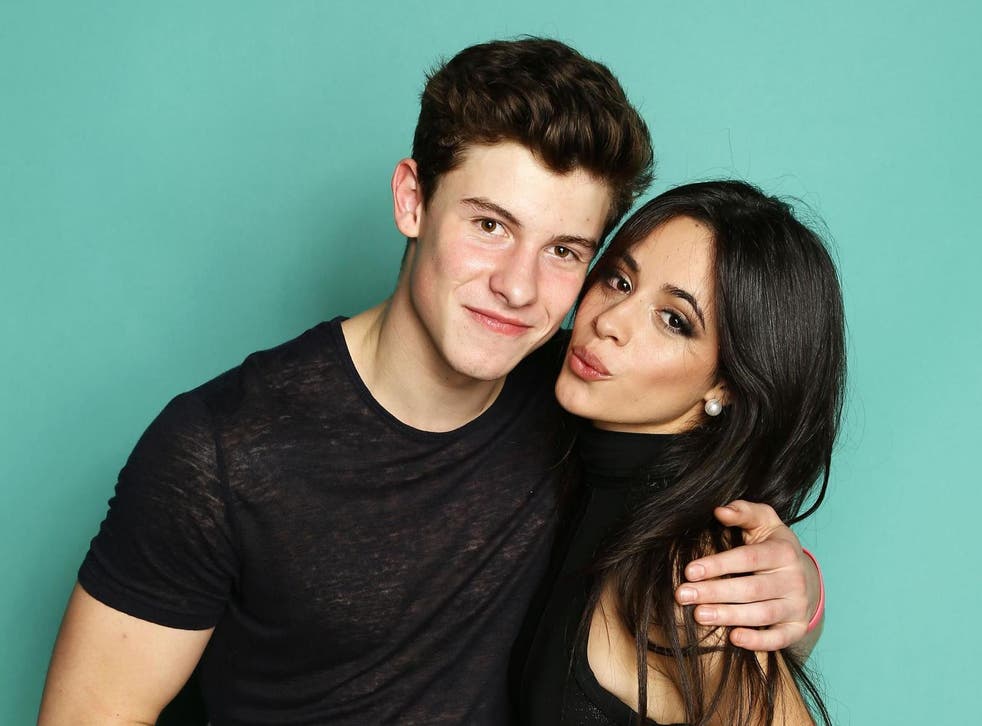 Shawn Mendes and Camila Cabello are pop music's hottest new power couple. They are also, at least according to specific corners of the internet, its most fake. The past month has seen the pair photographed walking hand in hand, hugging on street corners and kissing in swimming pools and cafes, all under the watchful eyes of various potentially pre-arranged members of the paparazzi. "Maybe they are just super passionate and don't mind cameras?" pondered Cosmopolitan.
Their newfound love has inspired hysterical fandom ("HE IS HOLDING HER BAG AND THEY ARE HOLDING HANDS," screamed one tweet), but also cynicism, with numerous headlines asking whether the pair are in truth embroiled in a PR-mandated stunt designed to stealthily promote the new single they have together – the slinky Latin-pop number "Señorita".
"Señorita" and its related marketing is, of course, a factor in our suspicions. But much of the joking revolves around Mendes and the internet's insistence that he isn't straight. For years blogs and Twitter threads have zeroed in on micro-gestures he has made that nod towards a perceived "femininity", or parsed his statements on girlfriends or love interests for ambiguities that hint at a secret attraction to men, to an extent where he has publicly stated he doesn't find it funny and wishes it would stop. Subsequently, what should be a cheap joke feels decidedly queasy – and, really, that long-running Hollywood trope of the "closeted male star paired off with a female friend" should be retired once and for all.
Cabello and Mendes are relative newcomers to the world of celebrity gossip, but such speculation about their relationship is as old as celebrity gossip itself. In the early days of Hollywood, faux relationships were often concocted in secret boardroom meetings by managers and producers eager to conceal what was then considered the deviant behaviour of their clients. There was even something known as a "Doom Book", a secret 1930s encyclopedia kept by the censors of the period, which named Hollywood figures who lived "contrary to public morals". Later, actors such as Rock Hudson and Jean Acker were placed in so-called "lavender marriages" to preserve their heterosexual public personas.
Other so-called "fauxmances" have been less bleak, guided instead by promotional opportunities or ambition, a mutual hunger for fame, or the allure of simple celebrity mathematics. After all, two B-listers joining forces as a romantic couple automatically equals a new level of celebrity that at least skirts the A-list.
But despite "fauxmances" becoming less and less a part of the celebrity landscape since the fall of Old Hollywood, they still hold a firm grip on our imaginations. It partly speaks to our inherent eagerness to be somehow smarter than everyone else in the room. We all like to think we're body language experts, and we certainly like to be the first person to spot something amiss. Insisting two rich and beautiful people are faking their own relationship is also oddly satisfying, like a little bit of confirmation that we're not in quite as much an embarrassing situation as they are.
The 40 best summer songs

Show all 40
Our suspicions tend to be raised whenever there are a number of too-clear paparazzi images of a hot new couple, like the infamous photos of Taylor Swift and Tom Hiddleston kissing on the rocks of that windy Rhode Island beach, or a slightly-too-graphic description of a celebrity couple's sex life when no one was really asking in the first place. Speaking to Vanity Fair in 1995, Nicole Kidman informed us that she was "addicted to Tom Cruise", adding: "He's my drug." As for Cruise, describing his first meeting with Kidman: "Instant lust, that's what I felt." (Incidentally, Cruise's notorious couch-jumping declarations of love for ex-wife Katie Holmes on The Oprah Winfrey Show in 2005 proved similarly suspect.)
Sometimes they're just too outlandish or brazen in their attention-seeking to be believed. In 2013, shortly after the release of Man of Steel, Superman Henry Cavill and the Big Bang Theory actor Kaley Cuoco were photographed holding hands, with gossip reports claiming the pair had fallen for one another. After it was discovered, less than two weeks into their heavily photographed "relationship", that the pair were represented by the same publicity firm, they quietly went their separate ways.
But while there is an undeniable humour to the idea of a pair of B-listers attempting to climb up the celebrity ladder by dating one another, such speculation can also be ugly, with an undercurrent of casual homophobia to be found in many claims that a conspiracy is afoot.
Enjoy unlimited access to 70 million ad-free songs and podcasts with Amazon Music Sign up now for a 30-day free trial
Sign up
For celebrities like Mendes, or any of the Jonas Brothers or One Direction, or Cruise or Richard Gere, all of whom have been accused at one point or another of having dated women to hide their true sexualities, speculation about their relationships has typically related to how they present themselves as men. These male stars tend to be delicate-featured, could be described as pretty rather than handsome, and often possess a sensitivity that reads as stereotypically feminine rather than embodying of the lazier signifiers of manliness. None could exactly be considered butch, angry or brooding.
And once a rumour surfaces, it clings to them for eternity, colouring every one of their public relationships moving forward. It's always oddly binary too. In these conspiratorial narratives, a potentially queer man isn't bisexual or existing somewhere else on the sexual spectrum, but homosexual, and so ashamed or determinedly secretive about his sexuality that he is willing to partake in a fraudulent heterosexual relationship to protect himself. It's ultimately an odd contradiction on the part of so-called fans – an ugly blur of homophobia and misogyny, rooted in gendered stereotypes about feminine behaviour being embarrassing or deserving of mockery, but cloaked in an illusion of sexual acceptance.
As for Mendes, he has been one of the few men targeted by such speculation who has actually addressed the effect it's had on his mental health. Speaking to Rolling Stone in 2018, he explained that it had made him conscious of how he behaves when in public.
"In the back of my heart, I feel like I need to go be seen with someone – like a girl – in public, to prove to people that I'm not gay," he said. "Even though in my heart I know that it's not a bad thing. There's still a piece of me that thinks that. And I hate that side of me."
It remains a grim statement, and oddly truthful in a celebrity ecosystem that has always shown a preference for withholding. But it raises an interesting point about who we decide is part of a "fauxmance" and why we only hold cynicism over certain people in the public eye. And when it's known to be taking a toll on one or more of the people involved, it also suggests that we ought to stop.
Register for free to continue reading
Registration is a free and easy way to support our truly independent journalism
By registering, you will also enjoy limited access to Premium articles, exclusive newsletters, commenting, and virtual events with our leading journalists
Already have an account? sign in
Register for free to continue reading
Registration is a free and easy way to support our truly independent journalism
By registering, you will also enjoy limited access to Premium articles, exclusive newsletters, commenting, and virtual events with our leading journalists
Already have an account? sign in
Join our new commenting forum
Join thought-provoking conversations, follow other Independent readers and see their replies