'Stairway to Heaven' trial: Led Zeppelin did not plagiarise landmark rock song, jury finds
Jimmy Page and Robert Plant were accused of lifting the intro to their 1971 classic from the instrumental track 'Taurus', released by the band Spirit three years earlier
Tim Walker
Los Angeles
Thursday 23 June 2016 19:28 Comments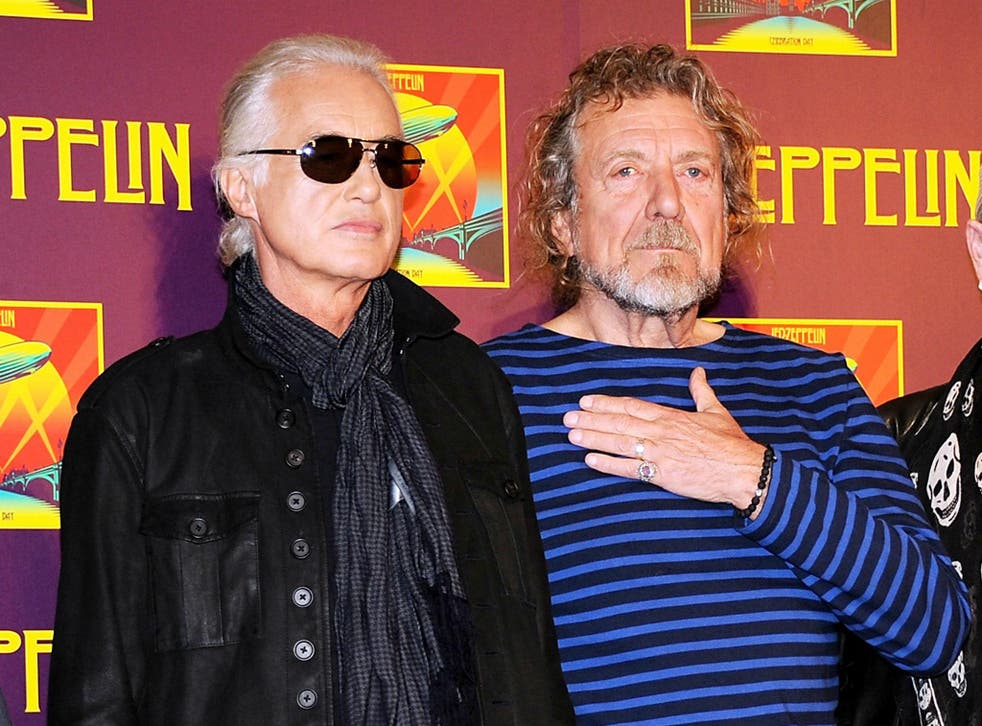 A Los Angeles jury has found that Led Zeppelin did not steal the opening bars of their biggest hit, "Stairway to Heaven", from a lesser-known band of the era. Guitarist Jimmy Page and singer Robert Plant were accused in a lawsuit of lifting the intro to their landmark 1971 song from the instrumental track "Taurus", which was released by the band Spirit three years earlier.
The suit was filed by Michael Skidmore, a British-born former rock journalist, who oversees the trust that manages royalties for Spirit's late guitarist Randy Wolfe, who went by the stage name Randy California. The plaintiff's lawyer, Francis Malifoy, argued that Page pilfered Wolfe's riff from "Taurus" after the two bands shared a bill in the late 1960s.
Page told the court that he had only heard "Taurus" for the first time a couple of years ago, after his son-in-law had alerted him to online speculation about the similarities between the two songs. "I don't do the Internet, so he played it for me," Page said last week, adding: "I was confused by the comparison."
The jury heard from members of Led Zeppelin and Spirit, as well as musicologists and music finance experts, in a case that could have cost Page and Plant a substantial chunk of the millions of dollars the song is purported to have earned in recent profits – not to mention a songwriting credit for Wolfe on Led Zeppelin's most celebrated track.
Lawrence Ferrara, a professor of musicology at New York University, testified for the defence that the chord sequence in question was a "descending chromatic minor line progression" that had "been around for 300 years," citing historic examples such as "Dido's Lament", by the 17th Century composer Henry Purcell, and the song "Chim Chim Cher-ee" from Mary Poppins.
After less than a day of deliberation, the jury found that while Page may have heard "Taurus" before writing "Stairway to Heaven", the two songs were not "substantially similar" in their fundamental elements. The verdict is likely to be welcomed by many musicians as a victory for artistic freedom over stifling creative control.
Register for free to continue reading
Registration is a free and easy way to support our truly independent journalism
By registering, you will also enjoy limited access to Premium articles, exclusive newsletters, commenting, and virtual events with our leading journalists
Already have an account? sign in
Join our new commenting forum
Join thought-provoking conversations, follow other Independent readers and see their replies