The 1975 frontman Matt Healy: 'My biggest fear is becoming Sting'
As they release their new album, the singer talks about being a 'celebrity kid' and why he hates indie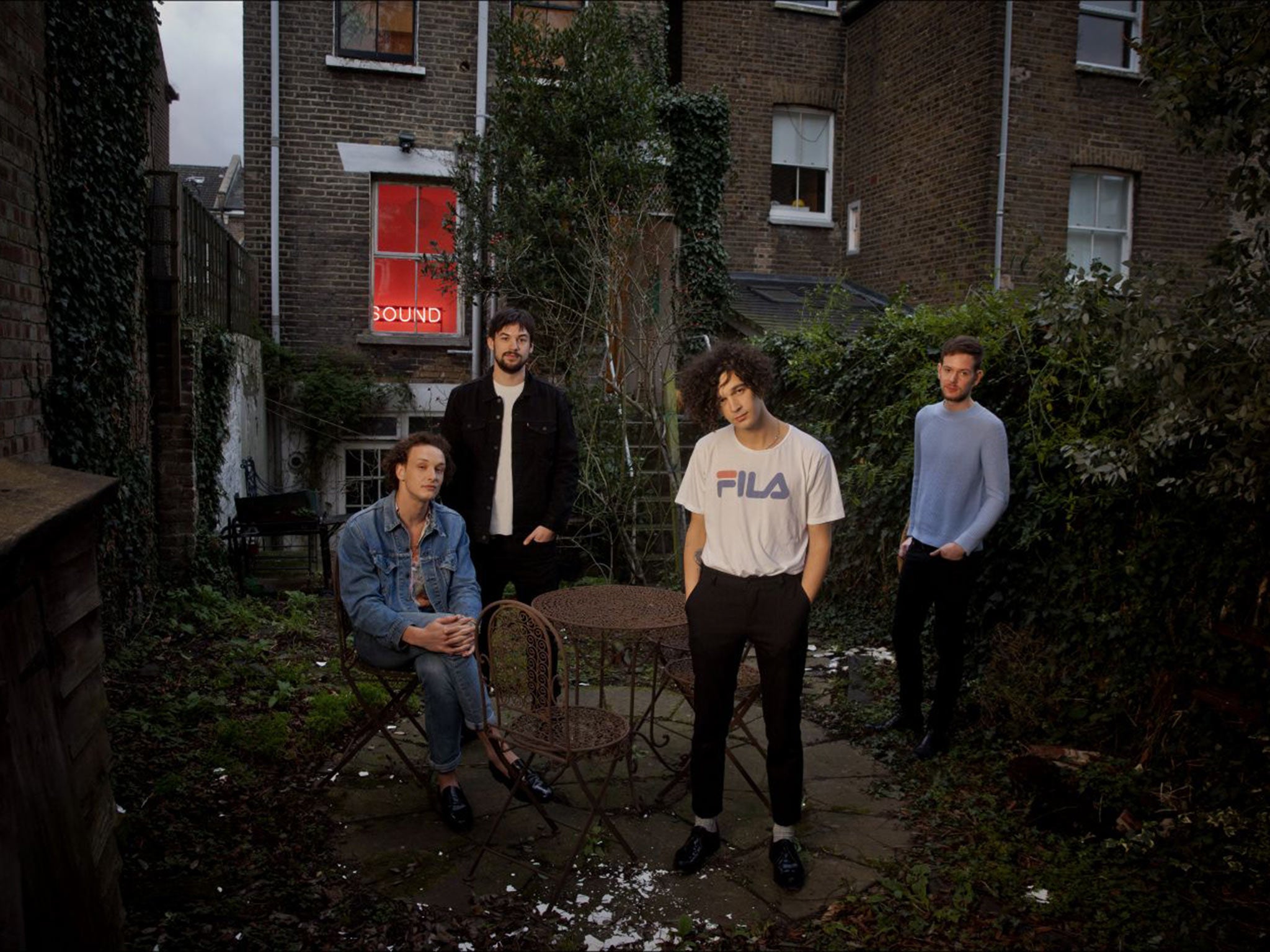 At Matty Healy's north-east London house there is hustle and bustle this late afternoon. The 1975's singer bought this four-storey detached home in an increasingly pricey corner of Hackney with the proceeds from his band's self-titled 2013 debut, a million-selling No 1. There's plenty of room for photoshoots (something the four-piece have just done, for this feature) and for a studio.
"It was a really good find, I only had to do some cosmetic work, it was a Swedish philosopher who was living here," begins Healy in his speedy, excitable manner as he makes me tea and his bandmates and manager discuss their last-minute trip to New York to appear on Saturday Night Live. "It's the only house on the road that's isolated, so I can make a lot of noise, make records here. 'Cause that's been part of our ethos forever – we've always made records where we've lived."
Well, they have and they haven't. It's true that the band formed at Wilmslow High School, south of Manchester, 14 years ago, and spent the decade up until the release of their first album recording and working on their own, eventually forming a record label, Dirty Hit. It was a DIY ethos born of blunt necessity – no established record label was interested in signing a band as uncategorisable as The 1975.
Dirty Hit now license The 1975's music through majors (Polydor in the UK, Interscope in the US). But those relationships plus, more importantly, the band's fanatical live following and the scale of Healy's aspirations, mean that making records at home is no longer viable. The 1975's new album was written and demoed over two years' touring, and recorded over eight months in west London and Los Angeles. It features 17 tracks and encompasses white American soul, white British funk, classical piano, Eighties pop, gospel, shoegaze and even a bit of indie rock.
And just in case the ambition wasn't apparent, here's its 16-word (and one comma) title: I Like It When You Sleep, for You Are So Beautiful Yet So Unaware of It.
Ask Healy to unpick a vaunting sonic imagination that ranges from The Blue Nile to My Bloody Valentine and the 26-year-old's answer is typically florid, forthright and, frankly, winningly impassioned.
"When you're white guys with guitars, people are gonna associate you with other white guys with guitars," he notes, foppish and fidgety in an armchair in his living room. "On our first album we got associated with bands like the Arctic Monkeys. I mean, I like them," he says not entirely convincingly, "but I couldn't imagine a less desirable comparison. For me it's so inaccurate. We've always had to fight against this indie thing…"
The indie scene, he observes, "is all very controlled by friendship groups, it's all very self-aware, nobody wants to do anything that's particularly careerist or commercially minded. And it breeds this attitude, this fey sense of 'we don't care'. So they don't get judged on being shit. Well, if you don't care," he shouts good-naturedly, cigarette waving in the air. "Do something else!"
Healy is fantastic company, a combustible mix of giddy confidence, lacerating awareness and unashamed POP enthusiasm. A trite question about coping with sudden adulation, about how it took The 1975 13 years to become an overnight sensation, solicits this response: "I'm quite a compassionate person. And I'm not remotely a sociopath. But I'm very self-obsessed, as most people are who are in my position…

Enjoy unlimited access to 70 million ad-free songs and podcasts with Amazon Music
Sign up now for a 30-day free trial
Sign up

Enjoy unlimited access to 70 million ad-free songs and podcasts with Amazon Music
Sign up now for a 30-day free trial
Sign up
"But I can't become Sting, I can't become Thom Yorke, I can't become whiny and I can't become too wanky – that self-awareness is what I pride myself on in my work. If my tongue's in my cheek maybe I won't fall over it. I don't want to start telling everybody how to live their lives, I want to just reflect on how I live mine. 'Cause that's my biggest fear," he grins, "being Sting."
On a casual reading, you might think Healy was pre-prepared for his close-up. His parents, Tim Healy and Denise Welch, are both actors. Performance, perhaps, is in his DNA. Today he's all smiles at the raising of a topic that previously, by his own admission, could enrage him. It's clear he still has issues with what he assumes are people's assumptions about his background. But at least now he can relate his position with some cheer. The validation of first-album success – as well as pulling off a bold, genre-defying 17-track follow-up that flirts with, but ultimately dodges, hubris – can bring such equanimity.
"Coming up in a rock'n'roll band, aspiring to credibility, and having parents that are part of this at times ITV [world] – it's hard to be cool and do what I do," he shrugs. "Because people just assume nepotism – 'he's a celebrity kid.' I have never, ever utilised–" Healy stops himself. "I mean, what connection does somebody who's in Coronation Street and a guy who used to be in Auf Wiedersehen, Pet have in the rock'n'roll world?" he laughs. "People go, 'Oh, he's had it easy…' I've had it harder!"
Still, that background, and his band's struggle to be heard, have been the making, and the toughening, of Matty Healy. The new album title – taken from a lyric, which was taken from something "so soft and emo" he said to an ex-girlfriend – is typical of his determination to be his own man, his own rock star.
"When we were post-fear about making the next record, I was like: 'Right, I'm gonna call it that.' Because it's brave. And we need to make a brave record. And if we lay the foundation now and call the album that, it's basically this decision to inspire other decisions."
But say it's too much for casual listeners, or even for fans – the singles released so far ("Love Me", "UGH!" and "The Sound") are considerably more Blow Monkeys than Arctic Monkeys. Say a 17-track, 16-words-in-the-title album is too much for Spotify streamers to get their head round and the whole thing is a disaster?
"Yeah, and it's a complete flop?" Matty Healy replies eagerly. "Then I've had my Pet Sounds moment."
Watch this hugely entertaining space.
'I Like It When You Sleep, for You Are So Beautiful Yet So Unaware of It' (Dirty Hit/Polydor) is released on 26 February
Join our commenting forum
Join thought-provoking conversations, follow other Independent readers and see their replies