Listen to the best songs of 2015: Reviewed by the stars
Musicians reveal the tracks that rocked their year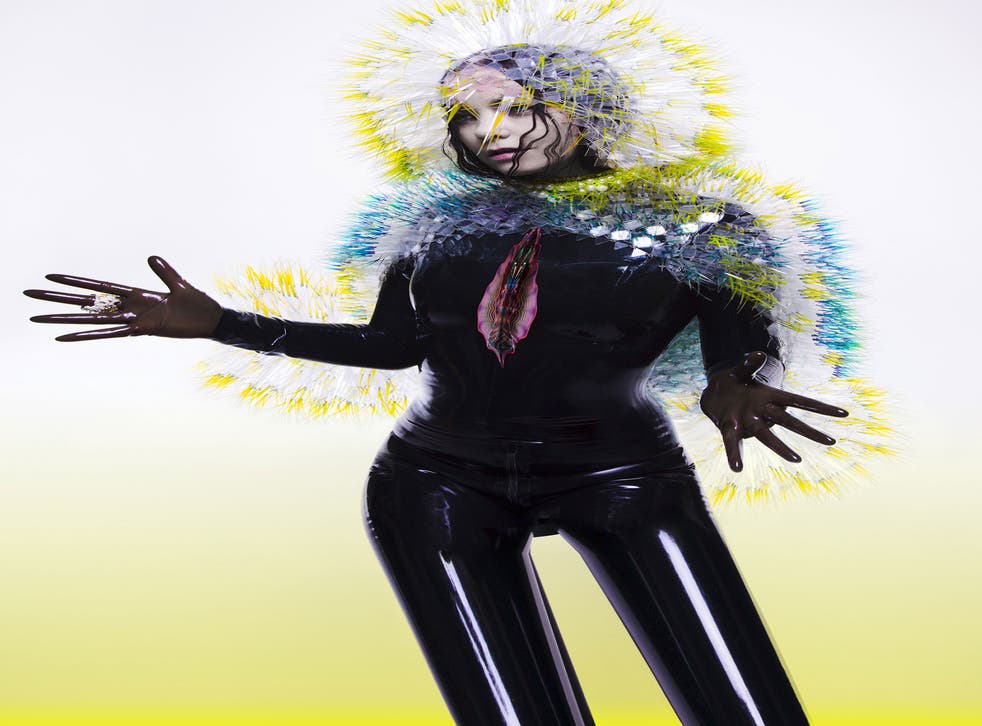 We asked the musicians and DJs who rocked our headphones this year who they were listening to on repeat in 2015 and they came up with this wonderful list of earworm tunes. Listen to the full playlist below.
Listen to the playlist on Spotify:
Leona Lewis
Alabama Shakes "Gimme All Your Love" from Sound & Color
I just love how the vocals emote on this song. When I first heard it I was blown away by the powerful, gritty, beautiful tone of Brittany Howard's voice.
Jason Williamson, Sleaford Mods
JME "Again" from Integrity
Hard to pinpoint one single favourite for this year, arguably impossible you could say. This tune from JME's long player Integrity never wears thin though. Featuring D Double E, it's as now as you can get, sound-wise
Gary Numan
Björk "Lionsong" from Vulnicura
Few would argue that Björk is one of the most consistently innovative and inspirational artists of the last few decades, both visually and musically. She really is extraordinary in my opinion, and pushes boundaries I don't even realise are there half the time. This is another shining example: brilliantly mad and yet strangely captivating, as so much of her music is.
Lauren Laverne
Tobias Jesso Jnr "Without You" from Goon
Choosing a song of the year is a tricky one as 2015 has been a really good year, but this is a big favourite of mine and I really don't think it has had the exposure or love that it deserves. It's a fantastic record. It's a really sad, beautiful, funny, witty, soulful pop record made quite in the style of Harry Nilsson. If you're a fan of that classic pop music yearning of the mid/late Sixties then you will love Tobias Jesso Jnr. He's a fantastic songwriter, very smart, very witty and a beautiful voice as well.
Felix White, The Maccabees
Everything Everything "No Reptiles" from Get to Heaven
I love the line "it's alright to feel like a fat child in a push chair, old enough to run". The whole album is funny and moving in equal turns and full of great playing and little hooks. "No Reptiles" is an example from the atmospheric end of it.
Fran Healy
Purity Ring – "Bodyache" from Another Eternity
One of my favourite songs of the year is "Body-ache" by Purity Ring. I love Megan James's voice. It's way up in the clouds.
Professor Green
Stormzy – "Shut Up" from WickedSkengMan 4
There's been so many big moments this year: JME ft Giggs – "What About", Skepta – "Shutdown", Chip's EP; it's exciting again. All those examples also prove that [music] can be done independently, a prime example of that being "Shut Up" by Stormzy, which not only charted when released but is now creeping back up the charts after walking Anthony Joshua into the boxing ring before his win. The video and song take it straight back to the essence.
Ghostpoet
Benjamin Clementine – "Cornerstone" from At Least for Now
Benjamin's music was introduced to me by a journalist in Paris late last year. I remember listening to this on the underground one lonely night and being brought close to tears. What a talent. What a voice of a generation.
Iggy Pop
Sleaford Mods – "Live Tonight" from Key Markets
I just like all their music, there is never a conker with these guys. Every groove and every vocal has a sound that I enjoy and the songwriting has really good DNA.
Marika Hackman
Joanna Newsom – "Leaving the City" from Divers
Newsom rounds off a year of incredible music for both emerging and established female artists, and proves herself as a musician consistently at the top of her game. This track leaves me feeling inspired for the year ahead.
Peaches
Missy Elliot – "WTF (Where They From)" (feat Pharrell Williams) from WTF
Finally she's back! And better than ever! She's just got that classic Missy rap style. Can't wait for the new album!
Aurora
DePresno – "Forever" (debut single)
It's a song with both lovely lyrics and melodies. I usually don't fall for love songs, but this one made it into my heart. He is lovely as well, and so is the producer. They are doing something new and fresh production-wise. I appreciate that.
Guy Garvey
This Is The Kit – "Bashed Out" from Bashed Out
I've been following This is the Kit for years now. It's a beautiful piece of work and I just love the honesty and I love how she sings like a songbird. She very rarely slides her voice or if she does it's very deliberate, it usually jumps between notes like the trill of a birdsong. She comes up with beautiful, hypnotic music over which she puts simple gorgeous lyrics. She's very talented. She lives in Bristol and Paris with her family and I think she is marvellous.
LunchMoney Lewis
Major Lazer – "Lean On" from Peace is the Mission
It is fresh and mad dope. I love that the song fuses reggae, pop and soul. I'm a big fan of fusion music.
Indy Choice: The best of the new music

Show all 10
Jarvis Cocker
Max Richter – "Dream 13 (minus even)" from Sleep
There are two versions of this album – the record version over two albums and the whole eight-hour version designed for you not to listen to consciously. You just let it drift through your consciousness while you're asleep. It's interesting to get a record that wants to perform a specific function, the way that the world is accelerating with information moving around. It's nice when someone releases something that is the exact opposite of that.
Fleur East
Calvin Harris and Disciples – "How Deep Is Your Love"
I worked with Ina Wroldsen [whose vocals feature on the single] on my album and have also worked with The Disciples. I fell in love with this song when I heard it for the first time in LA when I was recording my album.
Cerys Matthews
Bachar Mar-Khalife – "Kyrie Eleison" from Ya Balad
Occasionally you get a piece of recording that you assume is written centuries ago and this is one of them. It's powerful, it seems to say a million things and it connects with you in some way and makes you ask questions. This is one of those records.
Ellie Rowsell, Wolf Alice
Drenge "Never Awake"
A dark and melodic anthem that now has a nostalgic effect on us all after our epic tour together.
Stephen Bowman, Blake
Chemical Brothers "Sometimes I feel so deserted" from Born in the Echoes
I've been an uber-fan since I was a teenager, withExit Planet Dust as my all-time favourite album. This song features bombastic beats and frantic synth hooks. It has been at the top of my "most played" list for months now.
MØ
Jack U (Skrillex and Diplo) "Where Are Ü Now" (featuring Justin Bieber)
Because that's a fucking tune and not a lot of folks want to argue with that.
Russell Lissack, Bloc Party
Chvrches "Empty Threat" from Every Open Eye
I literally listened to Chvrches' "Empty Threat" five times in a row the first time I heard it and I can't remember the last time I did that. Just a simple, fantastic melody.
Melody Gardot
The Weeknd "Can't Feel My Face" from Beauty Behind the Madness
This year when I was on tour, this would come on the radio in almost every hotel gym and somehow my work-out would instantly pick up. I'm not sure what the song is about, but the groove is contagious. (The Weeknd, left)
Matthew Herbert
Tyondai Braxton "Gracka"
I'm not sure if it's a bit esoteric but I love "Gracka" by Tyondai Braxton. It suggests a new direction in electronic music.
C Duncan
Beach House "Days of Candy" from Depression Cherry
This tune is unlike anything Beach House have done before. Victoria Legrand's voice is particularly fragile in the song's opening, her beautiful melody sits tenderly on top of a melancholic chorale, developing a gorgeous and entrancing sound-world.
John Newman
Adele "Hello'"from 25
The conversational lyric style is amazing, and it has a constantly building dynamic. She hits it perfectly.
Lauren Mayberry, Chvrches
sleater-kinney "bury our friends" from
I've been a huge Sleater-Kinney fan forever and when this song dropped out of nowhere, I lost my shit in a proper teenage way. The record, No Cities to Love, is great. It sounds so much like them, but is also challenging. I would expect no less.
Gabrielle Aplin
Villagers "Courage" from Darling Arithmetic
I met Conor [O'Brien] at a studio earlier this year and decided to check out his songs and I was completely enamoured by this one. I love how he's so intricate and bold with his writing whilst still making amazing, relatable, classic tunes.
Register for free to continue reading
Registration is a free and easy way to support our truly independent journalism
By registering, you will also enjoy limited access to Premium articles, exclusive newsletters, commenting, and virtual events with our leading journalists
Already have an account? sign in
Register for free to continue reading
Registration is a free and easy way to support our truly independent journalism
By registering, you will also enjoy limited access to Premium articles, exclusive newsletters, commenting, and virtual events with our leading journalists
Already have an account? sign in
Join our new commenting forum
Join thought-provoking conversations, follow other Independent readers and see their replies