Ultimate Power 10th anniversary: Why singing Bon Jovi with 1,500 strangers is proving such a hit
'The Best Night of Your Life' isn't really an understatement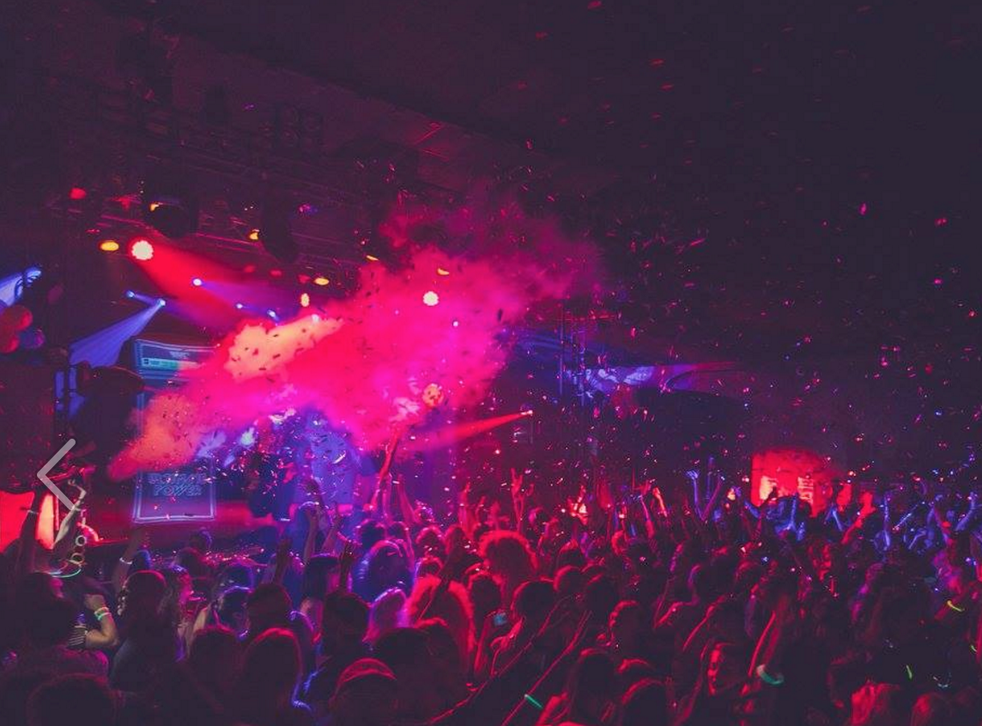 You really have to go to Ultimate Power to realise why it's such a big deal.
With events taking place around the UK - Manchester, London, Cardiff, Bristol, Liverpool - it grew a rapid reputation as a guaranteed Good Night Out; like New Year's Eve without the massive letdown. In fact, it's pretty much what New Year's Eve should be, with the added bonus that it happens all year round.
Picture hundreds of people belting out the same Celine Dion song with something close to religious fervour, heads thrown back as a bunch of guys (the organisers) rock out onstage so you don't feel like an idiot, then waking up in the morning with an aching neck because you overdid the head-banging... 'The Best Night Of Your Life' isn't really an overstatement.
What's best is that there's nothing trendy about it - it's not some hip new bar with a reservation policy and limited capacity. Ultimate Power is about cramming people from all walks of life into the same room and unleashing that almost-hero worship for the 80s anthems that really get you to emote - something that seems like a rarity in modern music.
We did a Q&A with Dave Fawbert, one of Ultimate Power's founders along with Steve Proud, Brian Mahoney, "Mr" Flash and Alex Gilbert, for the event's 10th anniversary party at Electric Ballroom in Camden, London:
What made you start Ultimate Power?
The five of us all worked in music at the time and, through the course of chatting away about songs, we realised that we all had a shared love of these often-neglected, never-heard songs called power ballads. We joked about the idea of playing one or two in a club – and even about an entire night of them. Eventually an opportunity to do just that arose, when there was a spare night going at a (now-defunct) place called The Fly on New Oxford Street.
We didn't even know if there were enough power ballads to fill a night's worth of music – but we managed it, and the reaction was amazing. And then it's just grown since then – first it was just our friends coming down, then we noticed more and more people who we didn't know – suddenly it dawned on us that there were these huge numbers of people that loved the songs just as much as we did. Which, to be fair, makes sense, when you consider that the majority of the songs we play were utterly enormous chart hits that sold millions.
Why power ballads?
Because they're the most emotionally honest songs you can get. They are songs of heartbreak, longing, unrequited love – people putting themselves out there and telling the world about their deepest fears, emotions and desires – they're brave songs.
And, of course, they are all incredibly well-written songs, with amazing, soaring melodies, while they were recorded in an era of money-and-time-no-object production, so you have these amazing musicians, amazing engineers and producers all working together to create songs that would last and last. They just sound incredible on a big PA.
How does it feel to be still going after 10 years?
It's crazy. We never viewed the club as anything other than a bit of fun for the first few years – just getting enough door money to pay for our drinks for the night and a cab home was more than enough. Then suddenly we found ourselves in these huge rooms, playing to thousands of people.
Enjoy unlimited access to 70 million ad-free songs and podcasts with Amazon Music Sign up now for a 30-day free trial
Sign up
We feel very lucky that people are still coming along – and discovering it for the first time – after all these years. But then the songs are so amazing that they'll outlast us all – they're beyond fashion, or changing tastes, they'll never go anywhere, as late-night Magic FM demonstrates.
You've sold out venues as big as The Forum - did you ever think it would get this big?
Absolutely not. Our regular London and Manchester homes The Electric Ballroom and The Ritz are both truly incredible places to stand there and see this sea of people singing along to every word. But I must admit our first solo show at the Forum – last year's 'Bat Out Of Halloween' special (we're back there again this year) – was utterly exhilarating.
The 20 most ridiculous things superstar musicians have demanded at their concerts

Show all 20
It's quite surreal to see the acts we've seen at all these venues – such as when Prince played the Electric Ballroom during his Hit and Run Tour in 2014 – and then to be stood up there playing air guitar the following week.
Which songs get the best reaction?
The real 'big 4' have to be Journey's 'Don't Stop Believin', Bonnie Tyler's 'Total Eclipse of the Heart', Always by Bon Jovi and the daddy of them all – the full 12 minute long version of Meat Loaf's 'I'd Do Anything For Love (But I Won't Do That)'. It's the musical equivalent of the Sistine Chapel in our minds.
Is there a reason why you stand on the stage and face the crowd?
It happened naturally at first – we were just enjoying the songs so much we'd be singing along and dancing as we DJ'd, but then we realised that actually it had quite a useful effect, in that people who turned up for the first time and were worried about letting go and singing along – for fear of looking stupid or being laughed at – could look up at the stage and see us idiots up there, looking stupid and not being laughed at (well, not too much) and think 'well, if they're doing it, then I can too'.
It's about encouraging people to just forget about looking cool and to just embrace the music and the fun as much as possible. It's a bit like Bez – we're the representation of the crowd up on the stage. Plus, we know most of the words.
Do you have any plans to extend it further?
We're now in six different cities (London, Manchester, Bristol, Brighton, Cardiff, Glasgow) which, again, would have been beyond our wildest dreams when we were first starting up.
We've done pretty much every major UK festival – but there are always new places to go, and the power ballad is universal. It's not constrained by place or time. When the first settlement on Mars needs some DJs for their Friday night party, we'll be up there on the next rocket.
Find out when the next Ultimate Power night is on at a venue near you
Join our new commenting forum
Join thought-provoking conversations, follow other Independent readers and see their replies