The Independent's journalism is supported by our readers. When you purchase through links on our site, we may earn commission.
William Fitzsimmons video premiere for 'Hear Your Heart' from new EP Charleroi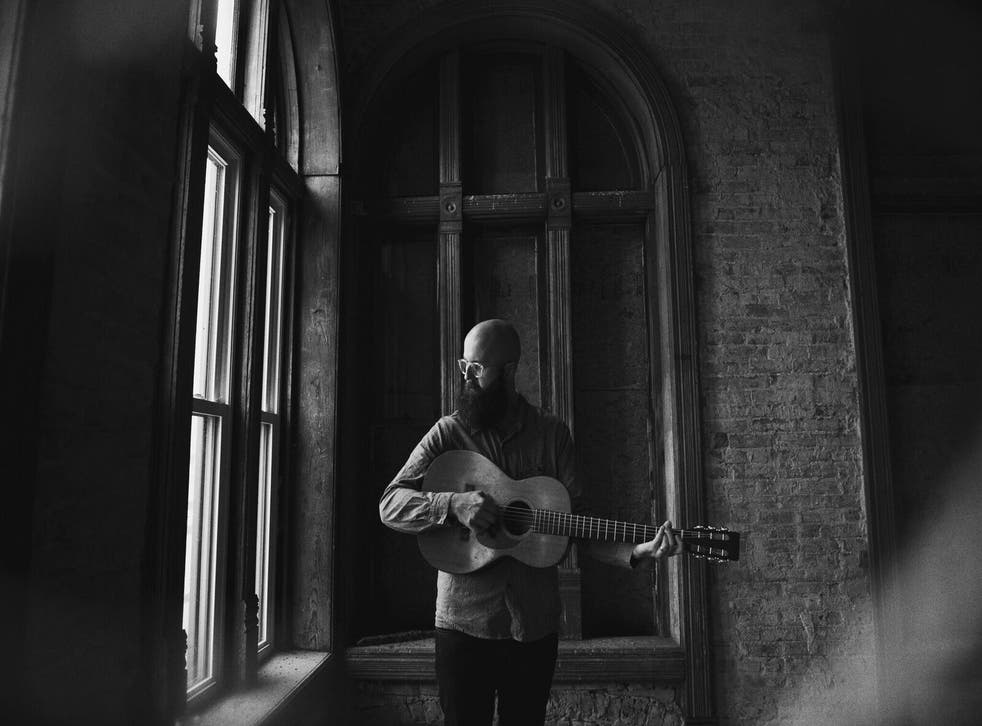 Brought up on the outskirts of Pittsburgh, Pennsylvania, William Fitzsimmons has been creating records of an almost-uncomfortable intimacy for the past 11 years.
He releases his new EP Charleroi on 1 April, which explores the loss of the grandmother he never knew, following his 2015 EP Pittsburgh about the one he did.
We're premiering the video for his song "Hear Your Heart" taken off Charleroi, which you can watch below.
Fitzsimmons says of the song: "It is simply meant to address the question: 'How long does the echo of those we have lost last?'
"I remember being very affected the first time I read Poe's 'Tell Tale Heart'. Instead of being mortified by it, the idea that the dead can communicate with us from beyond the grave was somehow comforting. While Poe's intent was meant to be one of warning, I wanted to apply the idea to a feeling of hope. A wish that perhaps regretted words spoken could be undone, or unsaid words could eventually be said.
"As we are drawn back into the memories of our dearly departed, in words and images, we imagine that perhaps there is a chance the lines of communication are not totally lost and may someday be reopened."
Q&A with William Fitzsimmons
What have you been listening to recently?
Somebody tipped me off to Jackson C. Frank a while ago. I made a note of it that I happened to come across the other day. Crazy good! One of those that I can't believe I haven't been listening to forever. Don Henley's been getting constant rotation as well. I really, really don't like the Eagles', but Henley's solo stuff is fantastic. The recent Adele record is superb, and, as a producer, listening to such great production is a real treat. The latest Sufjan Stevens record is basically a masterpiece as well.
What are you plans for the rest of 2016?
I've got some touring coming up and we'll be doing at least a little more probably in the Summer and/or the Fall. I've got kids now so it's really hard to walk out the door when I know I won't see them again for weeks or months at a time. I've been writing a lot as well. I used to only write at very specific times but I'm trying to learn how to write whenever something comes to me.
So many of your songs are incredibly personal – almost to the point that they seem as though the listener could be intruding on something private – do the meanings behind them ever change/do they become difficult to play the more you share them with an audience?
Enjoy unlimited access to 70 million ad-free songs and podcasts with Amazon Music Sign up now for a 30-day free trial
Sign up
Yeah the meanings absolutely change. I think they have to or else they would stop being enjoyable or rewarding to play. Overtime a lot of the sadness in them turns into something less dark. Or maybe I've worked through whatever I was trying to when I wrote it. For that reason they actually get easier to play over time. The first few months of playing them live is often brutal. That's when all the emotions are still super fresh and raw. That's when I have to really be careful about not getting too lost when I preform. But there's a part of that pain that I really look forward to. Helps me know I'm hitting on things that are worthwhile.
What was the first gig you ever played, and what's been the best so far?
I think the first 'real' concert I ever played was at this great little spot on the west coast called the Hotel Cafe. I had no idea what I was doing and I suppose it was a bit terrifying. But it was intoxicating at the same time. I definitely got hooked even from that first time.
Favourite is a pretty difficult call. There's been more than I can count that have meant a lot to me. Sometimes it's when everybody is a bit wild and energetic, sometimes the whisper-quiet shows are really meaningful. I even kind of enjoy the big festivals where you have to fight with everything you have just to get people to hear you. I consider it a good night whenever there's people there who I've affected in some sincere way.
William Fitzsimmons plays St Giles-in-the-Fields in London on 21 April
Register for free to continue reading
Registration is a free and easy way to support our truly independent journalism
By registering, you will also enjoy limited access to Premium articles, exclusive newsletters, commenting, and virtual events with our leading journalists
Already have an account? sign in
Register for free to continue reading
Registration is a free and easy way to support our truly independent journalism
By registering, you will also enjoy limited access to Premium articles, exclusive newsletters, commenting, and virtual events with our leading journalists
Already have an account? sign in
Join our new commenting forum
Join thought-provoking conversations, follow other Independent readers and see their replies