Night Tube: London's best clubs, bars and restaurants open long after midnight
'Having to get the last tube home' is no longer going to put a premature end to your night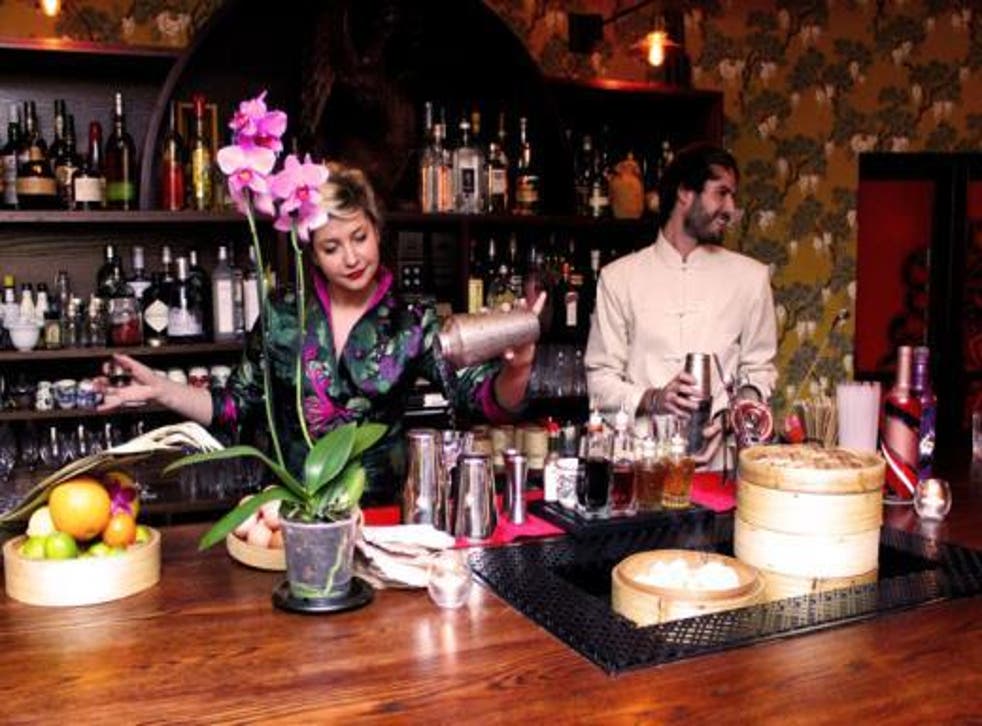 It's almost time to free the night, with the Night Tube set to ferry its first merry passengers home in the early hours of Friday.
Tubes will be running 24-hours a day on the Central and Victoria lines every Friday and Saturday before the Jubilee, Piccadilly and Northern lines join the fun come autumn.
TFL estimates that 200,000 people will jump aboard the night tube every weekend, with revellers making the most of the opportunity to get another round in at the club before stumbling back to bed.
"Having to get the last tube home" is no longer going to put a premature end to your night out, so it's time to celebrate with a trip to one of our favourite late night hangouts, whether you want to continue setting the dancefloor alight or simply fancy a 1am bagel.
Central
Opium (££)
15-16 Gerrard Street, Chinatown
Nearest night tube: Tottenham Court Road (Piccadilly Circus or Covent Garden from autumn)
This memorable Chinatown 'parlour' offers late night partiers the tempting combination of cocktails and dim sum, with the latter grub served until 2.30am each night. Expect theatrical cocktails (dry ice everywhere), retro decor and funky music. Open until 3am on Fridays and Saturdays, Opium is our kind of Chinese medicine. Look out for the jade door on Gerrard Street. JD
Ronnie Scott's (£££)
47 Frith Street, Soho
Nearest night tube: Tottenham Court Road
The world's top jazz and blues musicians have been playing at Ronnie Scott's ever since the saxophonist opened its door in 1959. With its iconic global reputation it's not cheap (cocktails start at £10), but the chilled speakeasy vibe is inviting and relaxing, with music playing until 3am every night bar Sunday when it closes at midnight. The perfect late-night date spot. Intimate and wonderfully atmospheric. JD
Bar Italia (£)
22 Frith Street, Soho
Nearest night tube: Tottenham Court Road
One of London's most famous 24-hour hangouts, Bar Italia in Soho has unsurprisingly long been a favourite of the city's thriving Italian community. Established in 1949, much of its traditional Italian decor remains, giving it an unpretentious feel. Best of all, late night coffee after a night at Ronnie Scott's up the road won't leave you without the funds to get home. JD
North
Rowans (£)
10 Stroud Green Road
Nearest night tube: Finsbury Park
Bowling, all your favourite junk food (pizza delivered straight to the lane), cheesy music, gloriously kitsch decor, karaoke booths, arcade games, a sticky dancefloor and old school slushies with added shots of vodka. What's not to like? Open until 2am at weekends and midnight for the rest of the week, Rowans is just a two-minute (inevitably drunken) walk to Finsbury Park tube at the end of the night. JD
The Dead Dolls House (££)
181 Upper Street, Islington
Nearest night tube: Highbury and Islington
For something a little quirkier, head to Upper Street's three-storey Victorian terrace house bar which does some of the finest mojitos around. There's a real boutique feel to this place, with its charming hand illustrated walls and original features. DJs play every weekend till 4am in the 'parlour' downstairs, while the ballroom becomes an exclusive late night cocktail bar. JD
The Blues Kitchen (£)
111-113 Camden High Street, Camden
Nearest night tube: Camden Town from autumn
If bourbon is your spirit of choice look no further than this American bar in Camden, which boasts some 50 varieties. Texan BBQ food is the affordable menu's staple (try the buffalo wings), enjoyed in leather-style booths surrounded by vintage concert posters, while rock and roll music plays overhead. Live bands play regularly while DJs keep the party rocking until 3am on Fridays and 3.30am on Saturdays. Branches in Brixton and Shoreditch too. JD
South
Infernos (££)
146 Clapham High Street, Clapham
Nearest night tube: Clapham Common from autumn
Eighties classics ensure that one of London's dirtiest dancefloors stays rammed as disco balls glitter and neon lights take you straight back to your cheesy student bar. There are worse places to dance the night away if you're after a fun sing-a-long throwback. Open until 3.30am on Fridays, Saturdays and Sundays. Oh and Margot Robbie loves it. For a slightly toned down version, try the nearby Cafe Sol. JD
Eckovision (££)
15 Atlantic Road, Brixton
Nearest night tube: Brixton
Eckovision opened last year under the railway arches in Brixton. Fans of the 1920s will enjoy its speakeasy theme and cosy lighting, while the bartenders mix creative and delicious cocktails until 4am on Fridays and Saturdays. JD
The Tiger (£)
18 Camberwell Green, Camberwell
Nearest night tube: Oval from autumn
Slump into lived-in sofas or bag a table on the terrace at this large, friendly Victorian boozer overlooking Camberwell Green. Street food style grub is on offer, while DJs take over until 3.30am at the weekend. Big sports games are shown on three big TVs so you can easily make a night of it. JD
East
The Dolphin (£)
165 Mare Street, Hackney
Nearest night tube: Bethnal Green
This legendary late night pub is usually visited pursuant of an "Oh f*ck it, let's just go to the Dolphin" suggestion after midnight. (Relatively) cheap drinks, always packed with an eclectic mix of lost souls and liable to play Lionel Richie. It's pretty well served by the night bus, but now just a fairly short walk to Bethnal Green tube when it closes at 4am. CH
Club Aquarium (£££)
56-260 Old Street, Old Street
Nearest night tube: Liverpool Street
Get in early on the cheap, make it through the horrendous dance music and you'll be rewarded with a swimming pool and hot tub that usually opens around 2am. Don't expect luxury, it has the vibe of a public pool you went to as a kid. A little grimy, but opportunities for drunken water polo. CH
Duck and Waffle (£££)
Heron Tower, 110 Bishopsgate
Nearest night tube: Liverpool Street
For food lovers looking to impress a date with some post-midnight experimental cuisine and cocktails, Duck and Waffle on the 40th floor of the Heron Tower is open around the clock and serves everything from fois gras creme brûlée to spicy ox cheek doughnuts. There's also Sushisamba on the 38th floor for fans of fusion cooking, open till 2am every day bar Sunday. The views from both restaurants are breathtaking so why not watch the sun rise from up high? JD
Beigel Bake (£)
159 Brick Lane, Shoreditch
Nearest night tube: Bethnal Green or Liverpool Street
So unfussy it doesn't even have a website, Beigel Bake in the heart of the East End is the place to get your cheap as chips, freshly-cooked bagels at any hour of the day or night. Open since the late Seventies, its traditional salt beef and smoked salmon bagels remain longstanding favourites among locals. JD
West
VQ (££)
24 Pembridge Road, Notting Hill
Nearest night tube: Notting Hill Gate from autumn
This edgy but friendly 24-hour cafe diner has already set up camp in Chelsea and Bloomsbury and now arrives in leafy Notting Hill. The fish and chips is a particular favourite while many clubbers opt for a full English after being kicked off the dancefloor at one of the high-end local bars. Warm and buzzy. JD
Bodo's Schloss (££)
2A Kensington High Street, Kensington
Nearest night tube: Notting Hill Gate from autumn
This ski lodge-themed restaurant and club is open till 3am on Thursdays, Fridays and Saturdays. Costumed waiters serve traditional Alpine food before dinner gives way to a disco until the early hours. Bodos might be a favourite with the royals from Kensington Palace next door, but it's not as overpriced as you might fear with main meals for £15 and cocktails starting at £8.50. JD
Join our new commenting forum
Join thought-provoking conversations, follow other Independent readers and see their replies