Planning a large-scale light show in the middle of a pandemic constitutes a small miracle
The US curator Susan Davidson has pulled off a landmark light art show in Riyadh during the pandemic that showcases international light art from the 1960s and includes works from the most exciting artists working today in Saudi Arabia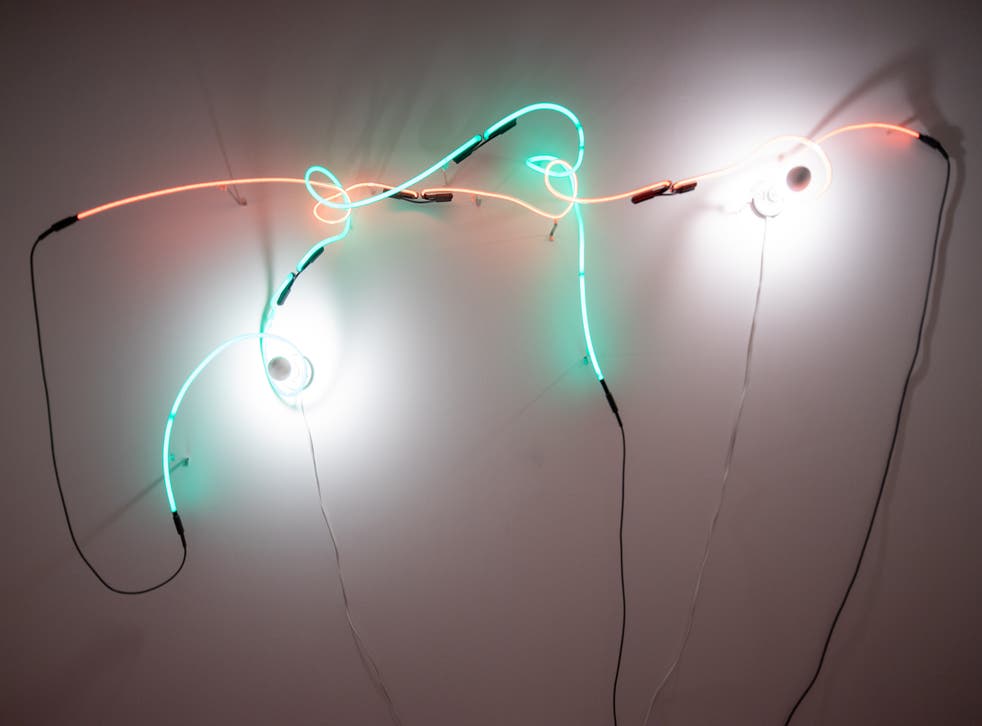 The new show Light Upon Light: Light Art since the 1960s – that includes key works by early pioneers Dan Flavin and James Turrell – is a ground-breaking event for culture in Saudi Arabia; it's their first-ever exhibition of light art. Planning and executing a project of such a large scale in the middle of a pandemic constitutes a small miracle in itself, but I believe we are laying the groundwork for other historic exhibitions to come forward in Saudi Arabia.
As the former Senior Curator of the Guggenheim Museum, New York, I've had many challenges – but this was my first experience of curating a large exhibiting during the Covid outbreak. The show examines the theme of illumination as a primary aesthetic principle in art through 30 artworks from the 1960s to the present day. Highlights include Flanvin's "Untitled (to Sabine and Holger)", 1966-71, of four red fixtures forming a square, and Turrell's 1967 projection piece "Afrum (Pale Pink)", which casts a pink-hued basic geometric form to a darkened room.
The Japanese visual artist Yoyoi Kusama's playful "Infinity Mirror Room ­–Brilliance of Souls", 2014, is a room with four mirrors and illuminated balls; Japanese art collective teamLab's "Flowers and People – A Whole Year per Hour", 2020, is an interactive digital work that lights up the room with floral shapes and patterns; the Italian pioneer of minimal immersive artwork Lucio Fontana's "Ambiente Spaziale a Luce Rosso", 1967, is a walk-in installation with multiple walls illuminated by red light; and Keith Sonnier's large wall sculpture "Neon Wrapping Incandescent V", 1970, is made up of glass and plastic draped around neon lights.
The show is part of the first edition of the Noor Riyadh Festival, a new citywide annual festival of light and art, with more than 30 public art installations across Riyadh city by Saudi and international artists. Noor Riyadh forms an integral part of the wider Riyadh Art program that aims to turn the city into a gallery without walls.
Literally, light is essential in order to see; conceptually, light is ephemeral or invisible; and scientifically, light exists as both a particle and a wave. While one can see light, one cannot touch it. That light is visible but intangible partly accounts for its magic. And of course, light is also essential to our wellbeing. The exhibition's fundamental premise is not the representation of light itself, but rather the articulation of light as a medium. In other words, light is the palette that the featured artists employ in creating the artworks on display.
The show is conceived around four sections that survey light as an artistic medium: "Perceiving Light", "Experiencing Light", "Projecting Light", and "Environmental Light". These titles serve as a point of reference to the types of illumination each section displays. Taken as a whole, the exhibition offers a variety of aesthetic experiences in understanding contemporary light art.
The show mixes established and mid-career artists from all over the world and marshals a diversity of media. It begins with examples from key practitioners in the 1960s, which was a defining moment in light art. It started on both coasts of the United States in New York and California, with early practitioners also working within the medium in France and Italy and includes major works by Fontana, Turrell, and Flavin, among others. We are proud to have artworks by female light art pioneers such as Nancy Holt, Mary Corse and Kusama included in this exhibition.
Holt is particularly interesting to me as her work is based more in environmental or land art. Her stunning piece "Hole of Light" (1973) consists of a room dissected by a wall that casts eight moonlike circles through light and shadow play.
The more contemporary female artist Anila Quayyum Agha's piece "Hidden Diamond-Saffron" (2019) is also quite remarkable. Its yellow hue speaks to the colour of the desert landscape here in Saudi Arabia.
Working with Saudi contemporary art expert Raneem Farsi, who co-curated the exhibition with me, has allowed us to showcase the most exciting artists working today in Saudi Arabia such as Manal Al Dowayan and Rashed Al Shashai. One of the highlights of the show is Ahmed Mater's "Antenna (Green)", a neon tube shaped into an antenna. The work is seemingly floating in the air and it speaks of Mater's desire for connection and pursuit of knowledge.
The King Abdullah Financial District Conference Center where the show is taking place provided us with a blank canvas to showcase our well-chosen selection of light art. From immersive environments that people can move around in – and even through – to video and sculpture, visitors will experience and enjoy, a richly illuminated exhibition in all its spatial, sensory, and perceptual phenomena.
'Light Upon Light: Light Art since the 1960s' exhibition at King Abdullah Financial District Conference Center (KAFD), Riyadh, has been commissioned by Riyadh Art, until 12 June (noorriyadh.sa)
Join our new commenting forum
Join thought-provoking conversations, follow other Independent readers and see their replies