The Independent's journalism is supported by our readers. When you purchase through links on our site, we may earn commission.
On riding the Night Tube the entire night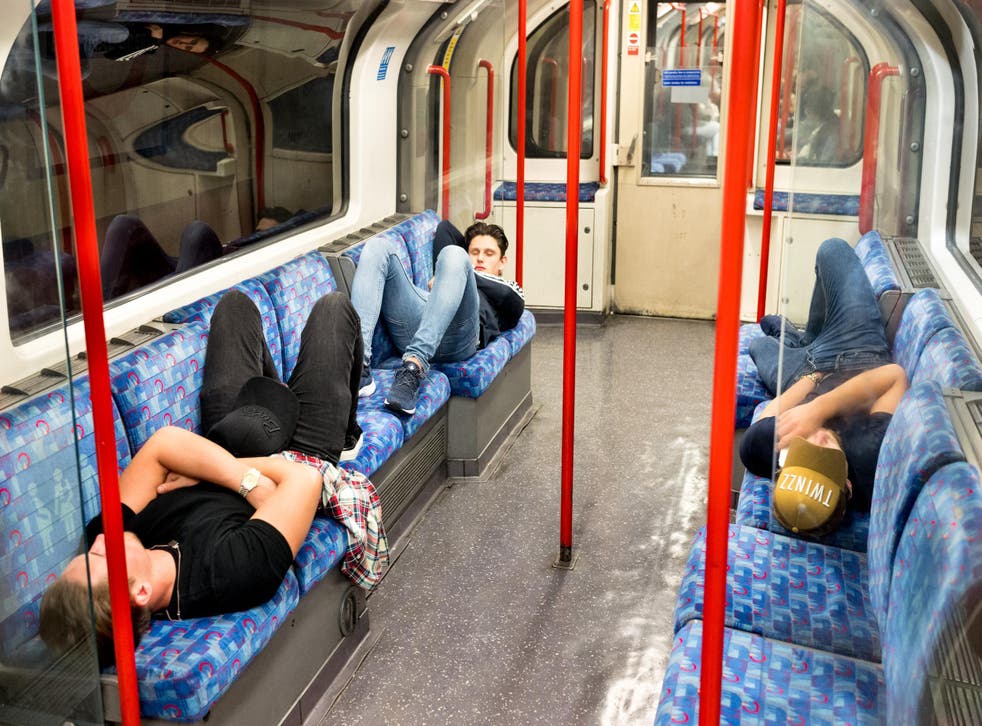 Though liable to increase my rent to roughly the GDP of Lithuania, the Night Tube is definitely a net positive, in the sense that I can now get home from a late one without having to listen to indeterminable EDM blasted through an iPhone on a night bus, head rattling against the window.
24-hour weekend Tubes have been a long time coming and there was a palpable excitement ahead of their launch, with TfL staff even flinging vegetable soup around carriages during a dry run (there's a scurrilous rumour this was for vomit clean-up testing, but I choose to believe it was simple hysteria).
To mark the occasion, I did what any committed masochist would do and rode the thing from usual closing time (around midnight) to usual start time (around 5am).
Here's my chronological account of the night of 19 August, 2016 ANT (anno Night Tube)
00:01
My photographer friend who's joining me for the ride messages me saying he's delayed at Woodford station because a girl heading on a night out successfully descended 20% of the stairs to the platform before tumbling down the rest. Apparently, she might need to go to A&E, but most of her friends have impishly boarded a train into central. Off to a flyer, London.
00:22
We get on the Central Line at Leyton and bump into a Night Tube comms team. Carrying a large sign (I'm holding it below), they inform me that, fortuitously, we're actually on officially the first ever Central Line Night Tube. Like most major moments in history, it feels slightly hollow while actually in it. The other passengers on board are pretty stoic so far, concerned more with getting their M&S shopping back to the fridge than celebrating public transportational innovation.
00:24
The driver just announced that we're riding the "#nighttube", in probably the first instance of a tube driver announcing a hashtag.
00:26
The aforementioned comms team inform me that Mayor of London Sadiq Khan is currently riding the Victoria Line from Brixton right now. I lament my journalistic ineptitude at not having been aware of this and they give me a blank but not discouraging 'yeah, you fucked up' look. Fortunately, we live in the future, so I'm able to monitor Sadiq's progress on Twitter.
Here's a photo of him looking like he's just spent the Vauxhall to Pimlico stretch fighting a Komodo dragon to the death.
And another of him standing at the Tube's sambuca-laced heart as if to say: 'Try leaving my parties early with last train home excuses now'.
00:31
I forgot how soporific the rocking of the train is, this is going to be a long night.
00:34
You might be thinking 'Hey, I'll bet the Tube really cools down in the small hours.' No, the atmosphere is still comparable to that of Zeus' jock strap.
00:37
At some point tonight I'm going to remember that the Tube is underground. This might sound stupid, but it's easy to forget you're in a subterranean tunnel with no exit. Need to think of something else. Concentrate on the dystopian advertisement for 'virtual office spaces'.
00:40
Disembarking at Oxford Circus. First stretch complete.
00:42
I get talking to a couple of guys from a Japanese TV station who have literally flown 6,000 miles to cover this. I don't know what they were expecting but I feel the need to apologise that no-one has been sick on their own knees yet.
00:47
Other assorted press stand around in confusion on the Westbound platform, not really sure what to point their enormous cameras at. I count seven police officers too. They smell the potential for passenger hijinks in the air.
00:51
Your correspondents/subterranean mole rats head to the Eastbound platform to board a train because obviously the central to Essex direction is where the more visceral insights into humanity are likely to be found.
00:55
I'm back on the train just standing by one of those windows you get at the end of carriages. Windows are underrated. I can see the workings of the trains and the connections of the carriages and there is something Willy Wonka about it. I don't really know what I'm saying. It's not even 1am. Jesus.
00:59
Mid-window fugue state, this young man waxes lyrical about the Night Tube. He was here for the last-night-of-alcohol-being-allowed-on-the-Tube party in 2008.
"I woke up on the Circle Line surrounded by beer cans and there were Chinese tourists taking my picture."
01:06
More great quotes coming:
Girl: "Ooo the Night Tube, I'm so excited!"
Boyfriend: "Babe, it's just getting on the train but at a different time."
01:10
We hop off at Liverpool Street and there's a large drunk contingent trying to get home. It's a Friday remember, and we all know how hard it is to hold your liquor when you've been up since ~7am for work and probably missed dinner.
A girl swaying like a baby bird trying to leave the nest for the first time asks me what end of the platform the train comes in at (I'm in the presence of a pro here, trying to limit her walking time at the other end).
Gleefully smashed, she plans on reading a chapter of Room on the way back to Hainault. I try to engage her in a discussion on the film adaptation, but realise this is a non-starter when she slurs: "I can't read the book before I've read the film."
Apropos nada, she now has started revealing her plans to make a sofa out of "layers of foam" this weekend and, unsettled, I wish her well with this endeavour and head up to street level to see how pedestrians are coping with this transport paradigm shift.
01:11
A thing about the Night Tube: every staff member (understandably) thinks you must be drunk as all hell. Can't a guy just ceaselessly ride the Tube for six hours, somewhat sober, for pleasure? Everyone's doing a great job so far though, and there have been zero delays.
01:20
This girl at Liverpool Street is wearing a box as a dress. She's fully clothed underneath so it serves no practical purpose, more of a spontaneous fashion statement. You go, box lady.
01:33
Absolute scenes at the main entrance at Liverpool Street, where the front gates are closed.
"I thought it was supposed to be running all night?"
"Are they lying to us though?"
"Can't believe it. Fucking bastards."
This confusion is absolutely on TfL, as there is no signage whatsoever letting people know that the Night Tube entrance is hidden around the back. I suspect this is intentional in the hope of limiting footfall, but it still seems kind of mean, and I feel for the gathering masses who just want to get home and pass out fully clothed.
01:39
Something of an angry mob is assembling. The gates are visible from several metres away, but it's quite enjoyable watching people get closer and closer to them, as if they'll dissolve with increased proximity. The escalator is still running just beyond the gates too, as if to taunt people.
01:40
Oh god, incensed and with an alcoholic confidence boost, people are starting to climb the gates. 'I WILL HAVE MY NIGHT TUBE!' I could, of course, tell them where the entrance is, but sometimes you've just gotta go full Attenborough and let nature take its course.
01:44
Starting to feel like the wise owl in The Legend of Zelda. I hold the key to boarding the Night Tube, if only someone would ask me for it.
01:50
Mankind has cracked it finally, word spreading of the location of the entrance. It's really heartening watching drunken strangers come together for the greater cause. Feels a bit like watching toddlers collab on a sand castle.
02:00
Back on the bloody Tube. Going to Oxford Circus. Again.
02:05
Personal humidity at 90%. My eyes, red and itchy, feel like they're receding into my head.
02:15
Am struck by the urge to sing to a mouse on the tracks at Ox Circ (the mouse is on the tracks not me, it hasn't got that bad yet).
02:16
Huh, the yellow lines on the platform are darker where people get on the train. If nothing else, I have learnt tonight how to improve my chances of getting a seat in future.
02:18
I feel like I live on the Tube now. Like one of those ferrets in a network of pipes.
02:20
Projectile french fries are happening. Chips are being thrown from one escalator to another. Quite hungry by this point and considering opening my mouth to catch them like a seal.
02:21
New highlight: A group of Tube workers, the hard hat, orange overalls kind, are playing cards in the main atrium at Tottenham Court Road and one of them just flipped a table and stormed off.
Aftermath:
03:??
Eating McNuggets on a lampost by the station. I realise this isn't Tube riding but please try and understand.
03:??
The last McNugget fell to the floor. I might cry.
There were nine to share between two people though, so I guess we've been spared a major rift over who gets the final ovoid of sustenance.
03:24
Back on the #NIGHT #TUBE. Talking to a delightful trio of friends on their way back from an 80s-themed house party.
One of them has a name badge but no name on it so I re-christen him 'Tom Foxswift' (attorney-at-law). Fully delirious right now.
03:43
What do you know, it's my friendly neighbourhood colleague, culture reporter Jacob Stolworthy! He's on his way home from a night out in Brixton. Poor guy has work in a few hours.
03:51
Awareness of being trapped underground increasing. Tube humidity sweat now indistinguishable from subterrestrial claustrophobia sweat.
03:52
Script idea - The Earth's crust is scorched by an invading alien race, and the resistance must be mounted from those of us on the Tube network tonight. In a 'fuck you' to Hollywood whitewashing, and just because it would be cool, I will be played by Will Smith.
03:55
Being mocked by this sign:
03:58
There is the pungent smell of weed on this Central Line service and a few cigarette butts. Earlier, a wine bottle rolled around a carriage and there was a sadness to it. On the whole, though, everyone is being remarkably well-behaved and I haven't been sicked on once.
04:05
Really entranced by the seat patterns. Are those peacocks? London Eyes? It's really psychedelic and modernist and not helping my mental stability right now.
04:15
Both of your correspondents really need the bathroom, but the public one is 30p each and we only have 55p between us. I consider simply eating my friend to settle this matter.
04:27
Am aware that my updates are becoming less regular, largely because I've become distracted inventing back stories for passengers and, more recently, the tannoy lady, who actually isn't a recorded voice, I've decided, but a real human communicating to a secret society using coded language.
04:39
When the carriages in front move around a corner you can see them bending away from you. I feel like I'm inside a giant mollusc infecting a level boss' brain on an N64 video game. I cannot strain meaning from this.
04:50
I think I've won the Night Tube. No-one is left on the Liverpool Street platform now, save a tiny mouse who is so relaxed and tame by this point it's just shambling along the platform, thinking about eating carbs like the rest of us.
04:51
At the end of the platform and a few yards into the tunnel there is a green light. It strikes me as a bit like the one in The Great Gatsby and also seems to signify the futility of dreams in this moment, though I don't think even Baz Luhrmann could make this shit cinematic.
05:01:
We did it. The boys in the next set of carriage seats are supine and sleeping softly, and this eastbound journey will be our last of the night.
Key findings:
The Night Tube is good and useful.
Riding the Tube any longer than is necessary is very silly.
------
Photos: @Alan_Schaller | Words: @ChristophHooton
Register for free to continue reading
Registration is a free and easy way to support our truly independent journalism
By registering, you will also enjoy limited access to Premium articles, exclusive newsletters, commenting, and virtual events with our leading journalists
Already have an account? sign in
Register for free to continue reading
Registration is a free and easy way to support our truly independent journalism
By registering, you will also enjoy limited access to Premium articles, exclusive newsletters, commenting, and virtual events with our leading journalists
Already have an account? sign in
Join our new commenting forum
Join thought-provoking conversations, follow other Independent readers and see their replies