Graffiti city: The rise of street art in Athens
'Athens is always inspiring people to create,' says local street artist Nikolas Tongas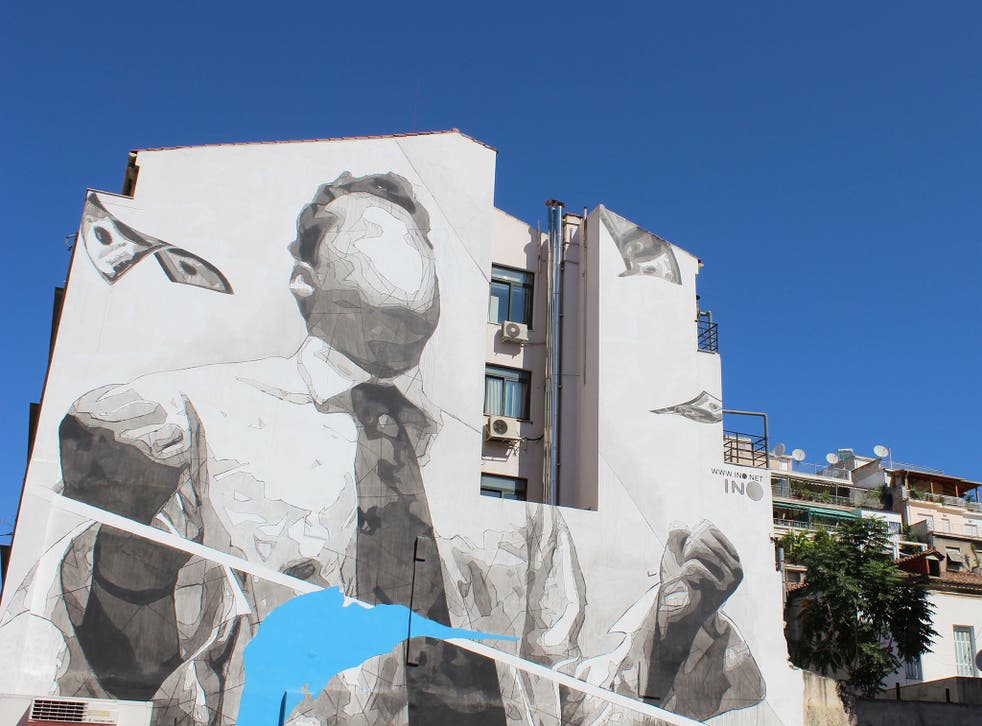 The capital of Greece might be known for the Acropolis, but as you drive into Athens what really hits you is the graffiti.
From stunning murals to streets covered with personalised tags, there's hardly a corner left untouched by a spray can.
But it isn't just the walls: vans, street signs, benches, dumpsters, bustling restaurants and cafes – even the ancient rocks surrounding the Acropolis are plastered in paint.
"I don't like it," our taxi driver says. Still, he says he understands why there's been a rise in illegal graffiti across the city.
"There's nothing for the people."
Street artist and tour guide Nikolas Tongas, known locally as "Rude" says that while the graffiti scene in Athens started in the late Eighties, the art form has become a way to express widespread unrest following the economic debt crisis Greece suffered in the aftermath of the 2008 global financial crash.
The rise of street art in Athens

Show all 10
"After a decade, you have much more graffiti around the city. Nowadays, there are areas like open galleries covered with a blend of paintings and tags," says the 35-year-old, who gives regular Alternative Athens tours of the city's local street art.
"Athens is always inspiring people to create... the financial crisis was a huge inspiration for artists who wanted to show from their own perspective an artistic representation of the current economic situation."
Much of the art revolves around Greece's economic instability, as the country continues to struggle under the weight of crippling debt. "Blood money" drips down the wall right beside an ATM in one of the capital's busiest shopping districts. Begging hands stretch out towards the crowds at a busy intersection.
Much of it is stirring but in some areas, the sheer volume of the tags, at times overlapping with one another or covering an otherwise moving mural, feels stifling.
Tongas says that graffiti is rarely removed in the city, despite the fact that most of it is illegal.
"[That] makes it an easier target for artists," he adds.
He says that while local officials and police "don't support" illegal street art, the government has started sponsoring more graffiti projects, including a festival called Urban Act.
The annual event sees famous graffiti artists decorating public spaces all around the country.
Tongas says that while not everyone appreciates the graffiti, for young artists, Athens's walls are a canvas for self-expression.
"I prefer to see a nice painting rather a tagged wall. My philosophy is to decorate the city and the space."
Join our new commenting forum
Join thought-provoking conversations, follow other Independent readers and see their replies