The film about addiction made by people in recovery
'Three Bull-mastiffs in a Corner Kitchen' confronts pressured learnt behaviour, generational toxic masculinity and trauma. Emily Goddard speaks with the creator behind it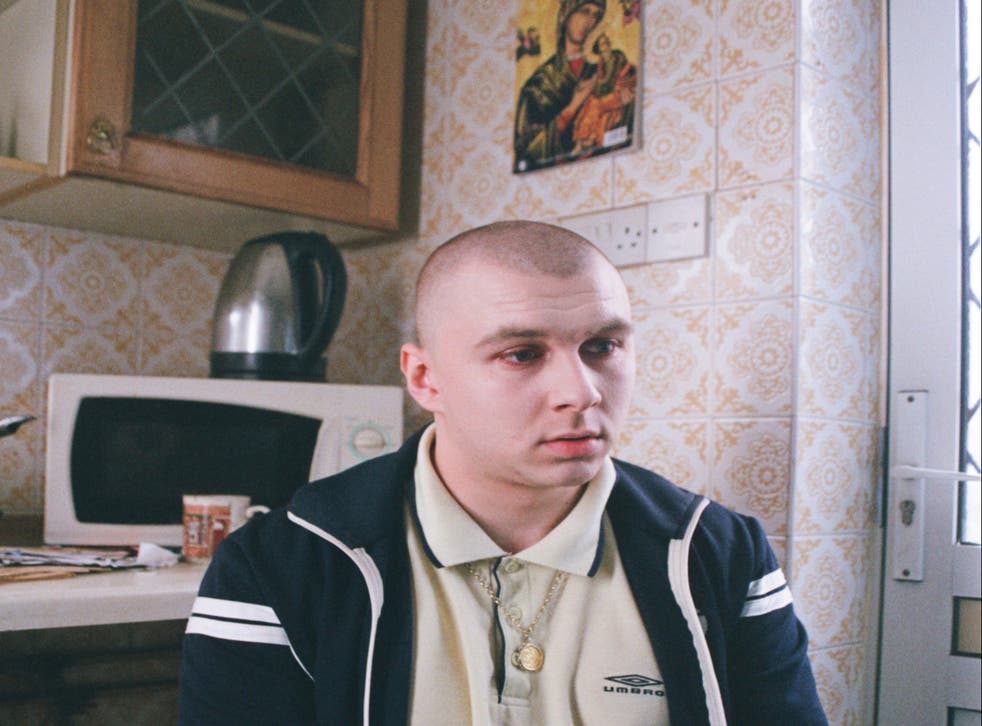 L
ike a pea pushed down a snowy mountain, is how Sam Batley describes his spiral into addiction. From the age of 15, his consumption of substances gained momentum: the amounts grew and the sober time in between shrunk, until he was using every day.
"The cycles of behaviour I was developing in my teens would be the foundation of repetition going into my adult life," Batley, 30, says.
That cycle of trying to mend an internal issue – grappling with feelings of guilt and shame – with external stimulation would lead him to a corner kitchen at 17 years old. The room, in the South Yorkshire home of a dealer he bought off to sell on, was the scene of chaos and intimidation. Bull-mastiffs, with their faces scarred and bloody from badger baiting, circled the space he would visit regularly up to the age of 22.
"I was scared, but couldn't show any fear," Batley says. "Those spaces are inherently very male, the pecking order and manoeuvring are clear in unwritten rules no one discusses but everyone knows. You can't appear weak because weakness is attacked and seized upon to inflate others. Bravado is king."
These experiences saw Batley unknowingly creating a character. One impervious to the situations he was finding himself in. Or so he thought.
Read more:
"Fear, paranoia and anxiety were always beneath the veneer," he says. "I never spent much time beneath the surface. I knew nothing outside my normality, and all those feelings were a part of it. I began juggling personas and identities."
Batley was "lost in the masks" – one for his family and girlfriend at the time, one for gigs and other social circles. It was a performance he would keep up for another decade, until he moved to Liverpool and into Damien John Kelly House, an abstinence-based recovery living centre in 2019. That move, he says, saved his life.
Sat on a bus six months later, Batley started writing a poem, or a "stream of consciousness", as he describes it. He got home from the journey and carried on writing, revisiting parts of his life and seeing them for what they were for the first time.
The poem was a "retrospective journey, looking at the same things with fresh eyes". And it went on to become a short film, confronting issues of addiction, toxic masculinity, mental health problems and suicide. "To celebrate vulnerability as a strength, not a weakness," Batley says.
Much like Batley's life in those early days, the story flicks between timelines and memories in a chaotic, nonlinear fashion. The film mirrors the tangled way in which memory and self-reflection come back to us, he says. "When we remember past times about our childhood, they don't appear as a fully formed narrative, they appear in bits, jumbled up and disordered, especially when substance abuse and alcohol are involved," he explains.
The approach to storytelling is rooted firmly in the authenticity of the narrative. All the stories are true and the situations are real, blending fact with dramatised scenes and spoken word to create a film that is both entertaining and insightful.
Besides Batley, Three Bull-mastiffs in a Corner Kitchen has been produced with other people with lived experience of addiction and mental health problems. Batley explains the idea to include others in recovery was founded on the necessity to maintain authenticity in every aspect of the film.
"I live in a recovery centre, Damien John Kelly House, which has been paramount in my recovery and gaining stability," he says. "We want to allow those people with years of experience in these situations to inform our dialogue, our narrative, and our on-screen talent."
Three Bull-mastiffs in a Corner Kitchen was shot over four days during the pandemic on location in Irlam, Manchester. The film is due to be released in July/August, and Batley has one principal hope for it: "That someone may identify with what is being depicted, that addiction and mental health and the chaos that comes with that can be changed. The cycle can be broken."
During filming, another opportunity presented itself to document those in recovery who featured in the film. One Day at a Time seeks to show how it can be different. That there is a way out of the spiral. How arts, sport and culture can play an important role in a robust recovery. How those Batley has met on his journey have done it, what they have recovered and how they live their lives one day at a time. The film and documentary will be shown together, to come full circle from addictions past to recoveries present.
Batley is a survivor of that destructive cycle, he is on a path of self-love and becoming OK with who he is. He has dropped the masks and rebuilt his relationship with his family, and the suicidal thoughts no longer plague his mind.
"Emotionally, I feel much more intact," Batley says. "I'm constantly surrounded by inspiring people. I feel like a different person. I've met a group of people [at Damien John Kelly House] where I feel as though I belong, people who ultimately want the best for me and to see me reach my potential. I feel a part of something bigger."
Find out more about 'Three Bull-mastiffs in a Corner Kitchen' here
hfjhff
hdhgc
Join our new commenting forum
Join thought-provoking conversations, follow other Independent readers and see their replies