How photographer Shirley Baker chronicled Manchester's working-class families in the 1960s
When Shirley Baker turned her camera on Manchester and her home town of Salford in the 1960s, she did so not only to protest the decline of the region's working-class communities, but also to record the heartwarming freedom of its children, as a new retrospective reveals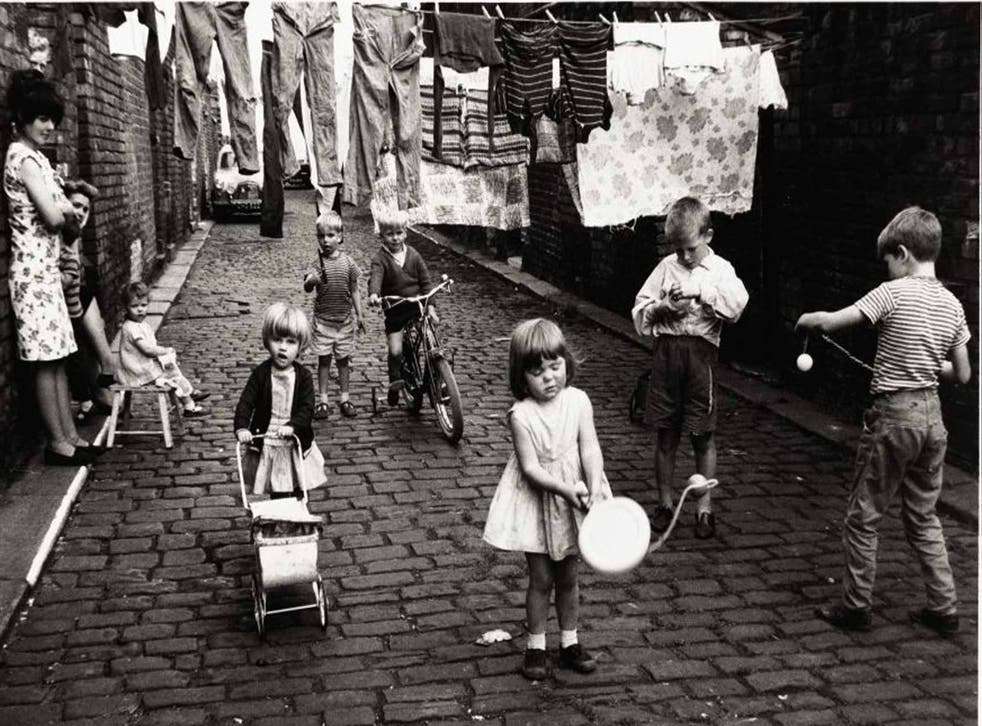 The streets of Manchester and Salford have long been mythologised in art, literature, film and TV. And, from Elizabeth Gaskell's late 19th-century novel Mary Barton to modern-day Coronation Street, underlying that portrayal has been the slow decline and social neglect of those former hubs of the Industrial Revolution.
In the 1950s and 1960s, many photographers sought to record the further, postwar slump of this particular corner of northern Britain, among them Shirley Baker. Baker was rare, in that she was one of only a few women capturing such scenes. And she did so over a considerable period, returning to the same spots for 30 years. Now, the extraordinary work of the photographer, who died last September aged 82, is the subject of a new exhibition, Women, Children and Loitering Men, at the Photographers' Gallery in London.
Although Baker was documenting what she considered the needless destruction of working-class communities, it's not all broken landscapes and boredom; there's also playfulness and affection, humour and absurdity.
Born into a middle-class family in Salford, Baker has the eye of an outsider looking in. But her camera never passes judgement. "She had this incredible sensitivity in trying to capture these people," says Anna Douglas, who has curated the exhibition. "There's a noble quality and camaraderie to their lives that she was attracted to. The children, for instance, are poor, yes, and some of them neglected. But that's not what Baker was trying to make a big deal about. They have a kind of liberty to take command of the streets, to make the streets work for them."
In pictures: Shirley Baker's 1960s Manchester

Show all 6
The title of the exhibition points to Baker's preoccupation: Douglas says that around 90 per cent of the images feature women and children; the men are mostly sidelined. While the photographer had a genuine interest in the former, there is also a practical reason: the men were mostly at work when she would shoot on weekdays. "The men you tend to see are those at the end of their lives, sitting around, watching time drift," says Douglas. "And a few others who couldn't get work, who you might call feckless."
Baker's work never received the recognition it deserved during her lifetime, which Douglas partly attributes to her gender. At the time, photography was not considered a career option for women: Baker was one of only two female students when she studied the subject at Manchester College of Technology. After graduating, she tried to work as an in-house photographer for industrial companies, but felt it stifled her creativity. She attempted to gain employment at The Guardian, at the time based in Manchester, but as a woman she encountered difficulties getting a press card, so was unable to pursue photo- journalism seriously. (Although she did later contribute to the newspaper, it was usually on subjects deemed unsuitable for men.)
Marrying a doctor in 1957, however, allowed her to focus on her passion without worrying about financial reward. So, influenced by Henri Cartier-Bresson and Robert Frank, she took to the streets, day in, day out. The sheer amount of time she spent there, argues Douglas, allowed Baker to capture moments that other, more famous contemporaries, such as John Bulmer, simply couldn't in their brief visits.
Her technique was to observe quietly, camera set up, waiting for something to enter the frame and fill it with life. She was a storyteller through and through, using gritty realism to deliver her view of the condition of humanity. "When she watched and waited," says Douglas, "extraordinary things would happen."
The exhibition Women, Children and Loitering Men is at the Photographers' Gallery, London W1 (thephotographersgallery.org.uk), from Friday to 20 September
Register for free to continue reading
Registration is a free and easy way to support our truly independent journalism
By registering, you will also enjoy limited access to Premium articles, exclusive newsletters, commenting, and virtual events with our leading journalists
Already have an account? sign in
Register for free to continue reading
Registration is a free and easy way to support our truly independent journalism
By registering, you will also enjoy limited access to Premium articles, exclusive newsletters, commenting, and virtual events with our leading journalists
Already have an account? sign in
Join our new commenting forum
Join thought-provoking conversations, follow other Independent readers and see their replies