Naked free runner captured in breathtaking photographs above London's streets
World champion free runner Tim Shieff was captured in the buff in a number of London locations
Jack Simpson
Monday 24 November 2014 12:06 Comments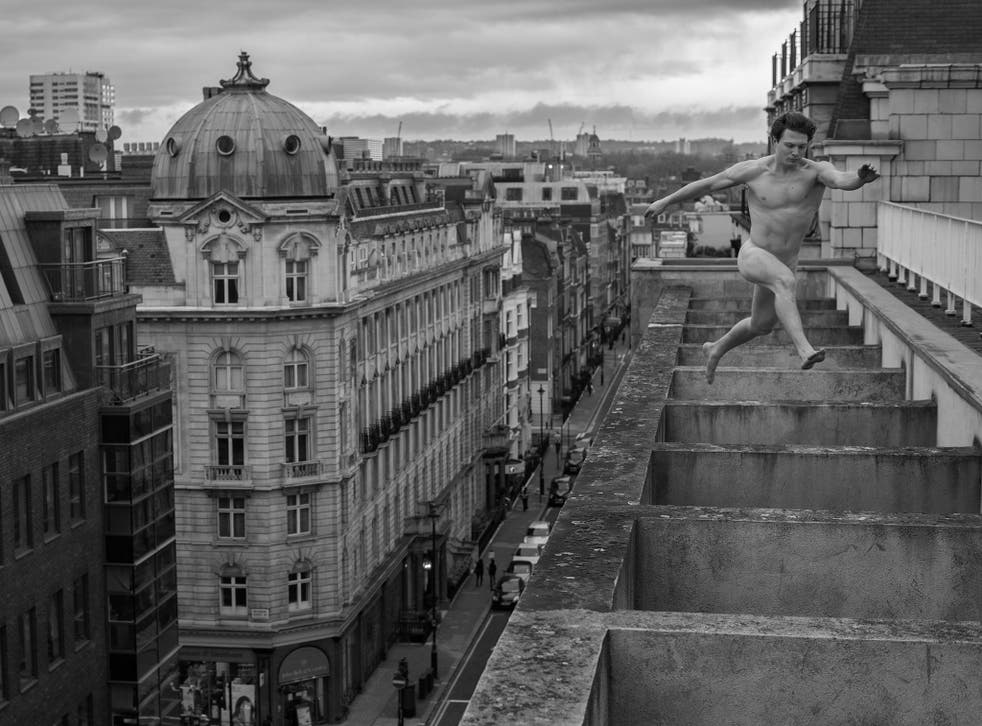 It takes a lot of guts to hop, skip and jump your way across London's rooftops, it takes even more guts to do it completely naked.
That is exactly what free running world-champion Tim Shieff and photographer Jason Paul did, in a bid to bring a new twist on the increasingly popular urban sport.
In series breath-taking shots taken by Paul, we see Shieff captured jumping across buildings, running down underground walkways and dangling off balconies, all in the buff.
The photos entitled Man & Mortar, were born out of a trip the two made to Greece.
During a free-running photo shoot on the island of Santorini the pair decided that something was missing from the photos they had taken, or more specifically in this case, not enough was missing.
Speaking to London Live's Wake Up London show, Shieff said: "We were in Greece on a free running and thought that it didn't quite fit the surroundings, and it just came to us, why not do it naked.
"It really fitted with the black and white style and we thought why don't we continue this theme."
The two then travelled to London to carry on the style a bit closer to home.
Shieff said: "In London, we got some better photos than we did in the first shoot; the architecture just lent itself so well to what we were doing."
Despite their shoots happening at times where London's streets were filled with hundreds of commuters, Shieff said that they were able to carry out the majority of their work without anyone noticing.
Man and Mortar pictures

Show all 6
"There was quite a lot of the time when we would do it on rooftops and we would look down and there would be hundreds of people walking underneath you around Bond Street and not one person would look up," Shieff said, "we managed to get away with it with not too much trouble and no one was offended."
It is hoped by Shieff and Paul that the series of photographers will further enhance the profile of the sport and bring it to the attention of those that may not have heard of parkour
Shieff said: "We have been doing free running for so long that we wanted to do something a bit different that could push the sport.
"No one has free running in a way that captures the form, the posture and the movement it requires. Doing it naked gave a different aspect of it, in a completely non-sexual way."
The pictures will be available on the website Beautiful Crime and a percentage of the profits will go to Jamie Oliver's charity Fifteen - the celebrity chef is a close friend of Shieff.
The photos can be purchased here BeautifulCrime.co.uk
Register for free to continue reading
Registration is a free and easy way to support our truly independent journalism
By registering, you will also enjoy limited access to Premium articles, exclusive newsletters, commenting, and virtual events with our leading journalists
Already have an account? sign in
Join our new commenting forum
Join thought-provoking conversations, follow other Independent readers and see their replies