North Korea opens its doors to the newly renovated central zoo
Despite Kim Jong Un's first zoo being full of exotic animals, from penguin and reptiles to giraffes, the most popular attraction is the pavilion where dogs commonly kept as pets are on show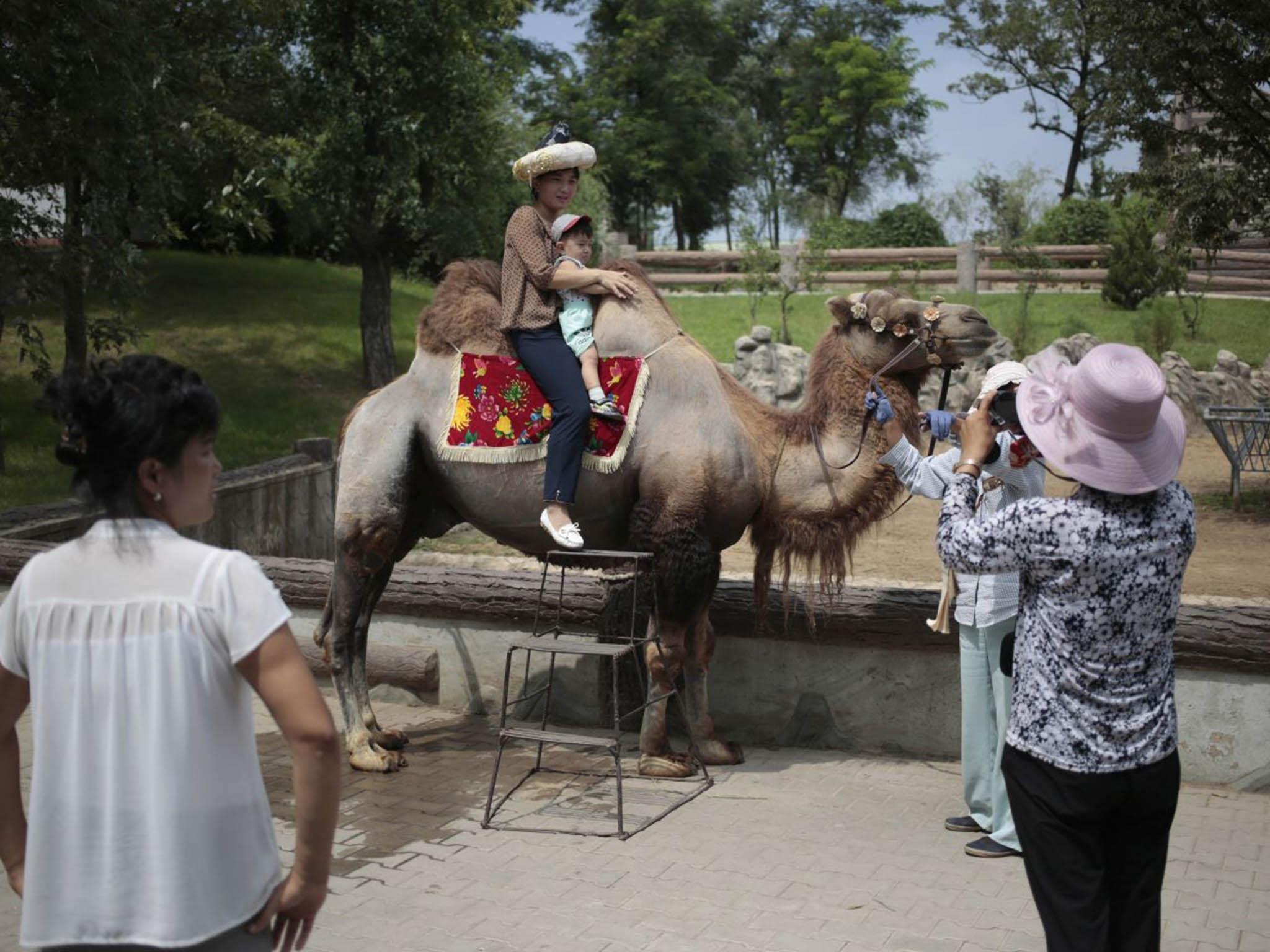 Behold North Korea's new zoological gardens, renovated in 2014 as part of the glorious leader Kim Jong Un's efforts to create more modern and impressive structures and amenities around the capital Pyongyang, including several major high-rise housing areas, an equestrian centre, a sprawling new shooting range and a giant water park. The institution is pulling in thousands of visitors a day with a slew of attractions ranging from such typical zoo fare as elephants, giraffes, penguins and monkeys to a high-tech natural history museum with displays showing the origins of the solar system and the evolution of life on Earth. But one of the most popular attractions might come as a surprise to foreign visitors.
Just across from the hippopotamus pen and the reptile house, dozens of varieties of dogs – including schnauzers, German shepherds, Shih Tzus and Saint Bernards – are on display in the "dog pavilion." According to plaques above their pens, which – dog lovers will be relieved to know – are spacious and clean, Kim Jong Un himself chipped in by giving the zoo its schnauzers, poodles, German shepherds and a Chihuahua. Former South Korean President Kim Dae-jung, who pursued a sort of detente with Pyongyang called the "Sunshine Policy" presented the Jindo dog that now resides there. And the King Charles Spaniel was presented as a gift to Kim's father, Kim Jong Il, by "the US company Tapco" in 1995. Meanwhile, North Korea's own national dog – yes, it has one, the puffy white Pung San breed – lives in a pen next to it.
Though somewhat shocking to those accustomed to thinking of dogs as companions or household pets, the zoo display may actually reflect an increasingly fond attitude toward them in North Korea. While dog meat is still a common dish in the North, and in China and South Korea as well, a small but growing number of North Koreans are keeping canines as pets. People walking dogs on leashes can now be seen from time to time in Pyongyang and some other cities. And instead of suggesting recipes, signs in the dog pavilion describe the best way to train a pet dog, suggesting that patience and kindness work better than harsh words.
Pyongyang's central zoo actually dates back to 1959, when Kim Il Sung, the nation's first leader and the grandfather of Kim Jong Un, ordered it built on the outskirts of the city. (According to an official history, the zoo started off with only 50 badgers.) That same year, however, it got its first "gift animals" – elephants donated by fellow socialist leader Ho Chi Minh of Vietnam – and now, another feature of the zoo is the posting of signs above many of the animal habitats noting where the "gift animals" came from; the intention presumably being to remind visitors of how much North Korea's leaders are loved and respected by leaders abroad. Thus, we discover that another elephant was donated by Laos; zebras and ostriches at the zoo were donated to Kim Il Sung by the president of Tanzania; orangutans by the late President Suharto of Indonesia; and (to the old zoo) a jaguar by the mayor of Kyoto, in Japan.
For all the dignitaries, however, the greatest glory must go the revolution. And so, we are reminded that Vietnam's elephants are heroes to all right-thinking socialists. After all, who else could have carried so much war material for the victorious Vietcong?
Join our commenting forum
Join thought-provoking conversations, follow other Independent readers and see their replies