The Independent's journalism is supported by our readers. When you purchase through links on our site, we may earn commission.
Photographer Michael Stokes battles Facebook over 'concerning' rules on amputee photos
The social network has banned Mr Stokes for 30 days after uploading this photo
Lizzie Dearden
Thursday 17 September 2015 18:02 Comments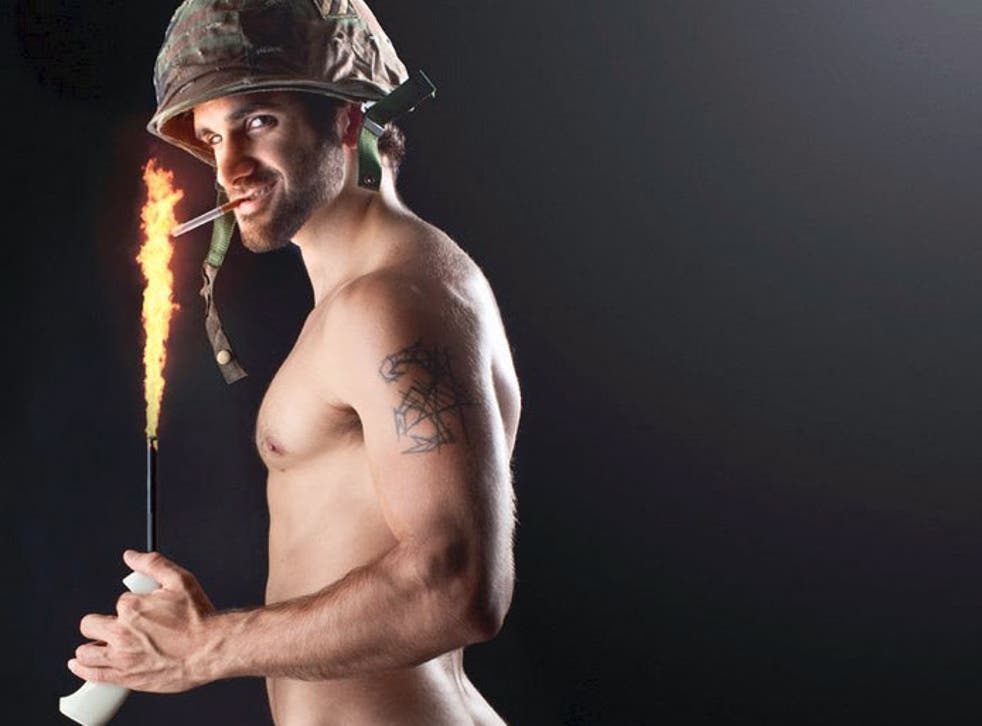 A professional photographer is questioning Facebook's "concerning" rules for removing posts after two of his images sparked bans.
Michael Stokes, based in Los Angeles, has been blocked from the website for 30 days for posting "things that aren't allowed".
It came after administrators took down an image from his book, Masculinity, which shows a nude man photographed from the side as he lights a cigarette.
Another of his photos resulted in a warning from the site in July, when some Facebook users sharing it on their own pages were also banned from posting.
The image, called "Mary, The Venus", shows a topless female US Army veteran who had both arms amputated.
Mary Dague lost both her arms and suffered horrific injuries in an IED explosion in Iraq, and then underwent further surgery after being diagnosed with breast cancer.
She is one of many former soldiers photographed by Mr Stokes for his book Always Loyal, which will be published in November.
He told The Independent that he posted the portrait on Facebook believing it fell into the site's nudity exception for breast scarring.
"Not only is she a breast cancer survivor but she was a war hero," Mr Stokes said. "When people started sharing the photo in July, they started to get banned.
"I thought that was really weird because if they could easily find the origin on my page, why weren't they removing it?"
As Mary's photo continued to spread, Mr Stokes received a warning from Facebook saying that his page had been reported because "one or more photos" broke the community standards.
He removed the image as a precaution and did not receive any further warnings until this week, when his portrait of a man lighting a cigarette was taken down and a 30-day ban was imposed.
A notification said Mr Stokes would not be able to add anything to his page because he had "repeatedly posted things that aren't allowed".
A screengrab uploaded by an administrator garnered more than 6,000 comments from Mr Stoker's followers, with several accusing Facebook of "censorship".
"Do they even realize what you do for these people that you photograph? Or what these people have been through?" one person wrote. "What the hell is wrong with our society today?"
Some commenters argued that photos of partially nude men or disabled people appeared more likely to be blocked on the site than images of women in a similar state of undress.
Mr Stokes believes some viewers respond strongly to his images because they challenge the status quo by celebrating the male form, as well as the bodies of amputees.
"I think it opposes a convention were seeing women as objects is acceptable and the assumption is that the viewer is male, and they are in a position of power," he said.
"I know some men get furious if they see a man posing in a sensual way. It's threatening to some men, not all men, to have a woman as the voyeur."
A Facebook notification said the man's portrait was removed on Tuesday because it did not abide by its community standards but the photo was reinstated with an apology, but no explanation, today.
Mr Stokes said he believed the U-turn was in response to this newspaper's request for a comment from the company's press office.
"This is the third time this has happened to me where a media inquiry caused them to revisit it or change their mind," he added.
The photographer has also been unable to re-upload some of his removed images because of Facebook's recognition software
Mr Stokes' work has been compiled into two books - Bare Strength and Masculinity – and he funded two more projects on Kickstarter earlier this year, reaching his target in just one hour and 15 minutes.
More than 3,500 backers gave $411,000 (£265,000) to see Always Loyal, featuring portraits of wounded US veterans, and Exhibition, exploring the male body, in print.
Facebook has not answered questions on why Mr Stokes was banned from posting on his page or how the removed photos violated the rules, but a spokesperson told The Independent the issue was being investigated.
The community standards on nudity say that it is restricted because "some audiences within our global community may be sensitive to this type of content"
"In order to treat people fairly and respond to reports quickly, it is essential that we have policies in place that our global teams can apply uniformly and easily when reviewing content," the guidelines say.
"As a result, our policies can sometimes be more blunt than we would like and restrict content shared for legitimate purposes. We are always working to get better at evaluating this content and enforcing our standards."
Photos showing "genitals or focusing in on fully exposed buttocks" are removed, but female breasts are only considered in violation of the rules if the nipple can be seen, with the exception of breastfeeding or showing post-mastectomy scars.
Facebook's standards continue: "We also allow photographs of paintings, sculptures and other art that depicts nude figures."
Register for free to continue reading
Registration is a free and easy way to support our truly independent journalism
By registering, you will also enjoy limited access to Premium articles, exclusive newsletters, commenting, and virtual events with our leading journalists
Already have an account? sign in
Join our new commenting forum
Join thought-provoking conversations, follow other Independent readers and see their replies