Three of the earliest 'photographs' ever taken
Little-known photography pioneer Joseph Nicéphore Niépce's 'heliographs' go on display in Bradford
Matilda Battersby
Friday 06 March 2015 12:01 Comments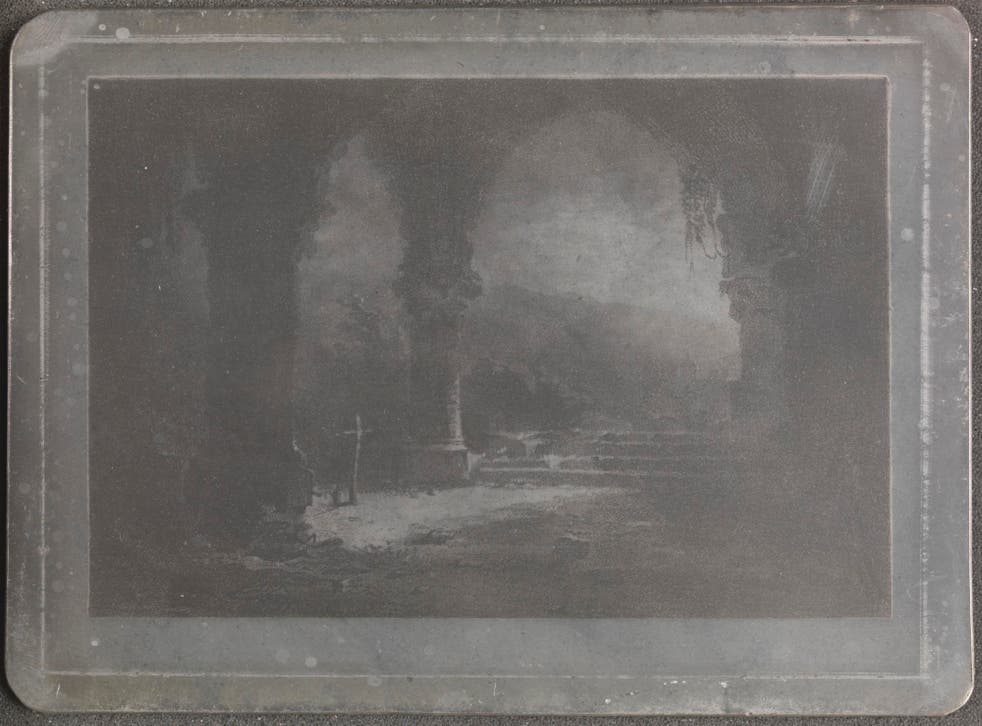 A trio of rare images "dating back to the genesis of photography" by the world's first photographer are going on show 250 years after his birth.
The images by Frenchman Joseph Nicéphore Niépce (7 March 1765 - 5 July 1833), who worked with the better-known Louis Daguerre, were taken in the 1820s.
Niépce called his images "heliographs" from the Greek helios meaning "drawing with the sun". The examples include an image of Christ carrying the cross, a portrait of Le Cardinal d'Amboise and pastoral scene (above) which appears to be a graveyard.
There are only a dozen such early photographs in the world according to Colin Harding, curator of the National Media Museum where the photos will be exhibited. He says having three together in the same place is "extremely rare".
"Niépce brought six photographs across from France to England because he wanted to present them to the King George IV and Royal Society but the meeting never happened," Harding told The Independent. "He went back to France but left three of them here."
Harding says the images go back "to the genesis of photography" and predate Niépce's partnership with Daguerre (father of the Daguerreotype) whose work would overshadow his own.
"The idea was to create a substitute for hand engraving that could be replicated, like a printing plate," Harding says. The process uses a kind of asphalt and lithography on pewter which when exposed to light in a camera obscura makes the image hard and insoluble.
Drawn By Light exhibition

Show all 13
"These images are not made from nature," Harding says. "They are made from exposing objects, hand drawn engravings. But because they are made using light they are technically the earliest known photographs."
Niépce, who also invented the world's first internal combustion engine, is credited with taking the earliest known surviving 'photograph' - a view from a window of his house in Chalons-sur-Saône, which required an exposure of about 8 hours.
Niépce received no posthumous credit for the daguerreotype process which he worked on with Daguerre from 1929 onwards. He died of a heart attack, aged 69 in 1833, six years before daguerreotypes were announced to fanfare in 1939 and became the most popular form of nascent photography for 20 years.
Only 16 heliographic plates by Niépce are known to be still in existence with the three going on display having been presented to the Royal Photographic Society in 1924 by the son of eminent photographer Henry Peach Robinson who had acquired them for his private collection.
The discovery of Niépce's heliography process re-wrote photography history when it was established by the Getty Conservation Institute and the National Media Museum in 2010.
The images go on display from 20 March at the Bradford-based museum as part of a wider exhibition of highlights from the Royal Photographic Collection.
Register for free to continue reading
Registration is a free and easy way to support our truly independent journalism
By registering, you will also enjoy limited access to Premium articles, exclusive newsletters, commenting, and virtual events with our leading journalists
Already have an account? sign in
Join our new commenting forum
Join thought-provoking conversations, follow other Independent readers and see their replies