Short on supplies, South Sudan rebels fight on against government forces
South Sudan remains thrown by violence with President Salva Kiir's ethnic Dinka troops fighting the Nuer rebels led by Riek Machar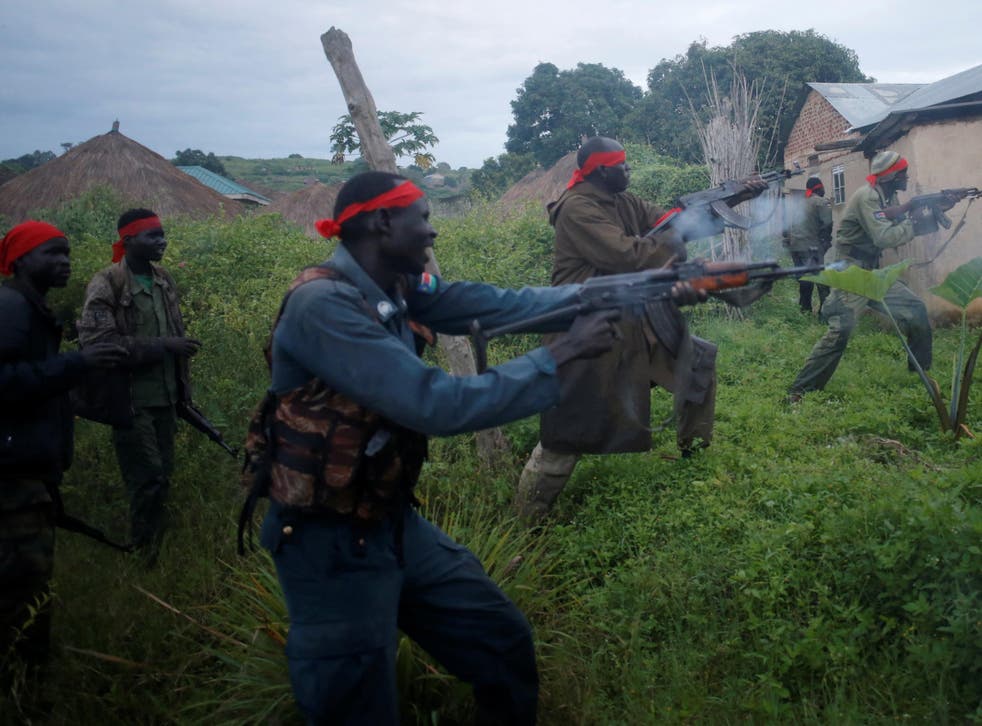 Before the South Sudanese rebels attacked the town of Kaya, they handed out supplies: a ragged strip of red cloth to identify themselves to each other as friendly forces; a packet of biscuits; and two precious magazines of ammunition per fighter.
But government forces counterattacked last month, killing several rebels and an American journalist – 25-year-old Christopher Allen. The rebels ran out of ammunition after 40 minutes and had to retreat back to their base in the bush.
"We lack funds and support," said General Matata Frank Elikana, the rebel governor for Yei River State, speaking to Reuters during the long march through rain-soaked elephant grass to the front line.
He added: "The guns we have, the ammunition we have, we take from the enemy,"
Oil-rich South Sudan became the world's youngest nation when it won independence from neighbouring Sudan in 2011 following decades of conflict. But civil war quickly followed in 2013 after President Salva Kiir, an ethnic Dinka, fired his deputy Riek Machar, a Nuer.
Since then the conflict has been punctuated by gruesome massacres of civilians and extreme sexual violence. Ethnic militias have divided the country into a patchwork of fiefdoms.
"With Salva Kiir in power there will be no peace. He has to leave," said rebel Colonel James Khor Chuol Lengdit.
The violence has paralysed oil production, fuelled hyperinflation and plunged parts of the country into famine briefly earlier this year. Nearly a third of South Sudan's 12 million citizens have fled their homes, creating Africa's biggest refugee crisis since the Rwandan genocide.
Before the rebels attacked Kaya, a town near the Ugandan border and one of four that were simultaneously attacked on 26 August, the fighters prayed together and told jokes.
Then they tied their red strips of cloth around their heads and ran forwards, firing, to positions near cement walls or corrugated iron market stalls.
The town was eerily empty; there were no civilians to be seen. Shops, a market and the school echoed with the sound of gunfire and explosions.
"In government-controlled areas there are no civilians. They don't feel safe as soldiers abuse them," said Colonel Lam Paul Gabriel, the deputy military spokesman for the rebels, just before the attack. "They kill civilians. They rape women. They do a lot of atrocities in the area."
Government and military spokesmen did not return calls seeking comment. But the government has previously strongly denied such allegations.
"Government... cannot do anything harmful to civilians," presidential spokesman Ateny Wek Ateny told Reuters last week, denying that government forces had killed or abused civilians.
Verifying such incidents has become harder as the South Sudan government has clamped down on visas for international journalists.
Local reporters have been killed and imprisoned. Organisations like Human Rights Watch, Amnesty International and the UN, have documented possible war crimes by both government and rebel forces.
In the sprawling camps of northern Uganda, 25-year-old Anet Kideng Tombek said she had fled after government forces robbed her family and shot dead her husband.
"Government soldiers came to our home one morning, they took some of our goats – when my husband tried to stop them they killed him," she said, cradling an eight-month-old baby.
"I had to walk for four days with my children to reach this camp. It was hard. I had to carry the younger ones all the way."
The camps where Tombek lives are now home to more than 1 million South Sudanese refugees. UN officials say the numbers are likely to increase as the rainy season draws to a close and serious fighting resumes.
South Sudanese rebels

Show all 25
Join our new commenting forum
Join thought-provoking conversations, follow other Independent readers and see their replies